Why Come Here? One of NYC's most innovative dining experiences, the Ceci e Pepe Pasta
I have dined at all of David Chang's New York restaurants and am continually impressed by his ability to bring new and delicious things to the world's most competitive dining scene. I am impressed more still by his ability to command multi-hour waits at Momofuku Noodle Bar and Ssam a decade after they opened. While I enjoy both, better meals can be had in this city with far less hassle. But it doesn't matter because at this point Chang is a bonafide food world celebrity and a master of creating hype. The question is can he still turn out a great restaurant, as so many celebrity chefs have failed to continually do?
When Momofuku Nishi surprisingly opened last week the hype machine was in full force. Lines stretched around the block and waits topped two hours (I waited almost three). But was it worth it? It was. Nishi is a totally innovative experience that delivers as many memorable dishes as any meal I've had in a long time. If you're going to freeze your ass off waiting to eat a meal this winter, this is the place to do it.
Note: If you are going to attempt to eat here anytime soon, arrive before 5 for an early dinner, 6 for a later one. They will take your number and text you when the table is ready, probably in several hours.
The idea behind Nishi (which is Korean for "West") is cooking Southern European food with Asian ingredients. This leads to some truly unique flavor combinations that ranged from interesting to mind blowing. The playful blending of cultures continues at the bar with cocktails like limoncello slushies. The wine list emphasizes less popular grapes like Grenache and Gambay with unexpected profiles. Our Boujealais was unusually full bodied and rich, just one of many pleasant surprises that night.
The food appears in three sections: appetizers, myun (noodles) and entrees. We decided to load up on the apps to try more of the menu and skipped the meat-heavy entrees. However you play it, make sure to hit the myun section hard. Prices are higher than at his other restaurants, but keep in mind that tip is included.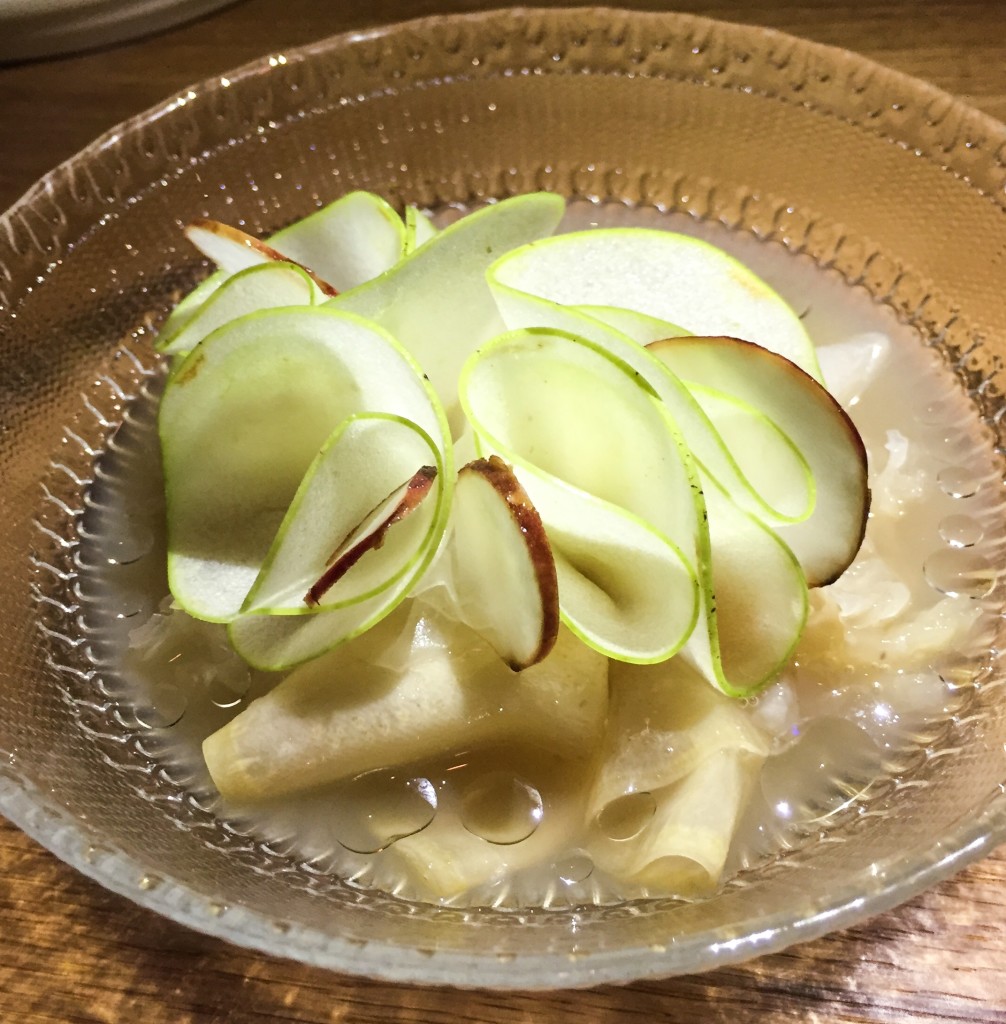 Winter Vegetable Salad

Thin slices of pickled radish, turnip and apple arrived like a little flower to start the meal. It's a nice palate cleanser and one of the few vegetarian options.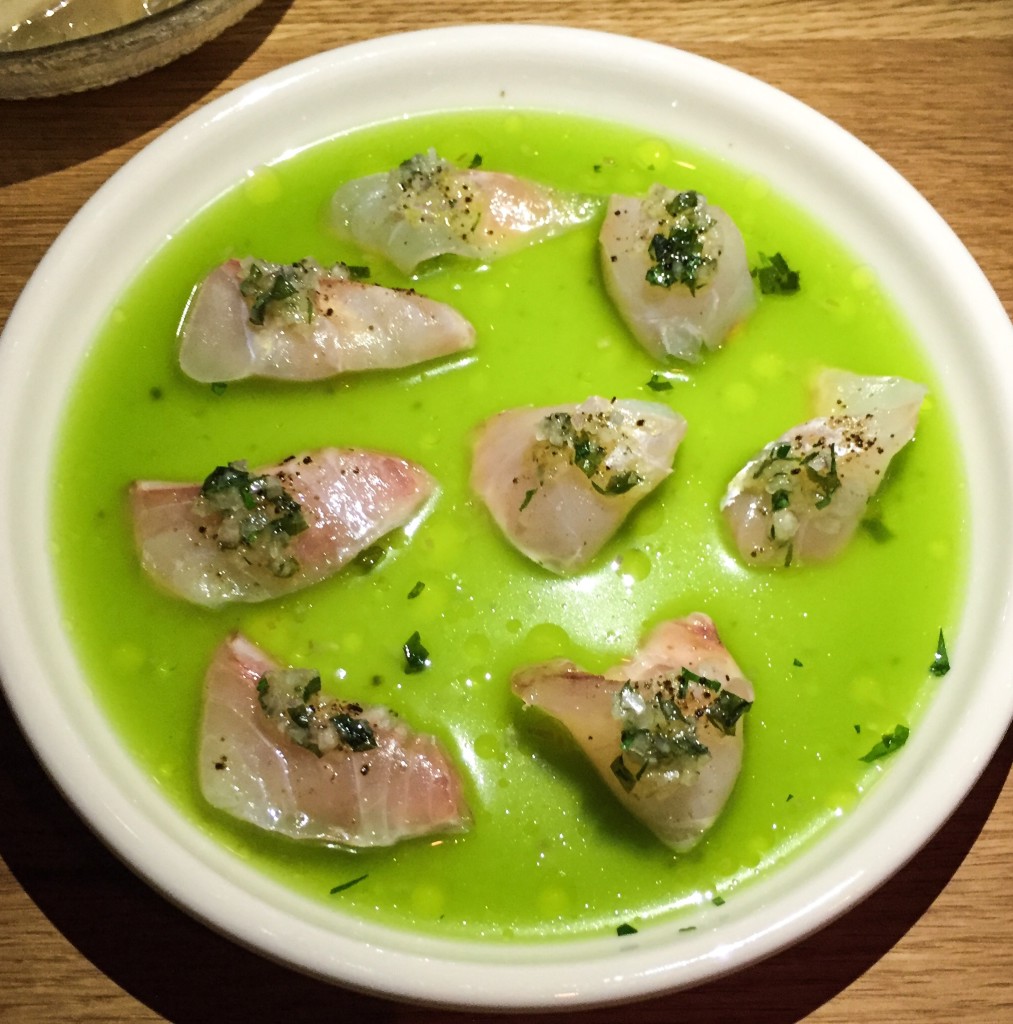 Sea Bass Tiger's Milk

I have no idea what Tiger's Milk is or why it's green, but if it has anything to do with Tiger's Blood, Charlie Sheen's oobsession with it suddenly makes a lot more sense. Whatever it is, it's truly amazing stuff that I was scooping off the plate long after the fish was gone.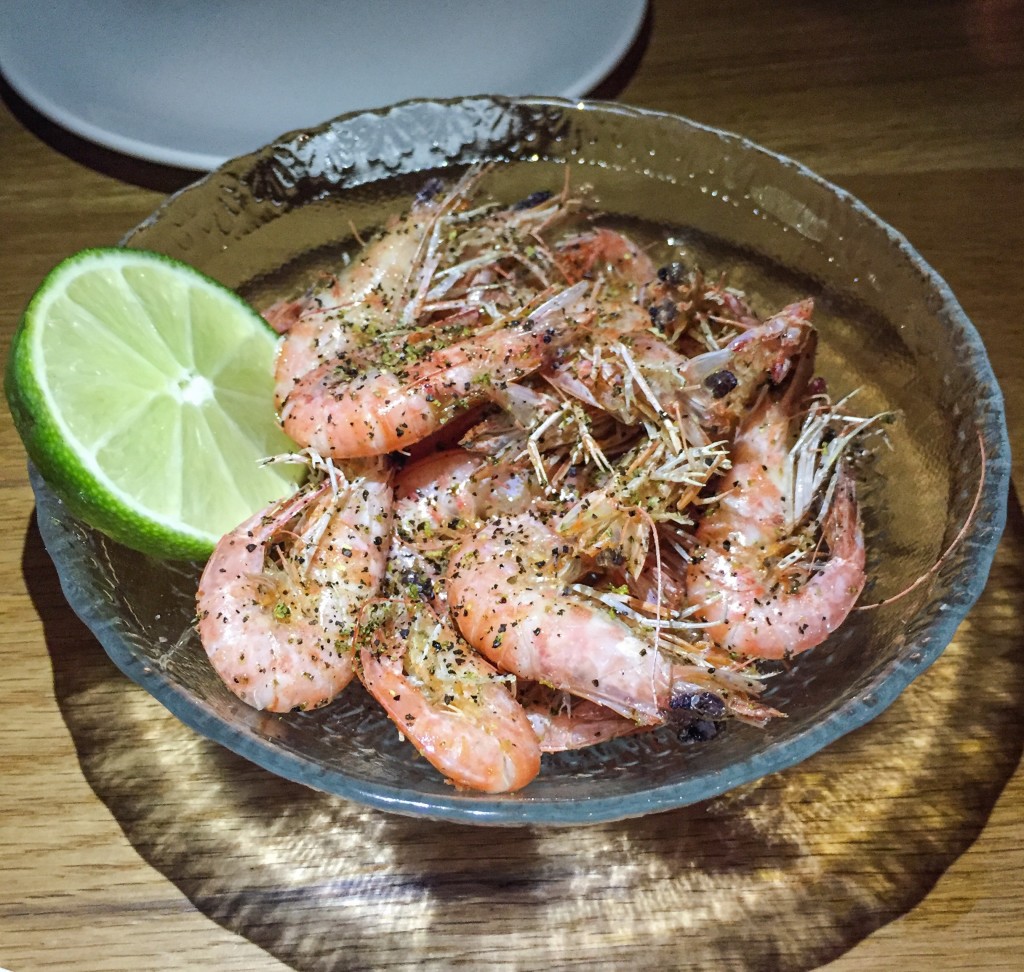 Shrimp
I'm a reasonably adventurous eater but taking down a shrimp shell, head and tail isn't really my cup of tea. But the waitress insisted I try it here because you know that's where where the spices are. I'll continue peeling most of my shrimp, but these were tasty enough to merit a pass. And they're basically snack size.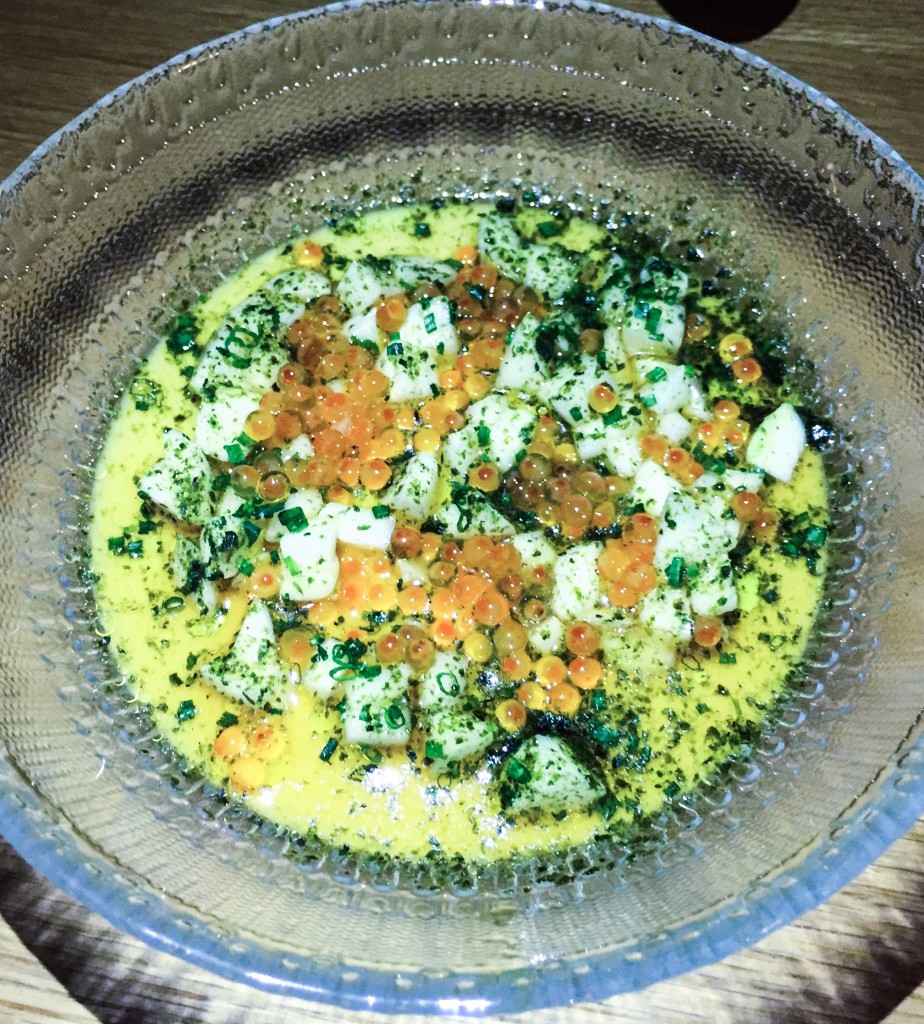 Tofu with Trout Roe and Turnips

This is best described as sushi flan. The soft tofu has the texture of the Mexican dessert with bitter saltiness from the roe and toasted nori flakes giving it that distinct Japanese fish taste. Personally I think it would be perfect as an amuse bouche shooter because I got a little tired of it after a few bites. I'm sure some people will love it though.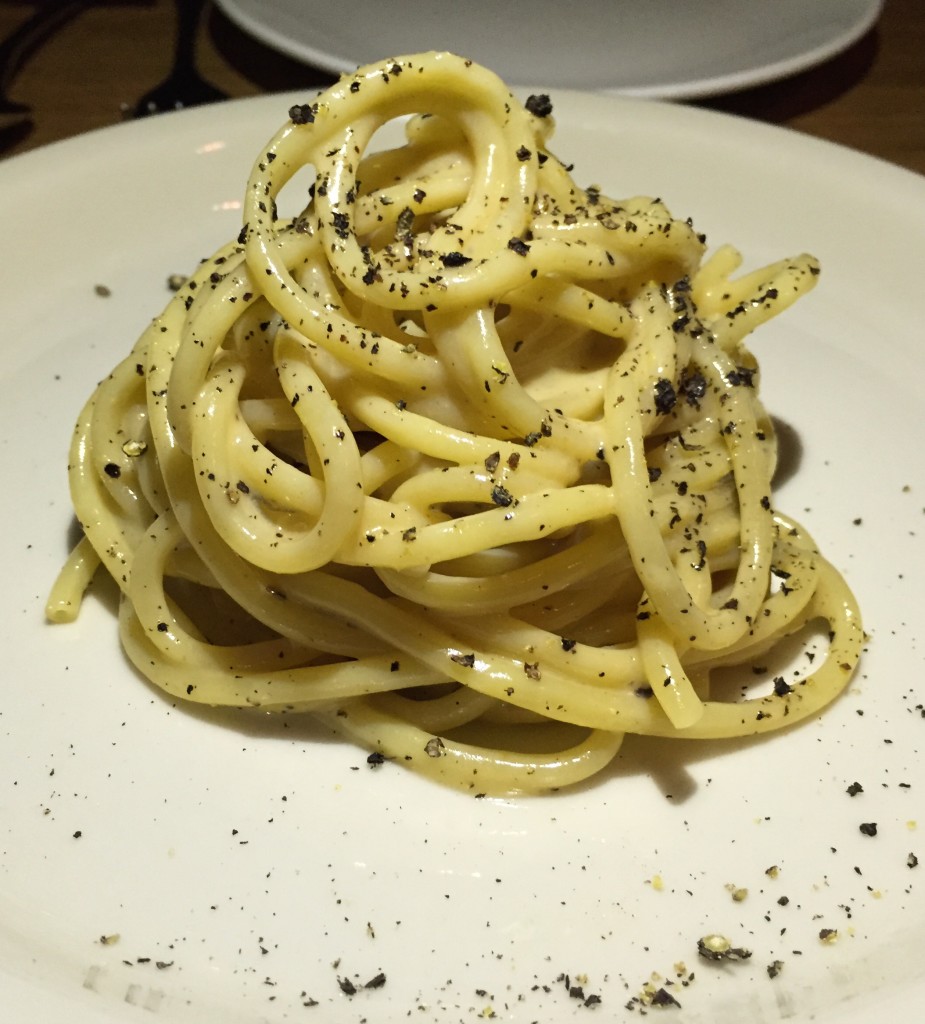 Ceci e Pepe

 Apparently Chang spent over a year perfecting something that tastes like parmigiano cheese, but isn't. Yup, this is a 4 star pasta without cheese! It's called "chickpea hozun" and is unreal. The cracked pepper is also delicious and the bucatini perfectly thick and al dente. It's simple, yet complex – like Shia LeBeouf, but much more enjoyable.  An early contender for Dish of the Year.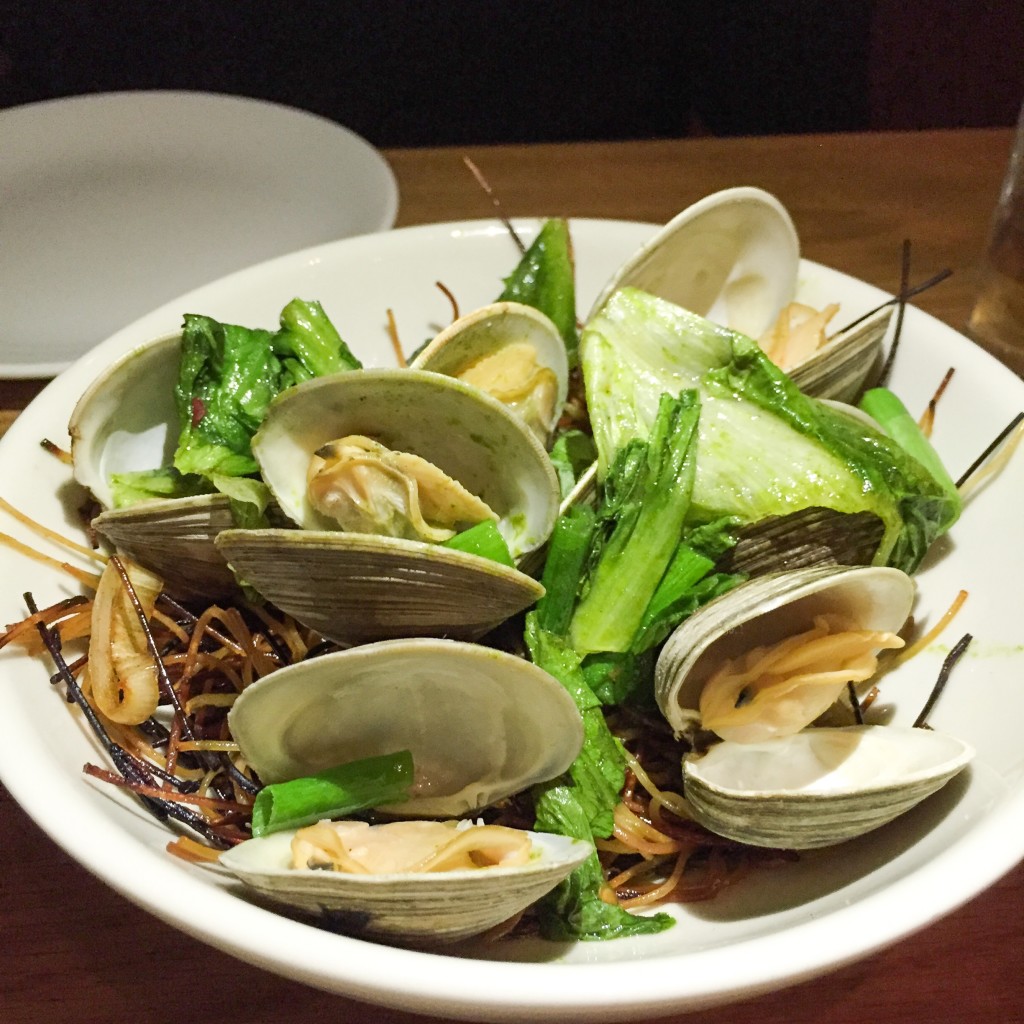 Clams Grand Lisboa

 The Changster has called this his favorite dish here, but I tried it after the Ceci e Pepi which may not have done it justice. It comes with crispy XO-flavored Chow Mein noodles in a clam broth. It's definitely a unique taste I will need to try again – before the ceci.
Momofuku Nishi
232 Eighth Avenue (21st & 22nd Sts.)
New York, NY