Nix is a two-month old vegetarian and vegan restaurant from John Fraser, of Narcissa fame. If you are wondering about the name, it is not because Fraser decided to "nix" the meat this go around. It refers to a 19th-century Supreme Court case which debated whether a tomato is a fruit or a vegetable. The Court ruled vegetable, despite the clear scientific fact that a plant containing seeds is a fruit (apparently our government has been ignoring science for a long time). Then again, you don't see a lot of demand tomato-flavored fruit pops, do you? Regardless of whether you find this decision satisfying, I guarantee you won't have any such qualms about your meal at Nix.
As for the space, well let's just say that having a white party would be akin to a camouflage party in the jungle. My dining companion and fellow blogger Eat Your Feelings described it as very "LA."  I can't disagree. Nix has that colorless sleekness that just feels like SoCal, not to mention all the vegetables. Oh and it didn't hurt that Bobby Carnavale and Rose Bryne were sitting in the corner.
The menu is broken down into three categories. First up is a series of dips – everyone's favorite vegetarian way to start a meal. They are served with the option or fresh baked tandoori bread of raw vegetables, in case you're feeling silly healthy. Next up are the "Light" dishes, essentially appetizers and salads. These were definitely the weakest part of the menu. But things bounced back with some big hits in the "Bolder" entree section. Considering the dips and entrees would probably have been enough food, I recommend skipping the lights unless something really jumps out at you. Here's what we ate:.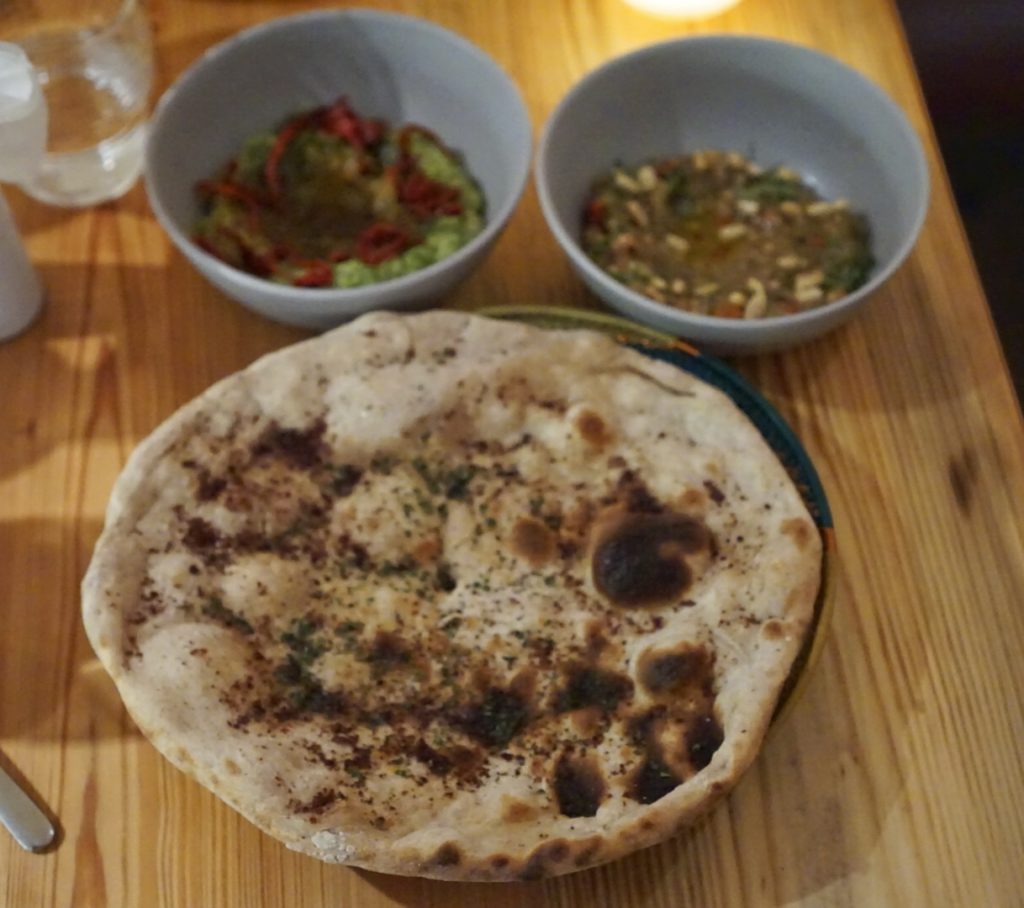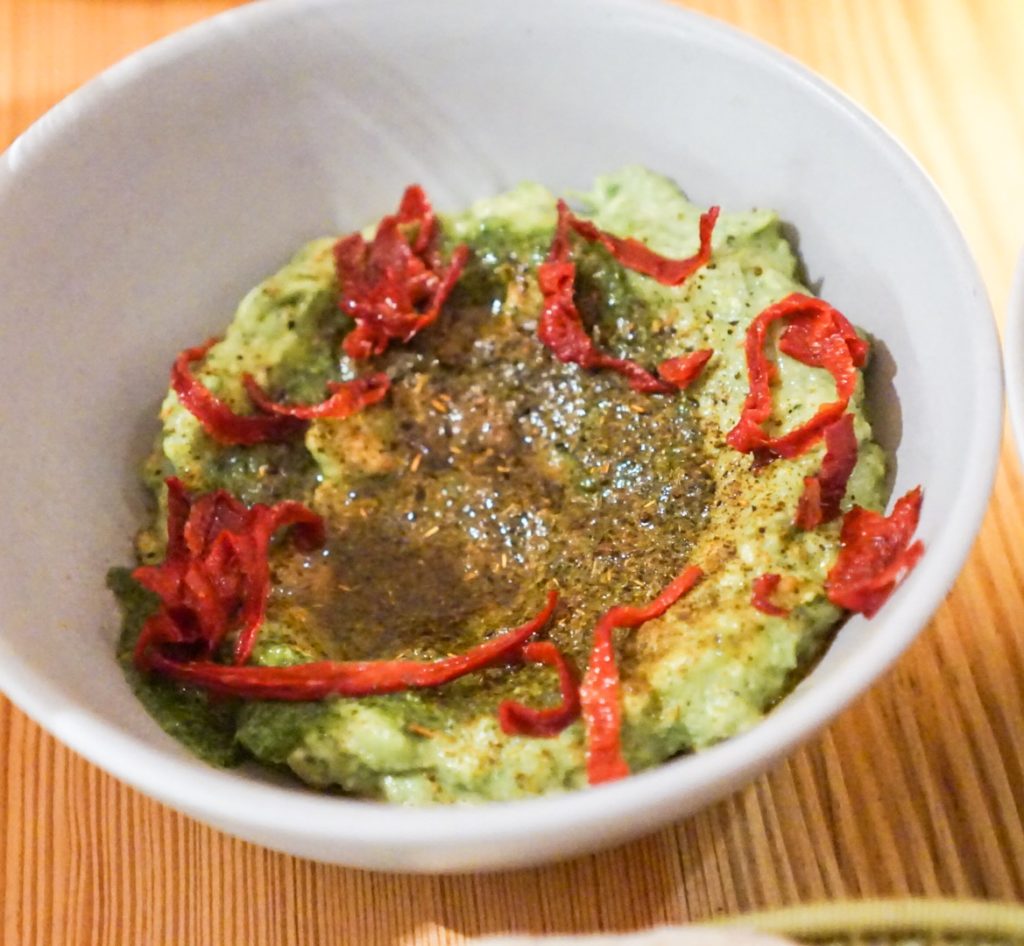 Avocado Mint Curry Dip

You know those green mint sauces that every Indian restaurant tosses in with your delivery? Well imagine someone through a whole bunch of avocado in there. You see where I'm coming from.
Spiced Eggplant, Pine Nuts

A solid eggplant dip to be sure, but nothing particularly groundbreaking.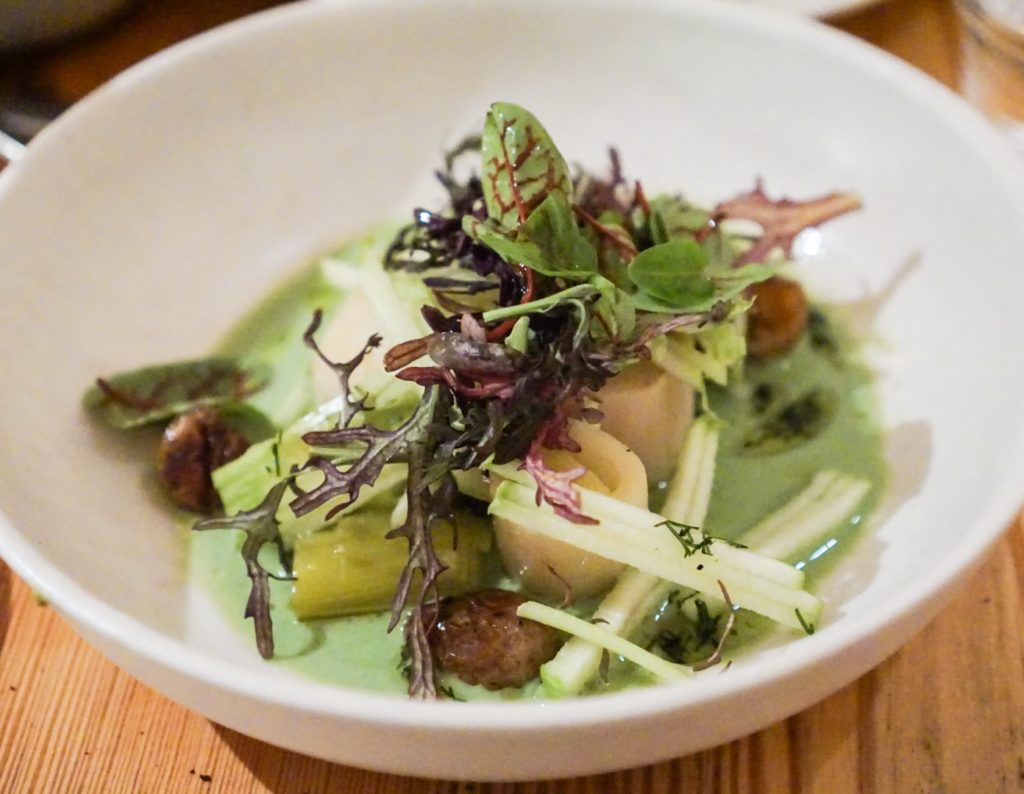 Steamed Leeks, Yukon Potatoes, Ramp Butter

The ramp butter elevates an otherwise not particularly exciting combination of leeks and potatoes.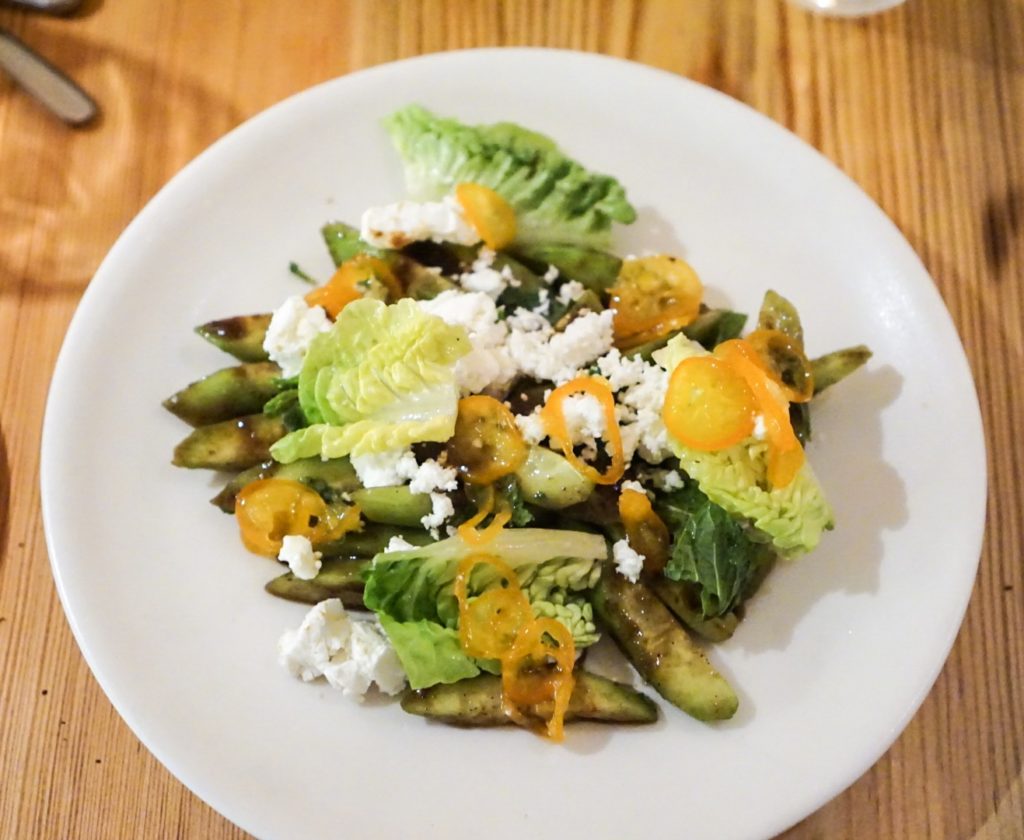 Wok Roasted Cucumbers, Jerk Spices, Goat Cheese, Kumquats

I found this way too tangy and one of the spices hit my palate in an unpleasurable way. But Eat Your Feelings liked it more so maybe it's just not for everyone.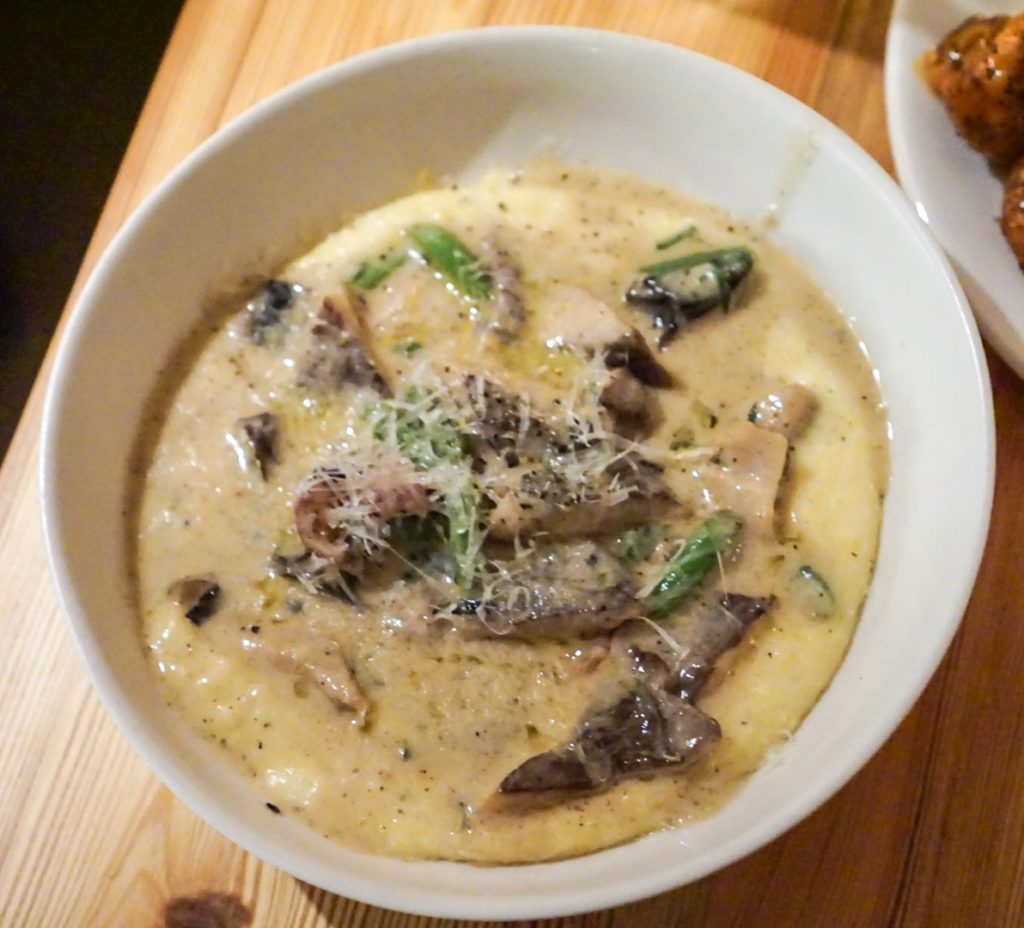 Shiitake "Cacio e Pepe" with Salsify & Heirloom Polenta
The dish doesn't quite resemble cacio e pepe as I had imagined, but the creamy sauce definitely has that cheesey-peppery bite to it. And the shittakes are a great compliment. Note that it's very heavy, particularly with the polenta mixed in so you'll want to share this one.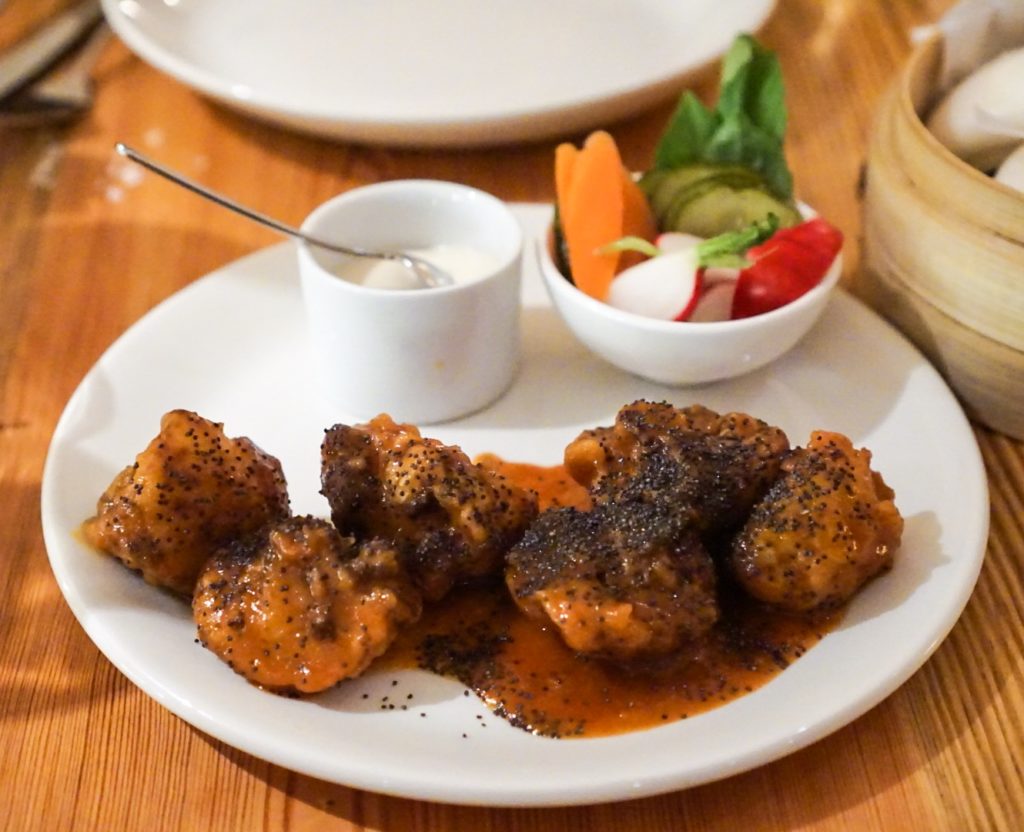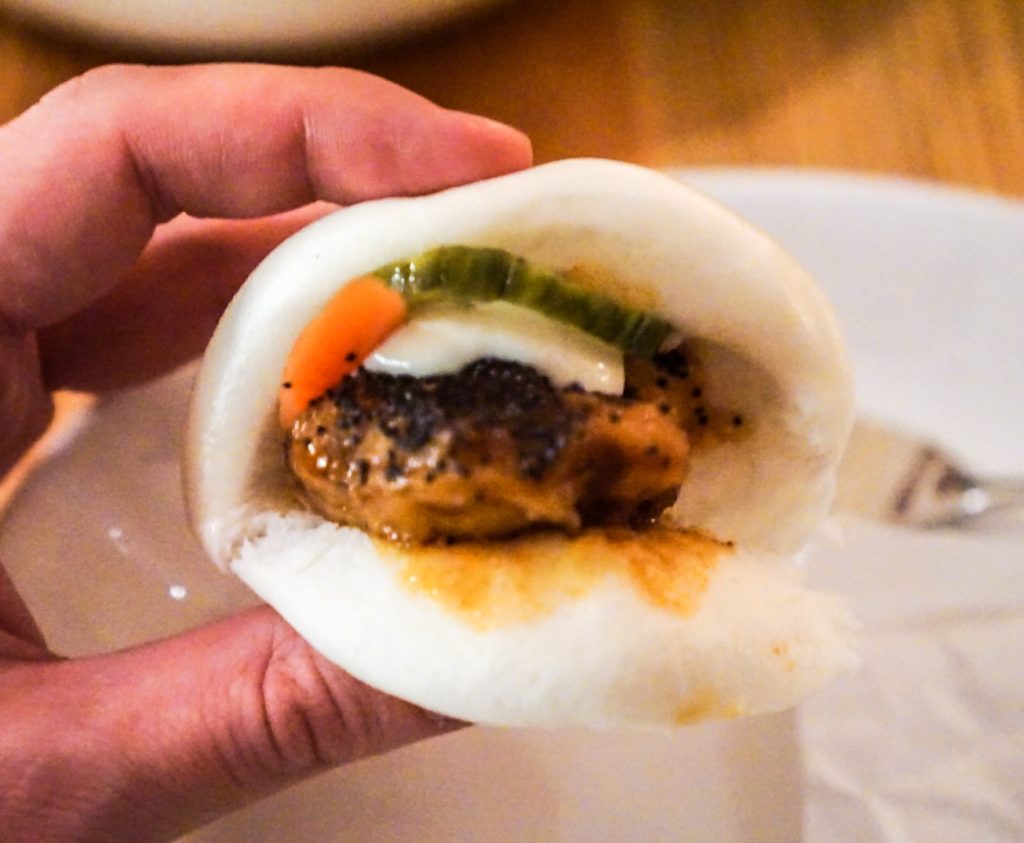 Cauliflower Tempura and Steamed Buns, House Pickles

 This seems to be Nix's signature dish and it appeared on nearly every table. Bite in and you'll immediately know why. I would go to a restaurant that served only served these at least once a week.
Right Amount for 2? 2 dips, 2 bolder, maybe a light
Nix
72 University Place
New York, NY