Lilia is a hot newish Italian restaurant that happens to be in Williamsburg. I say "happens to be" because Lilia is not your typical North Brooklyn dining establishment. Yes it's located in a hipster-sounding former auto body shop, but it has the bright, polished design of somewhere straight out of the West Village. There's also a more "Manhattan East" crowd of business causal attired 30- and 40- somethings and a maitre'd who won't switch your table with the one next to you with an identical reservation because it would mess up their "complicated booking system." Love or hate what Williamsburg is becoming, at least you now have a great spot to take your parents to without leaving Brooklyn.
Regardless of your feelings on the above, there's a lot to enjoy in the rest of your Lilia experience. Our server was attentive and helped us order the right amount of food without getting stuffed (a rare feat these days). Although stuffing yourself here may not be the worst decision. Chef Missy Robbins racked up Michelin stars for her pastas at A Voce and that's where you want to focus. The rest of the menu is a mix of bar snacks, a good helping of veggies and seafood (vegetarians – you'll eat well here) and a handful of meats. I found the non-pastas to be a little hit-or-miss but the clams are absolutely required to appear on your table. Here's the rundown of what we tried: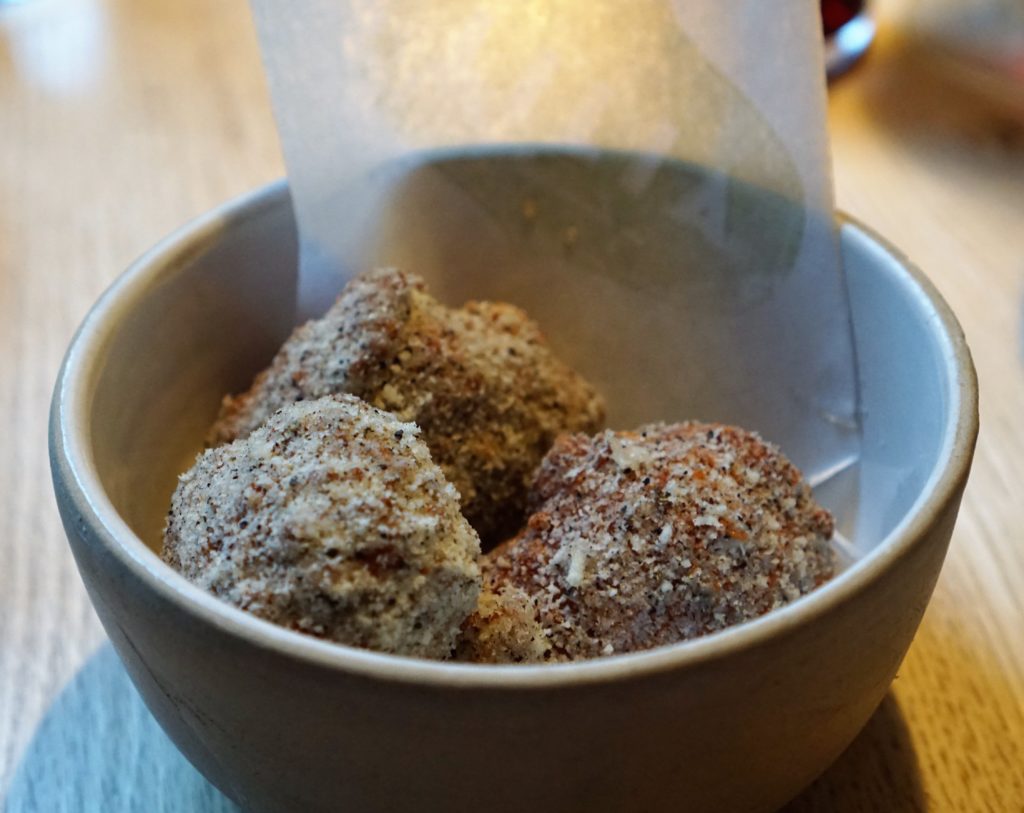 Cacio e Pepe Fritelle 

A fried ball of cheese and pepper is pretty hard to turn down. Not saying you should, but they weren't quite as amazing as they sound.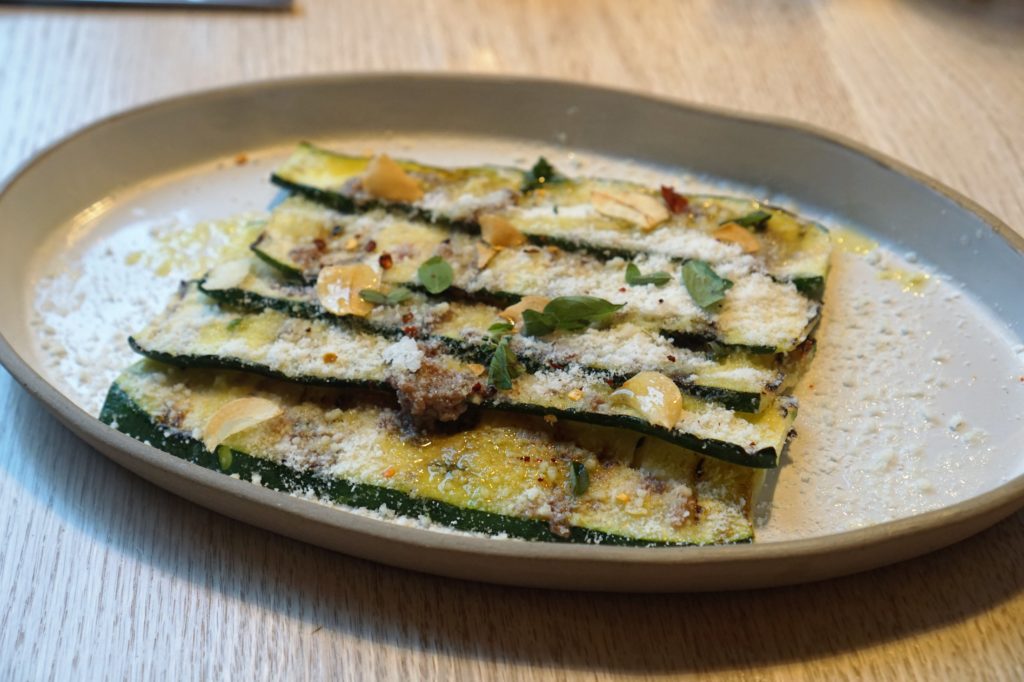 Grilled Zucchini, Anchovy, Crispy Garlic, Pecorino
You know you'll be eating a lot of pasta, so it seems sensible to start with some veggies. Even if they're covered in the same pecorino, anchovy and garlic as said pasta. At least you tried.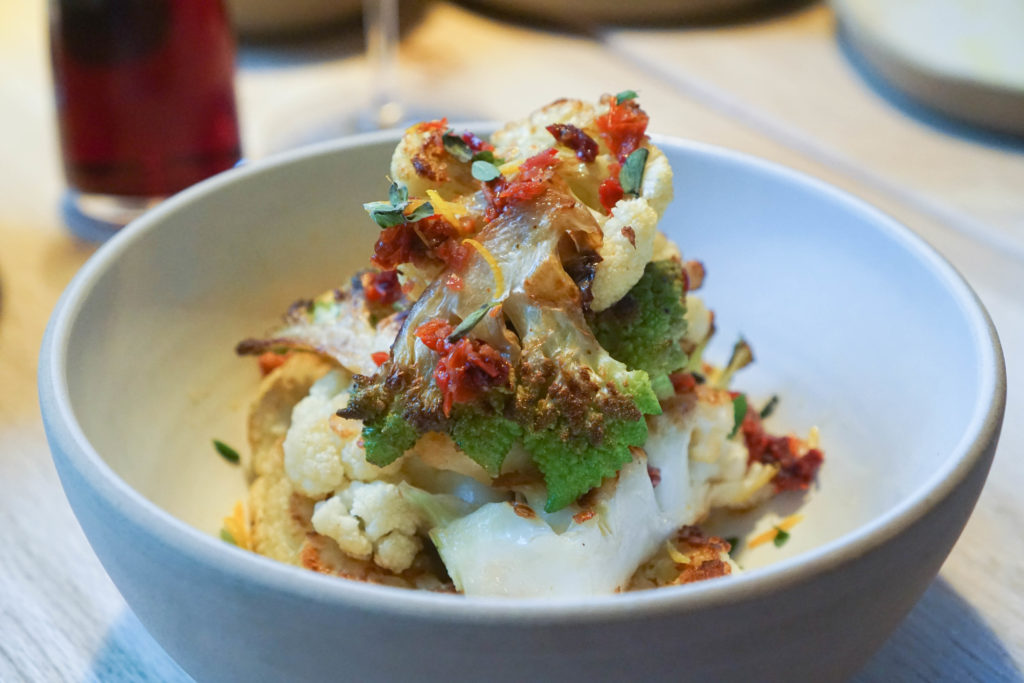 Cauliflower, Spicy Soppressata, Sicilian Pesto, Majoram 

It sounded good on paper, but the thick cut of cauliflower was less enjoyable to eat in practice. Skip it.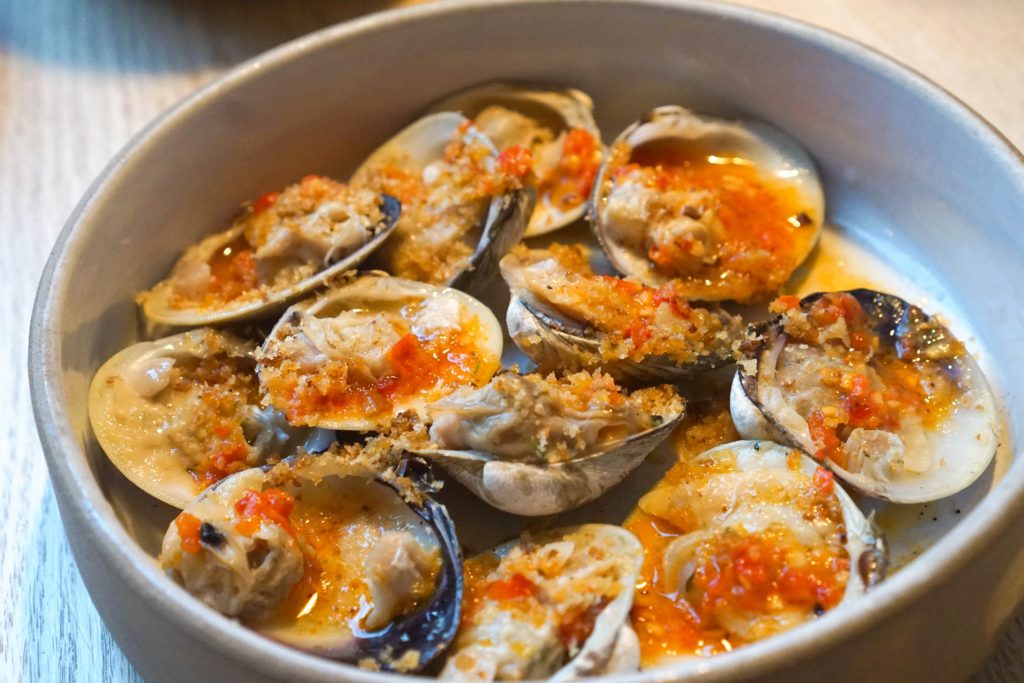 Grilled Clams, Calabrian Chili, Breadcrumbs

Clams filled with chilis and just the right amount of breadcrumbs might be my new favorite snack. It's hard to imagine getting too many for your table.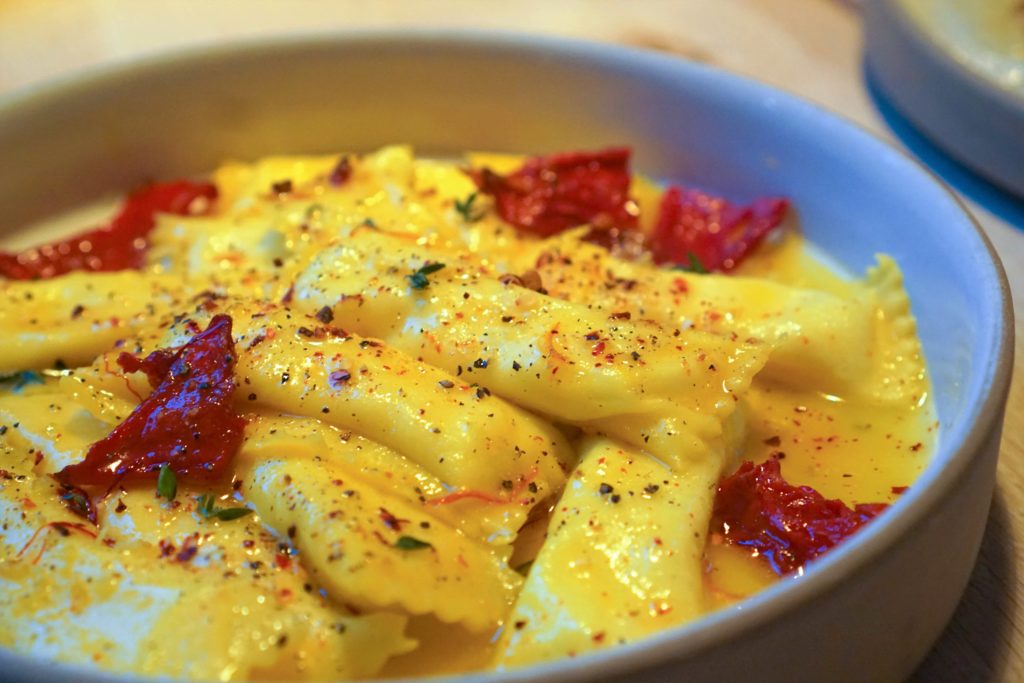 Sheeps Milk Cheese Filled Agnolotti, Saffron, Dried Tomato, Honey

The pastas here are all great, but this is the one you absolutely must order. The sweetness of the honey is the perfect foil to the tomato and sheep cheese. Plus the saffron makes it look real pretty.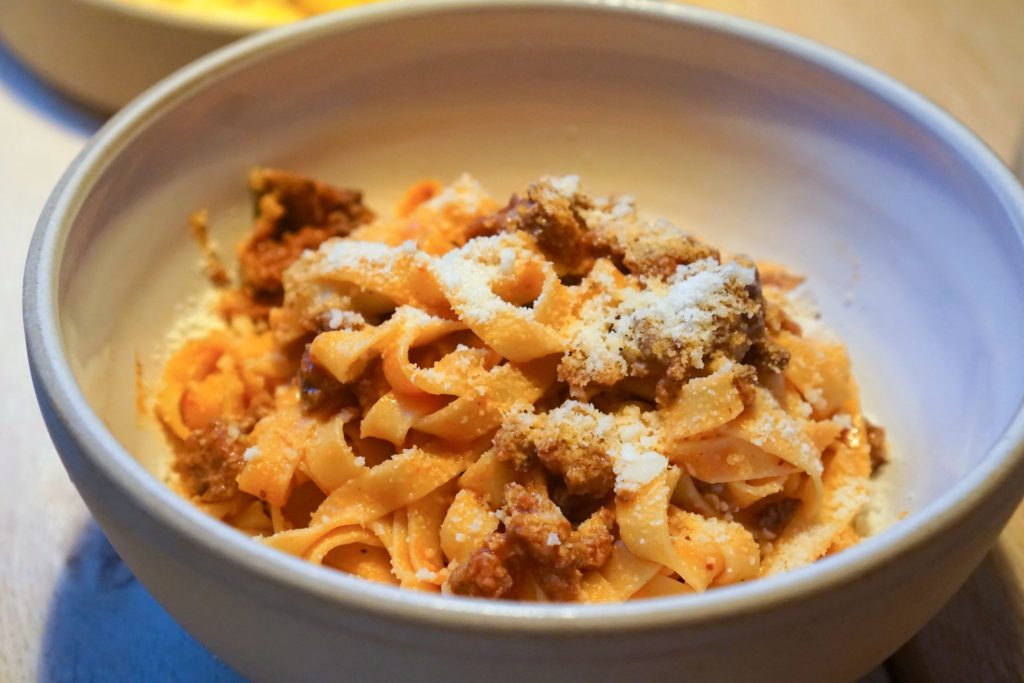 Fettuccine, Spicy Lamb Sausage, Tomato Passato, Fennel Seed

It may sound somewhat basic, but the fettuccine is cooked perfectly and man is that lamb sausage good.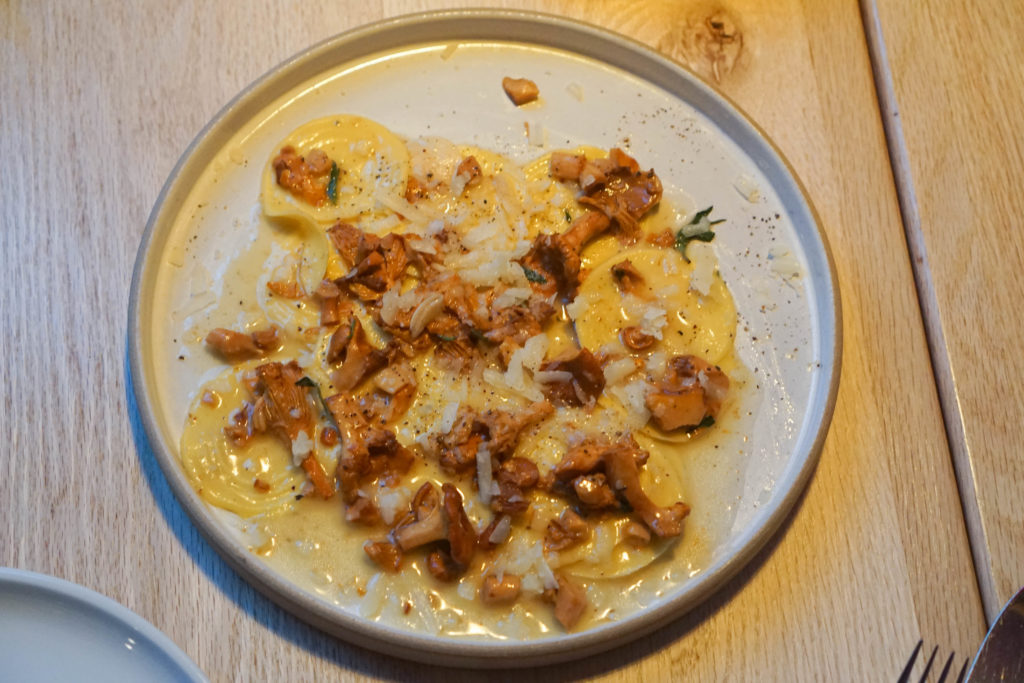 Corzetti, Chanterelles, Savory, Aged Goat Cheese

  If mushrooms and goat cheese are your thing, there's really nothing to think about here. If they aren't, then please get go your taste buds checked.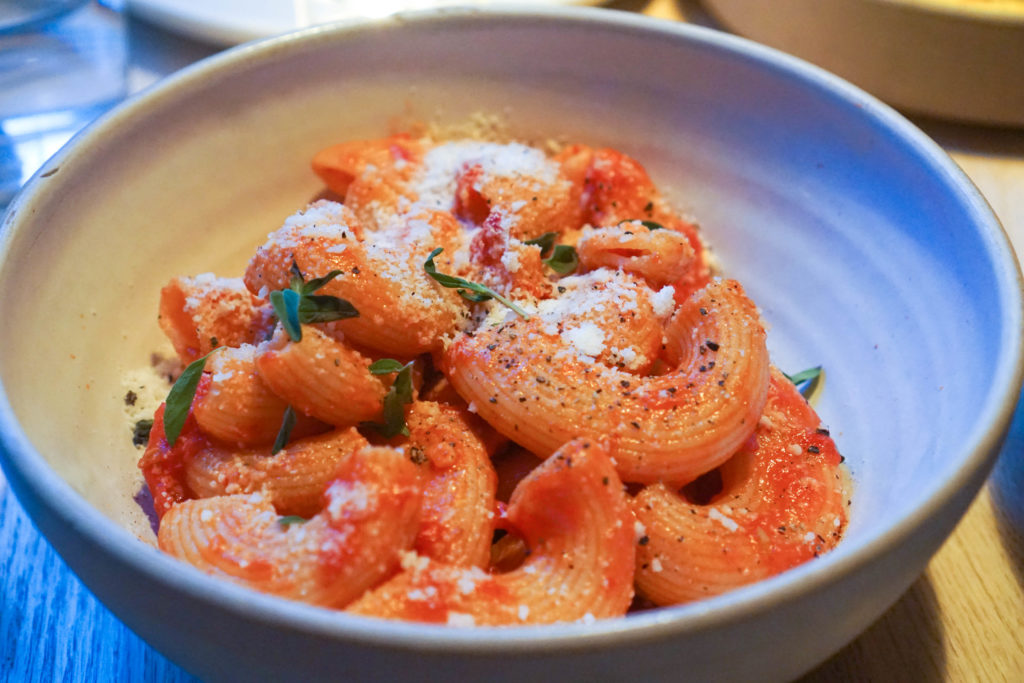 Rigatoni Diavola, San Marzanos, Chilies, Oregano, Pecorino
This was one has gotten a lot of press, which is maybe why I found it the most disappointing. Make no mistake the rigatoni is great, but the diavola sauce lacked the pop to make it special.
Right Amount for 2: Veggie, Clams, 2 Pastas
Lilia
567 Union Avenue
Brooklyn, NY