If you've ever traveled to India or even the UK, you know that most of NYC's Indian restaurants leave a lot to be desired. Much like with Chinese food, we're typically served a mediocre bastardization of the cuisine that's been "modified for American palates." The result is a lot of fried foods and overly creamy and oily curries (not that there's anything wrong with Tikka Masala of course) that lead to the Calcutta Food Coma. The lighter fare of tropical Southern India – seafood, coconut curries and dosas – meanwhile rarely makes an appearance.
This is part of what makes Kokum in the "Curry Hill" section of Murray Hill a gem. The restaurant focuses on the four regions of Southern India and shuns most of the stereotypes of Indian cooking. While some of the old standbys make the menu (like naan and samosas) you're unlikely to be familiar with most items on offer. However you will recognize a lot of the spices so if you're typically a fan of Indian food I have faith you'll greatly enjoy dining at Kokum. And as a bonus you won't need a post-game nap. Here's what I tried at a recent tasting: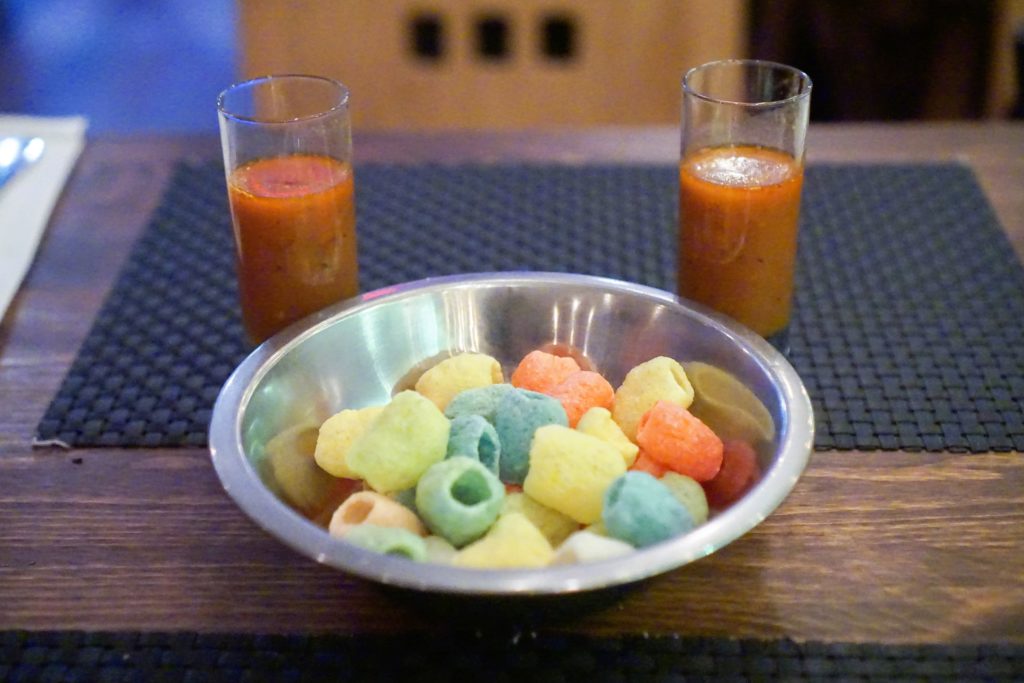 Appertif Dinner at Kokum begins with a colorful bowl of something similar to corn puffs. To wash it down, you get a shot of a Rasam – a spicy tomato soup with lentil. Note that if your spice tolerance is low, taking it as an actual shot is not recommended.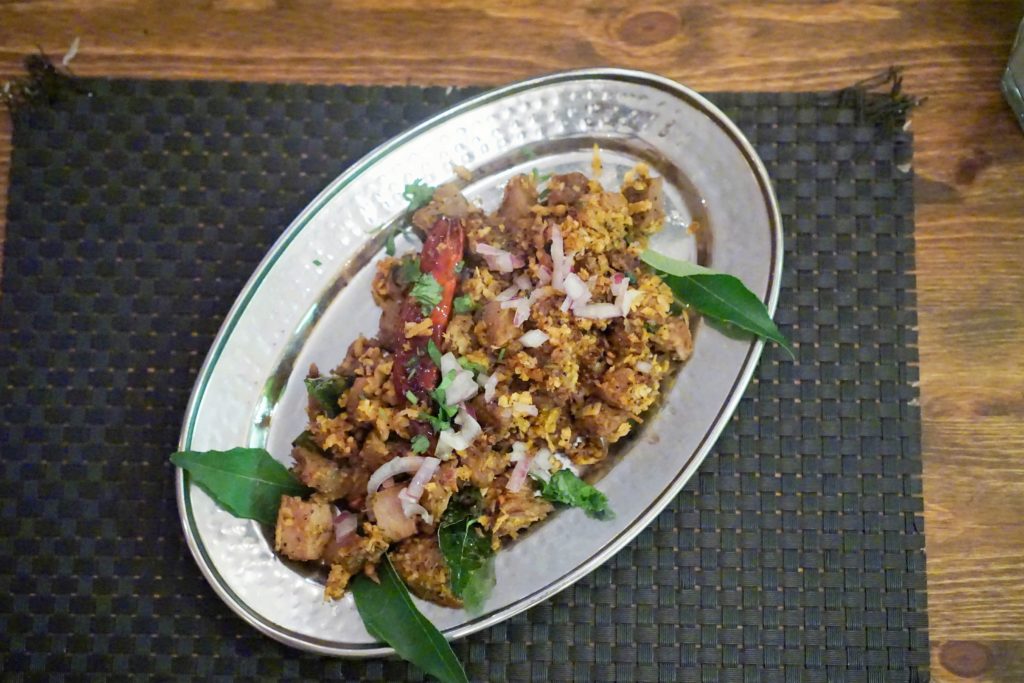 Miryalu Mamsam (Pepper Lamb) Chunks of lamb arrive in a peppery blend of spices. It's not something you normally think of as Indian, but I'd like to see that change.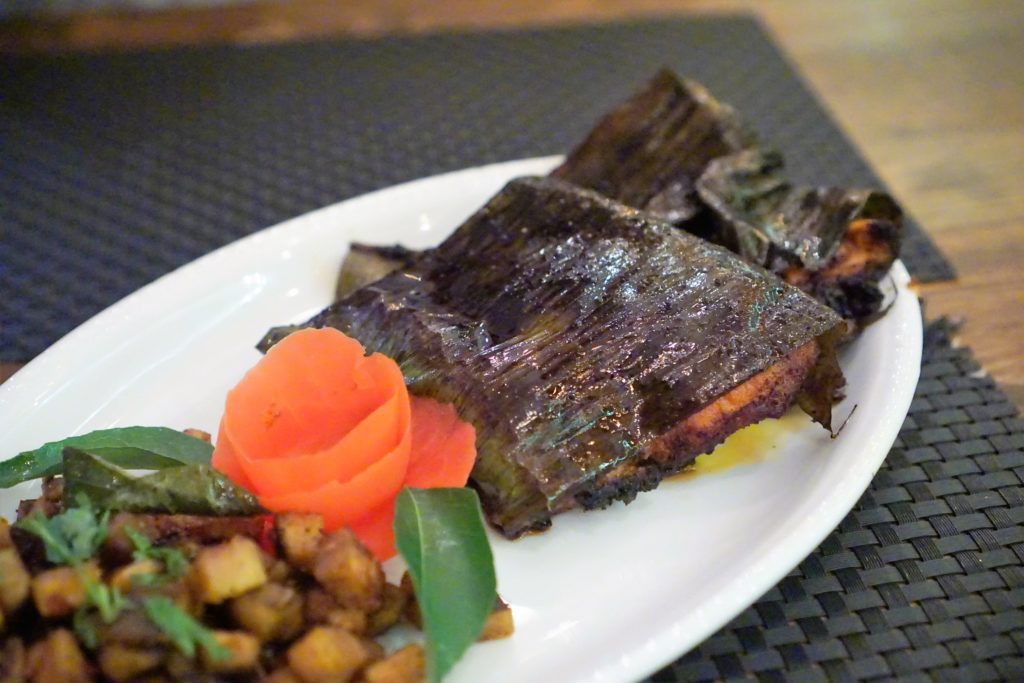 Meen Polichattu (Roasted Fish in Banana Leaf) Despite what most Indian restaurants would you have believe, the country is actually a peninsula with a huge coast line. So yeah, they know what to do with the treasures of the sea. The fish here was juicy and gets a nice tangy spice from the green masala.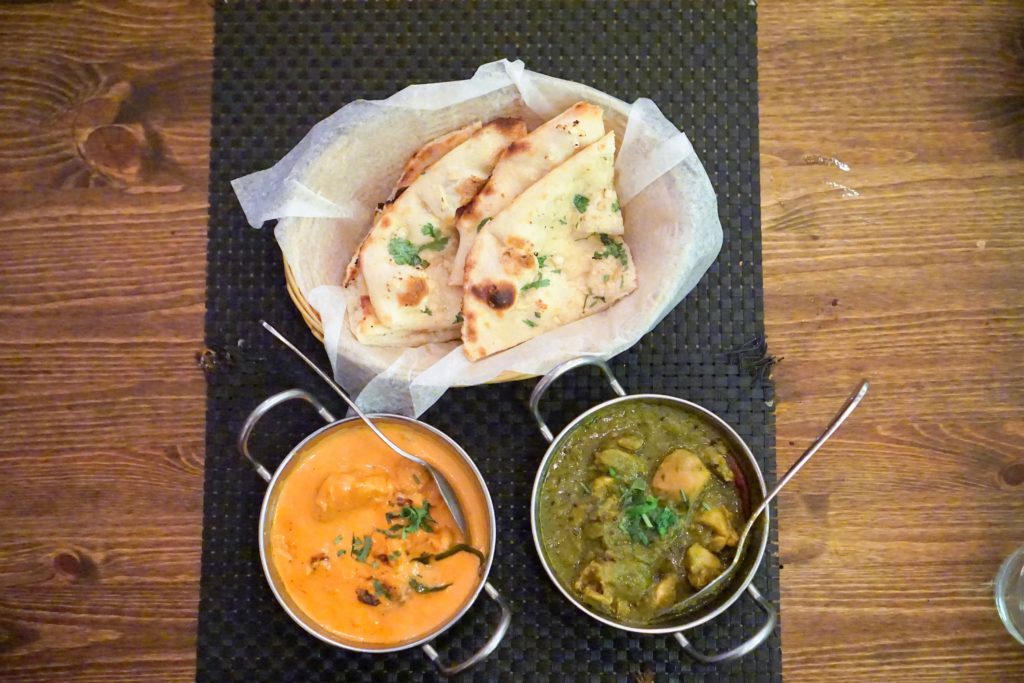 Kori Gassi (Left) A rich, spicy coconut chicken curry that's ten times more interesting than the chicken tikka masala you get delivered every week.
Mirapakai Kodi (Right) Another very flavorful curry that packed a little more heat. The curries here are lighter and better balanced than what you often find in NYC Indian restaurants.
Garlic Naan (Top) Naan may not be Southern, but something feels wrong about not having it on the table. Kokum's version is light and flakey enough to eat on its own but especially good dipped in curry.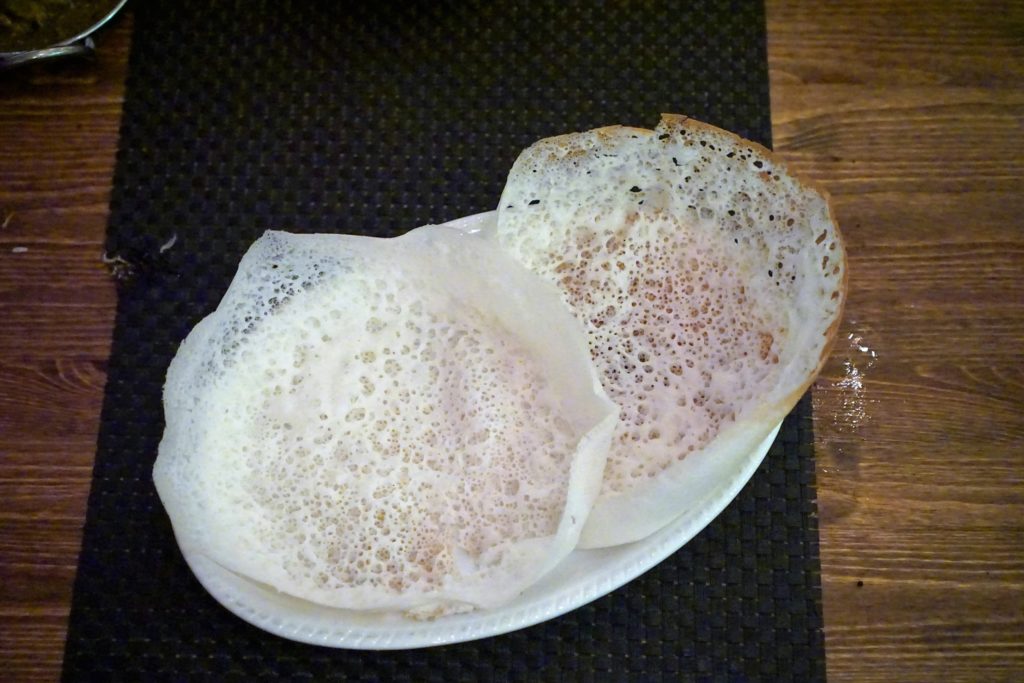 Appam Think of these rice crepes as Naan's tropical cousin. They're light, playful and soak up curry like your warm weather relative soaks up sun.
Right Amount for 2? One App, Two Entrees/Curries, Bread
Note: I was invited as a guest of the establishment and received a complimentary meal. This was not in exchange for a positive review and opinions expressed are my own.
Kokum
106 Lexington Avenue (27th & 28th Sts.)
New York, NY