If I were to make an estimate, I would say that at a solid 50% of the restaurants on the Upper West Side serve some form of Italian food. And they generally all do a pretty good job with it. So why should you choose Bettola over the 743 other options within a mile radius? Well, to name a few:
First things first, it's a great rustic space with bricks walls and wooden beams. It's perfect for winter, especially with the wood burning oven sitting dead center acting like a fireplace that also makes delicious pizza (why does my fireplace not do this?) In summer things brighten up with sidewalk seating and huge windows overlooking Amsterdam Avenue. It's perfect for a romantic meal or a casual dinner with friends and family.
Next, there's a cool story behind it. Literally. The owners met last winter when manager Giga was looking for a new chef. While on a ski trip, she recognized chef Vlado from his Czech band Taktici. Yes, the chef is a rockstar, both in and out of the kitchen. The rest, as they say, is history.
The chef's music lineage leads to some cool music themed events. There's a Beatles Brunch every Sunday where – you guessed it – they play Beatles songs and many menu items are named for Fab Four hits. Vlado himself also often gets into the act by hopping on the piano during their late night happy hour (10-11). Because late night drinks are better with piano.
Lastly and most importantly is the food of course. Bettola is not your standard Italian Kitchen. But nor is it so progessive that those craving a taste of the Boot will be disappointed. Vlado just adds his own twists to the classics using influences from Thai, Israeli and Central European cooking. Here's a look at what we tried: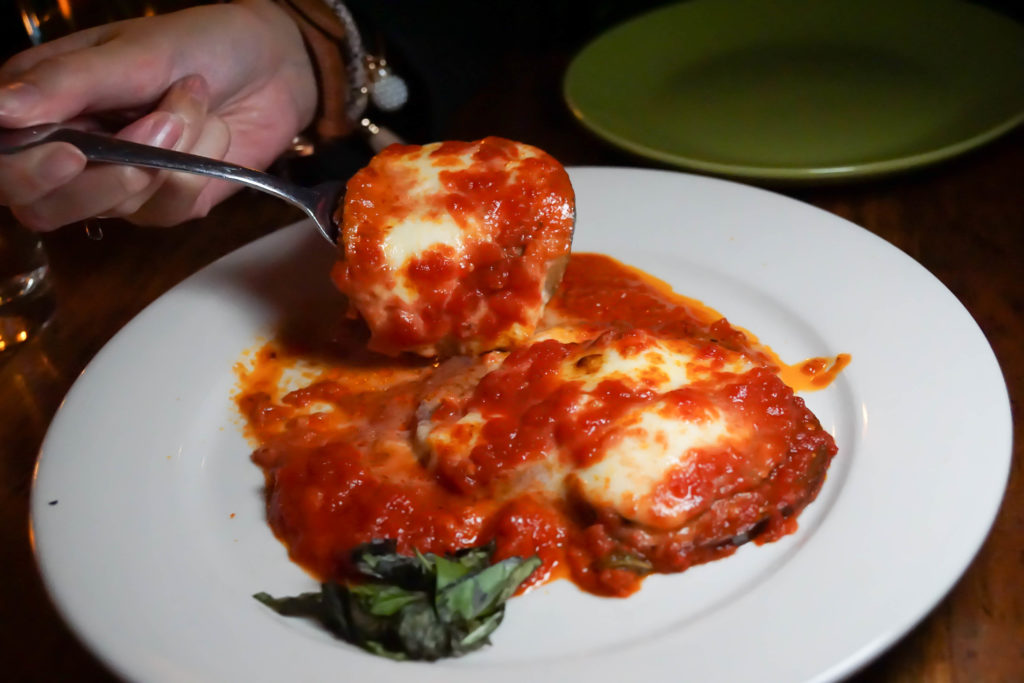 Eggplant Napoleon It's called a napoleon because it resembles the classic dessert with the layers of eggplant and tomato. But to me it felt more like an unbreaded eggplant parm since its smothered in mozzarella and tomato sauce. Whatever you want to call it, the combination is delicious.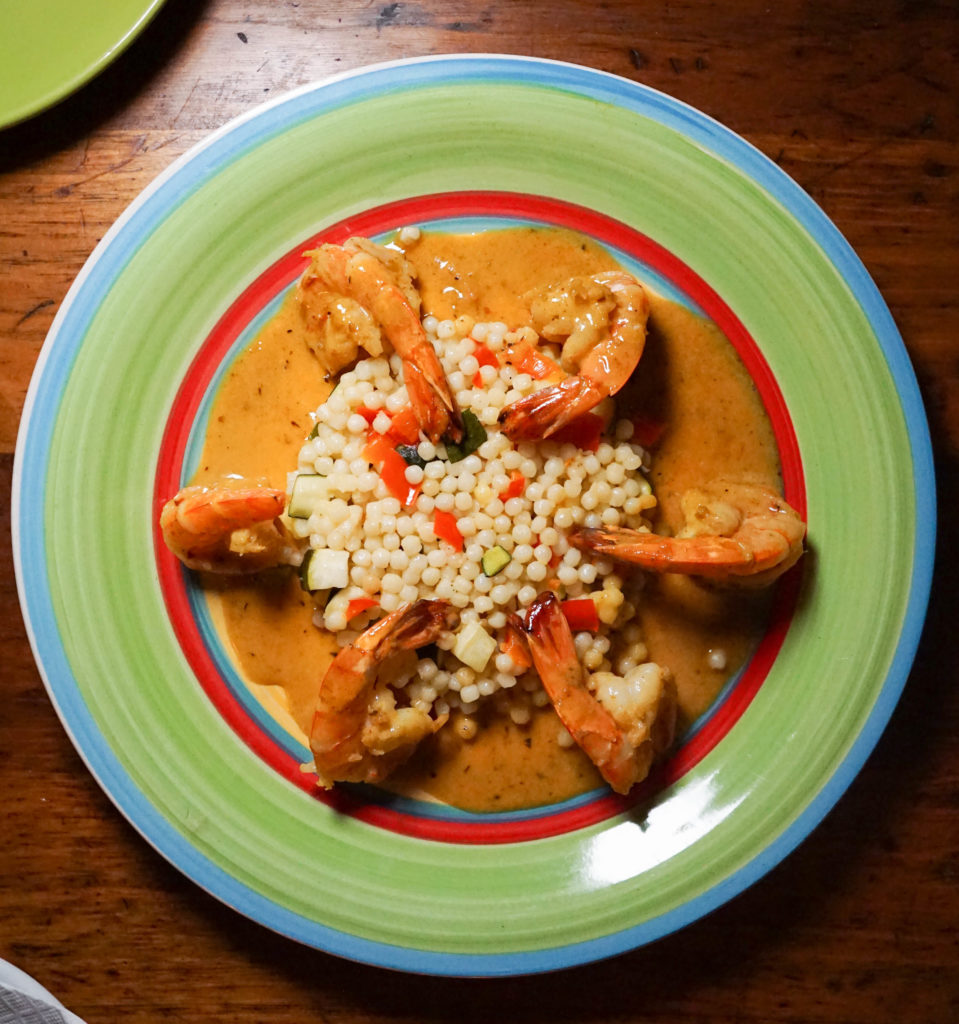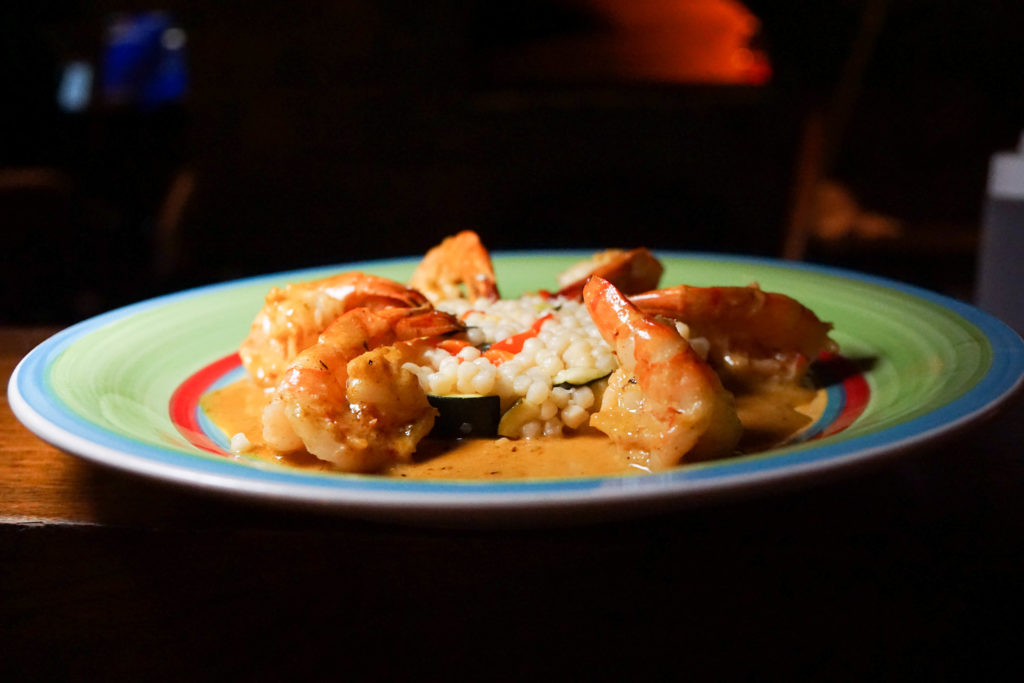 Shrimp Prosecco This is a Vlado original creation and draws on Italian, Israeli and Thai cooking. The shrimp and couscous come in something resembling a Thai curry that's thinned out with a little Italian bubbly. It's an unexpected pairing for an Italian restaurant but it works very well.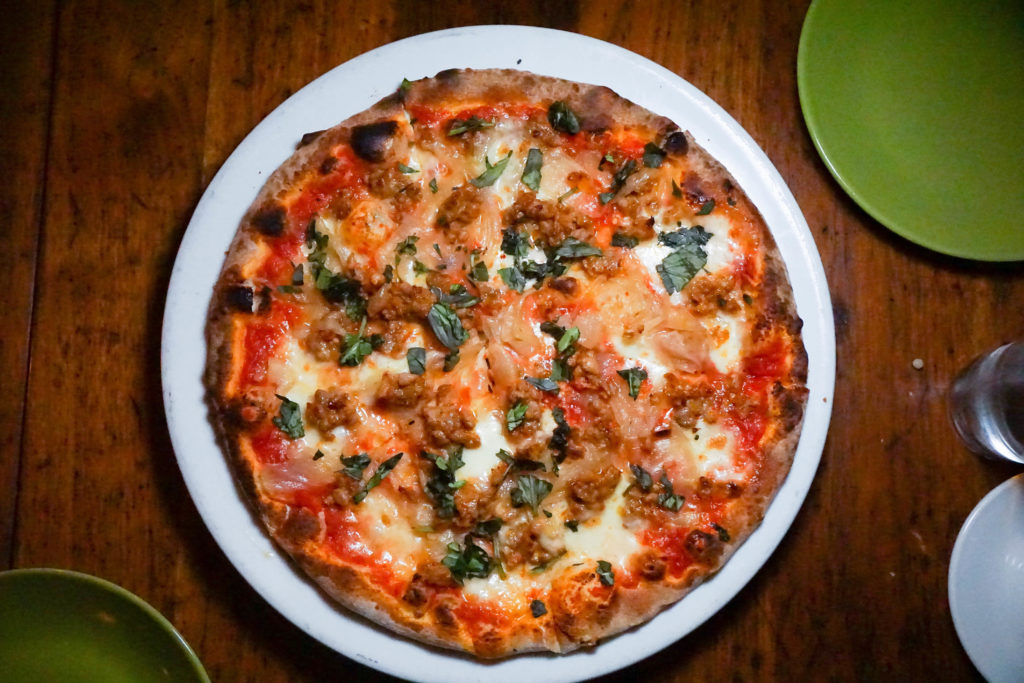 Salsiccia Pizza When a restaurant has a wood burning oven sitting at the center of the action, you know you're getting some 'za. The charred thin crust and smokey flavor did not disappoint. We went with the Salsiccia which is covered in hot sausage, caramelized onions and basil for that perfect sweet-spicy-tart mix.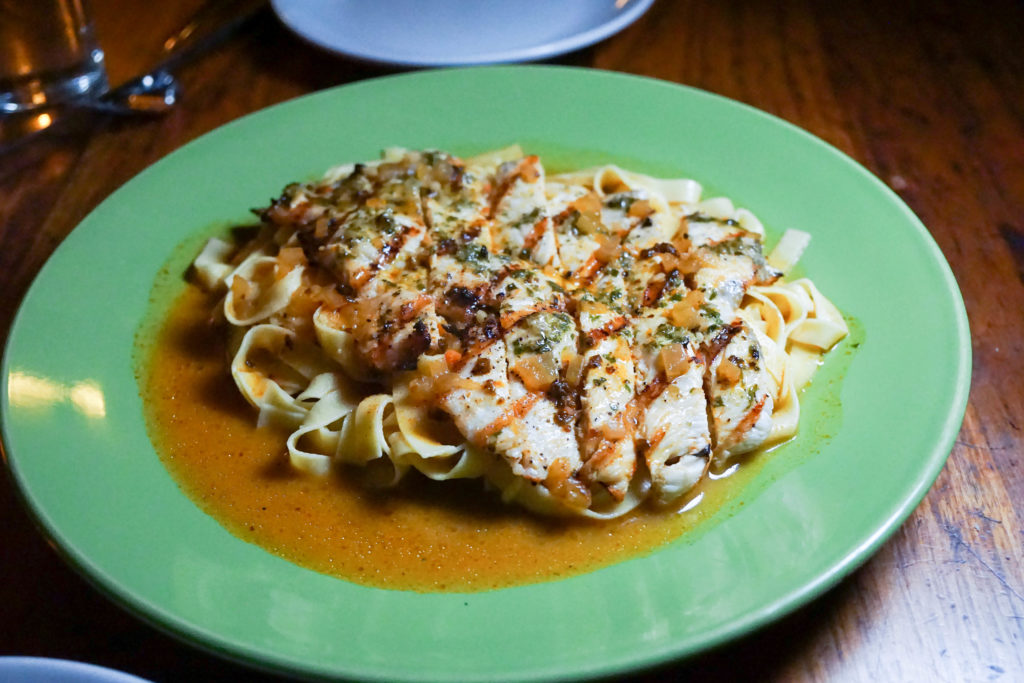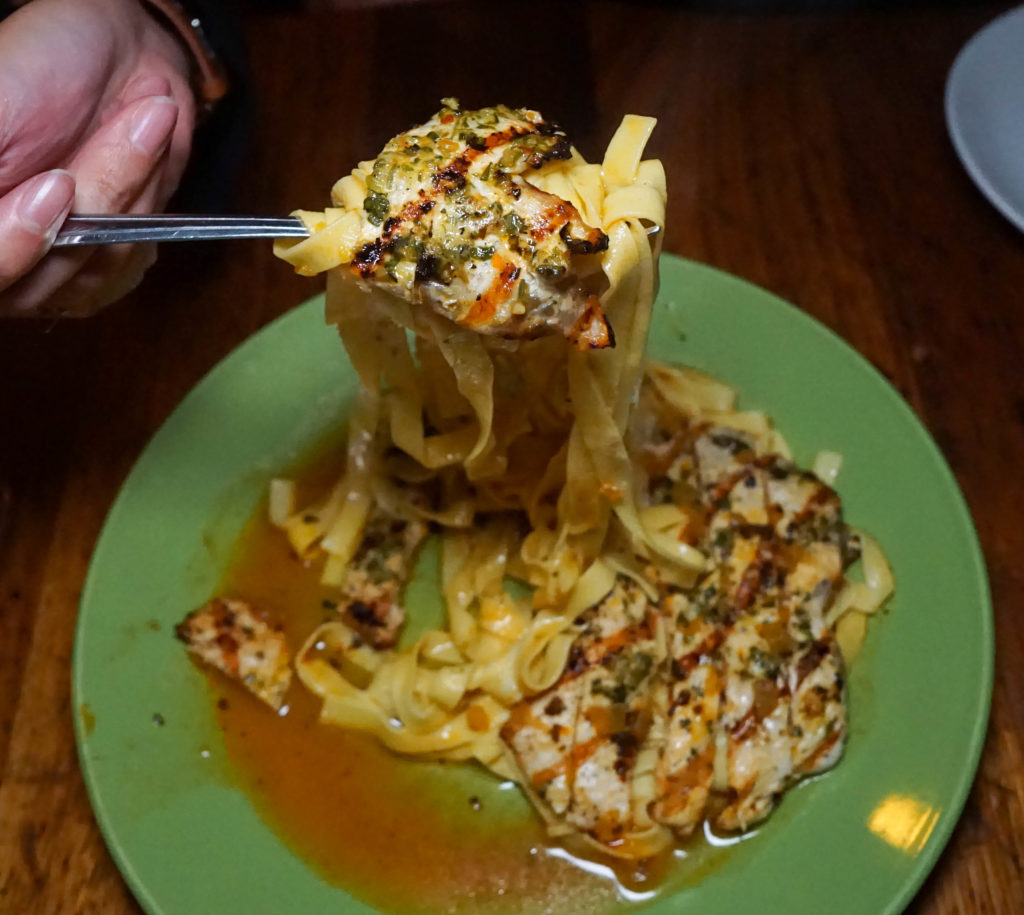 Chicken Rosa Another Vlado creation this comes with sweet paprika, marjoram and a touch of cream. It's literally a touch as I never would have known cream was involved if it weren't written on the menu. The result is delightful sweet, spicy citrusy blend over his housemade fettuccine. It's light enough for summer but I find myself craving it on this January day.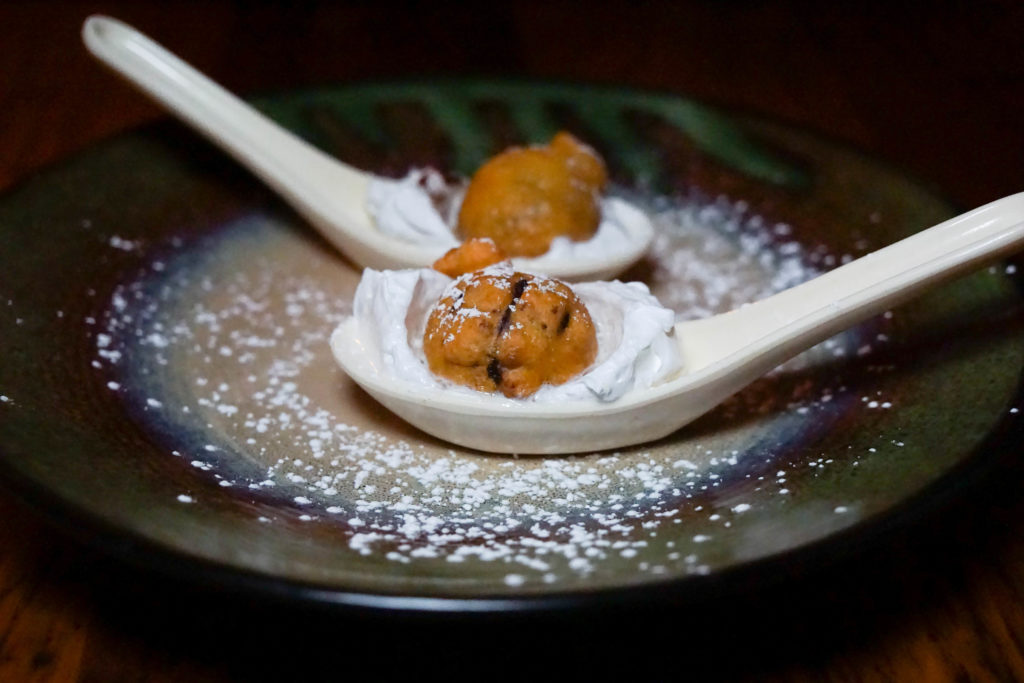 Fried Truffle Yes, you read that right. It's literally a one bite truffle bomb that explodes chocolate in your mouth. You are officially obligated to end your meal with one.
Note: I was invited as a guest of the establishment and received a complimentary meal. This was not in exchange for a positive review and opinions expressed are my own.
Bettola
412 Amsterdam Avenue (79th & 80th Sts)
New York, NY