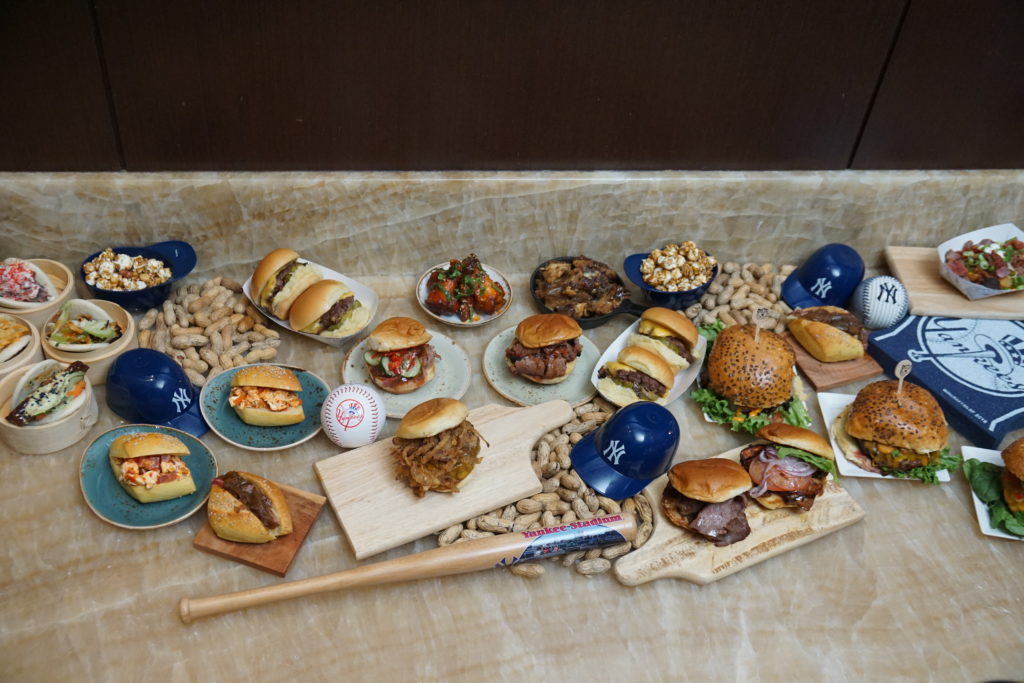 Going to a baseball game no longer means you're forced to scarf down overpriced peanuts and cracker jacks. The Yankees recently invited me in to check out the new food lineup for the 2017 and I'm happy to report the Stadium is now filled with dining options worthy of eating even if you're weren't at the ballpark. I was excited to see Might Quinn's – one of my favorite barbecue restaurants – on the list along with everything from dry aged meats to Chinese Bao and even a gourmet salad bar. Yes, officially something for everyone.
Best of all this is not just for the the people in the padded seats by the field. There are choice eats spread all over the park although the area around Section 133 is your best bet. But after that the most foodie friendly area of the stadium might actually be the cheap seats known as the bleachers. They're located near Section 133 but between the two new terraces in Center Field they have enough specialty cocktails and bites to do Babe Ruth proud. Best of all you can hang out there for the game (without a seat ) for a mere $15.
Here's a look at my favorites from the new food lineup: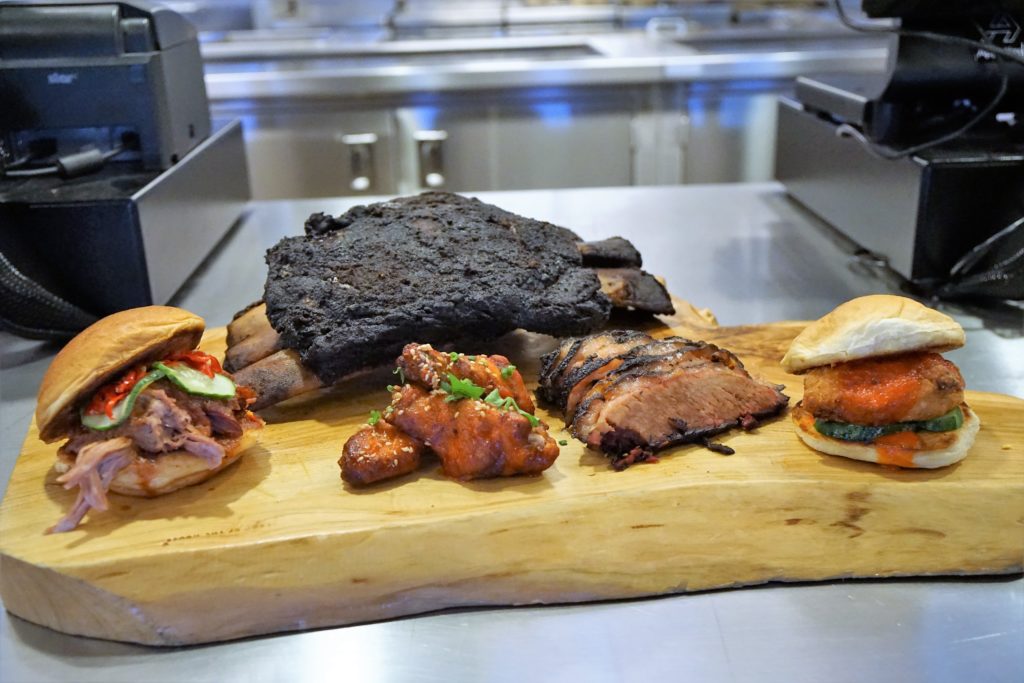 Might Quinn's (Section 133)

It's always nice to see a familiar face at the ballpark, especially one that makes some of the best brisket in NYC. And they've brought their best items to the ballpark including the massive Brontosaurus Beef Rib and ridiculous "Dirty Fries" covered in Burnt Ends, chile-lime sauce, red onions and scallions. But if it's your first time at Quinn's I still say an order of brisket is the order.
Bareburger is a burger chain that's probably least well known for their traditional burger. When you come here, it's all about the toppings and exotic meats. Except to see everything from turkey to bison to ostrich on the menu. My favorite bite was The Matador – a Mexican style Bison Burger with queso fresco, guacamole, pickled jalapeños, green leaf, spicy pico de gallo on a brioche bun. It also comes with the option of telling people you ordered it to be healthy or because it just sounds more badass.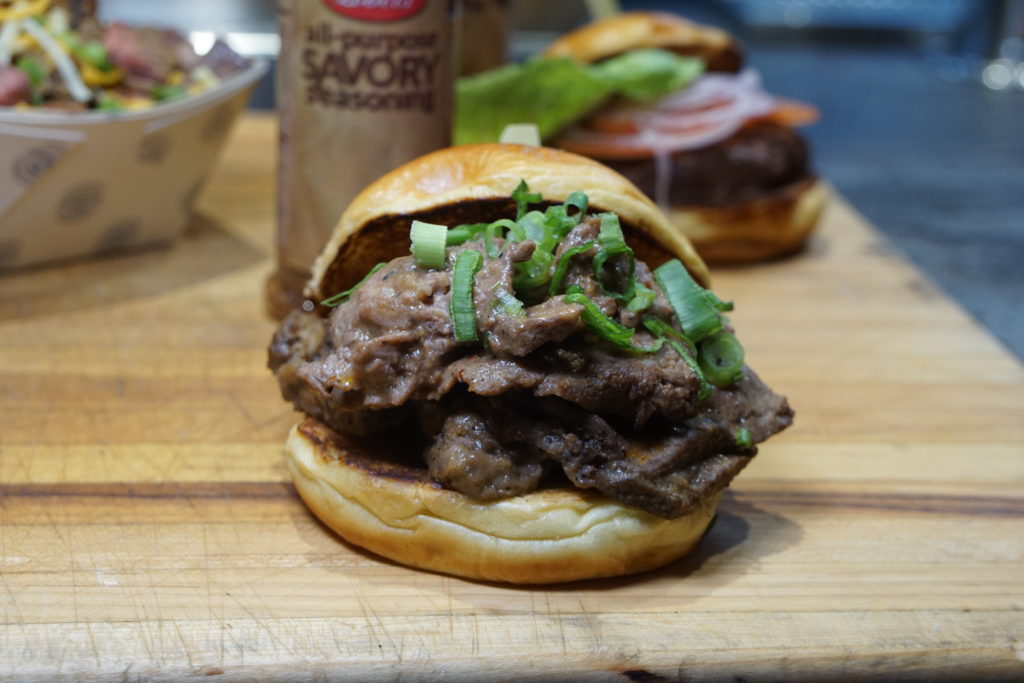 Lobel's Steak Sandwich (Section 133)

I always like when you get to see the giant slabs of beef being cut before you eat them. It gives you that primal feel as if you had something to do with killing the animal that's sure to spark an appetite. It shows they're not serving some frozen imported garbage. Lobel's has a window into their butchery next to the stand. And with beef this quality, I go with the steak sandwich to get the most out of it, although the Traditional and Meatloaf Burgers are pretty damn good too.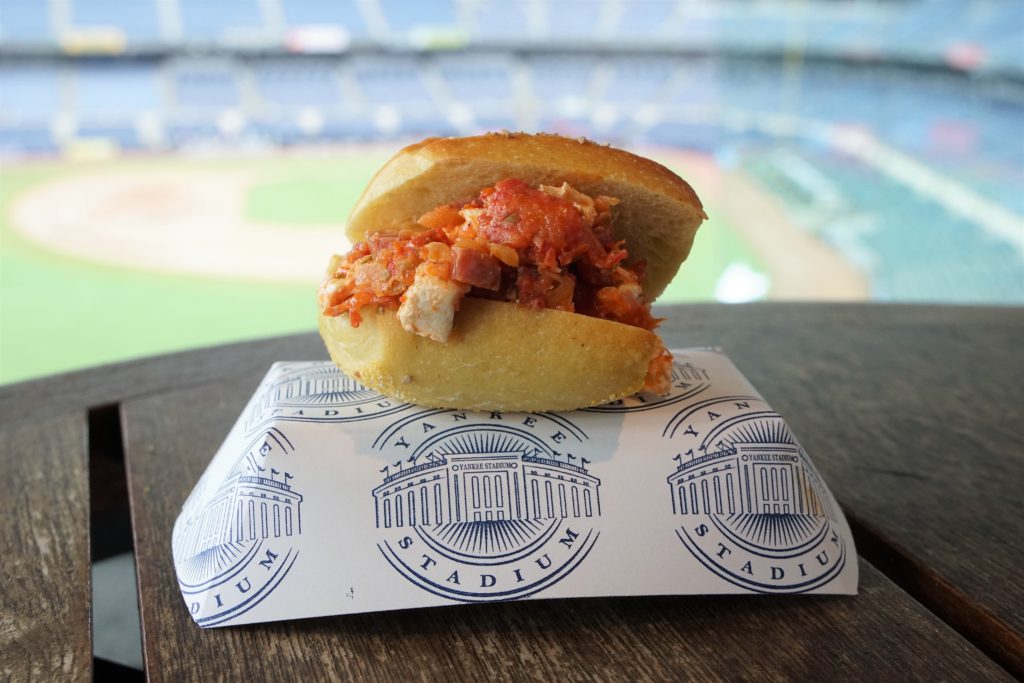 Mozzarella Joint (Bleachers 201)

Vegetarians fear not, there's a delicious gut busting option for you as well. The Mozzarella Joint is making their own mozz fresh throughout the game and piling it with tomatoes and other veggies on a roll for your delight.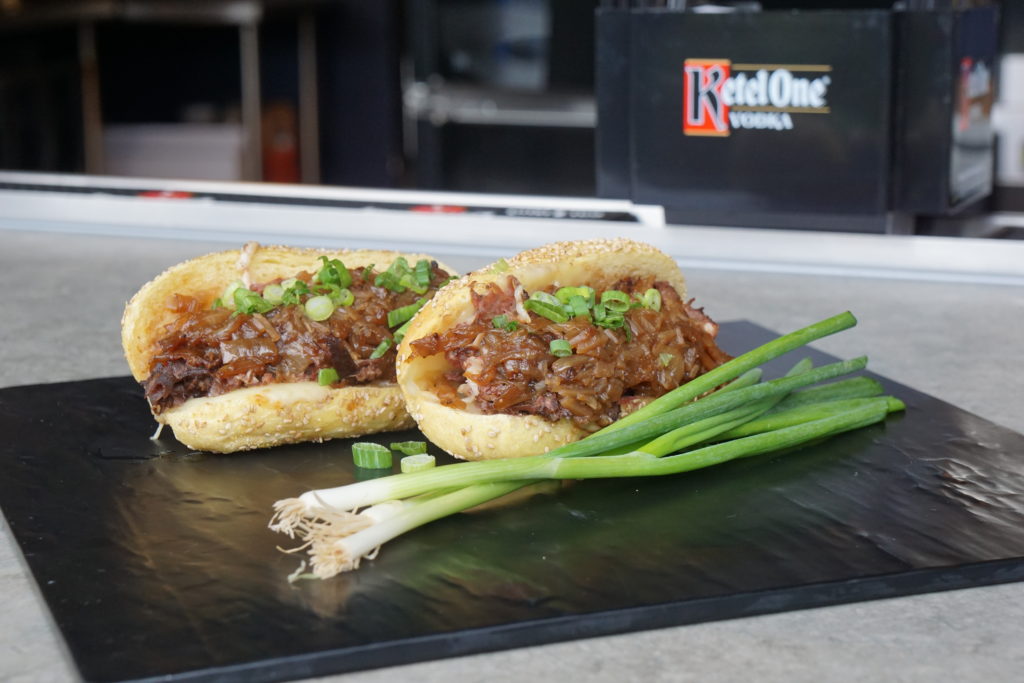 Masterpass Batter's Eye Deck (Center Field)
Another great option in the bleachers, this is actually a Yankee Stadium original. They're offering a Loaded French Dip Sandwich complete with caramelized onion and melted Swiss that's dipped in French Onion Soup. This might be my go to for the chilly early season games.
Note: I was invited as a guest of the Yankees and received complimentary samples of their new offerings. This was not in exchange for a positive review and opinions expressed are my own.