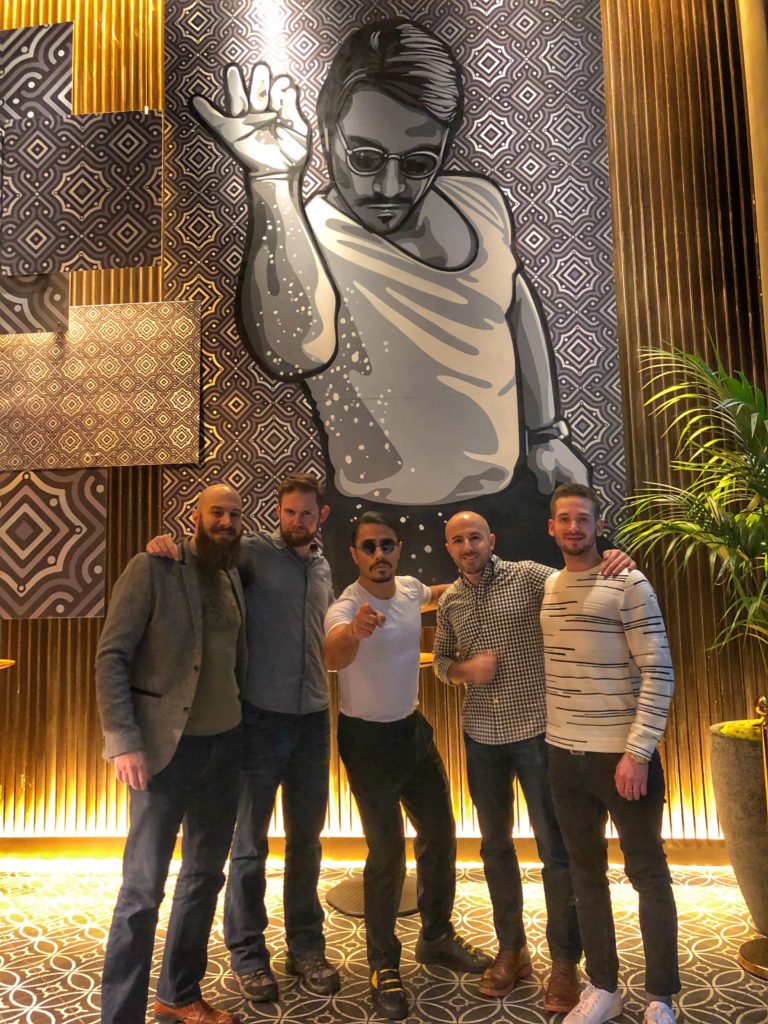 The sensual cutting of meats. The salt raining off a chiseled forearm. The trademark round sunglasses, slicked back hair and skin tight white t-shirt. You've seen the videos (in case you've been living under a salt rock, here is the original). Now the greatest food meme of 2017 is performing live in New York City. Nusr-Et Steakhouse NYC by Nusr-Et Gloeke aka #SaltBae is officially open for business.
If you've read any of the reviews so far, you may have noticed they're not exactly flattering. Some criticisms are fair. The waitstaff was inattentive at times. And it's certainly true you can get better steaks elsewhere for significantly less money. $275 for a 34 ounce Tomhawk Ribeye, even one that's Wagyu and dry aged – is excessive. $70 for maybe 8 ounces of tenderloin in a milk & shallot marinade is a borderline outrage. And don't get me started on $15 for eight stalks of asparagus.
Yes, Nusr-Et costs more than it should for the amount of food. But that's not the point. You can spend a whole lot more for a  performance a few blocks away at Carnegie Hall and there ain't no wagyu steak coming out at the end. And that's what this is – a performance. In a towering, glammed-up space in the most expensive part of Midtown. You're watching an internet legend work his magic live at your table, and that's worth something to some people at least. Just make sure to order one of the high priced steaks because Salt Bae isn't coming to slice your burger.
Then there's the quality of the food. Here is where I think critics have been far too harsh. We get it's expensive and some of the premiums and more ridiculous than others. But the Saltbae Tomahawk is a great steak, perfectly cooked and the burger was excellent. My advice: don't come too hungry (to keep the cost in check), know that a portion of the proceeds is going to the spectacle and get in soon. Word is Nusret will move on to his next steakhouse in 2-3 months time.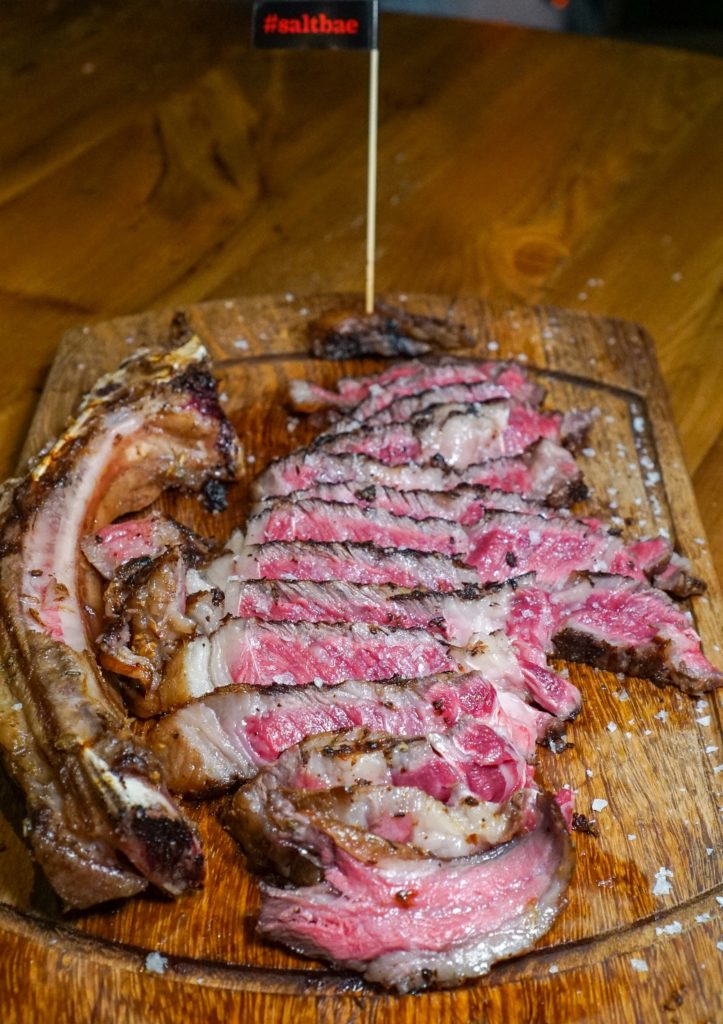 SaltBae Tomahawk The most expensive steak on the menu, but fear not, Salt Bae will come cut it  -and if you're lucky – feed it to you tableside. The description is "dry aged, highly marbled and mustard marinated." I'm not going to say I tasted a lot of mustard or dry aging. But highly marbled it is. One of the most tender ribeyes I've eaten, it was perfectly grilled and the flavor of the meat was phenomenal. There's a decent cap of fat, but even the fat is delicious.
Nusr-Et Burger The burger is great and one of the better values on the menu. The flavor of the thick wagyu patty shines through with just a slight enhancements from the caramelized onion and cheese. My biggest regret is splitting it four ways.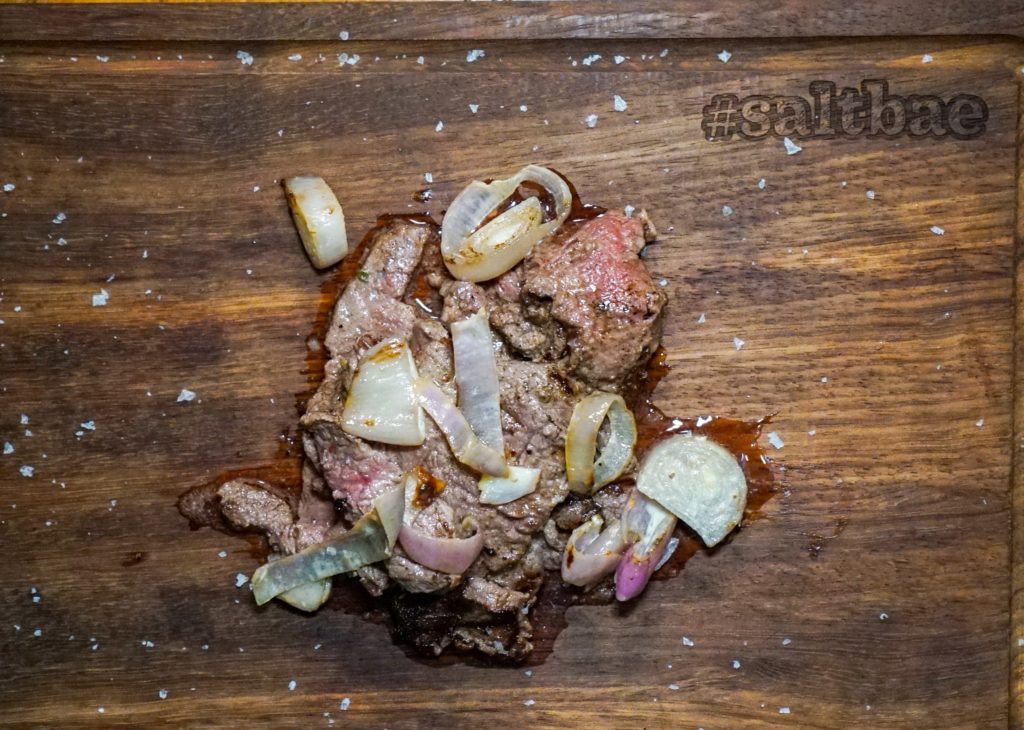 Saslik SaltBae is Turkish so you would think you want the steak in a Middle Eastern marinade right? Wrong. A few soggy slices of tenderloin totaling 8 ounces at best for a cool $70. It would be more fun to just #dollarbae the cash straight onto the grill.
Asparagus How badly do you need those greens with your dinner? Listen it's perfectly good asparagus in a simple salt and butter marinade. But at $15 for eight stalks you may want to consider how close to scurvy you really are.