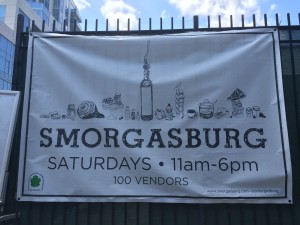 When it comes to New York food markets, Smorgasburg is King. Thousands of people travel to Brooklyn every warm weather weekend to sample food from close to 100 vendors. Saturdays you'll find it at East River State Park in Williamsburg while Sundays they now move to Prospect Park. Both locales offer a feast for both the stomach and eyes with stunning views of the East River and Manhattan skyline in Williamsburg and a lakeside setting in the park. It's hard to imagine a better place to stuff your face with any type of cuisine imaginable. Seriously, there's everything from Indian Tacos to Bolivian Sandwiches to Vegan Burgers. Getting a chance to sell your grub here is a highly competitive process which means while some things are better than others, everything is at least pretty good. So gather a bunch of friends and try as much as you can.
Fortunately I live a short walk from the Williamsburg location which means pretty much every Saturday you'll find me food-in-hand strolling the stalls, looking for my next bite. So yeah, I've eaten a lot of things there. And I will now categorize and rank them for your reading pleasure.
Note: As I continue going I'll keep this list up to date. So you'll want to bookmark this page. Not that you wouldn't anyway.
New For 2017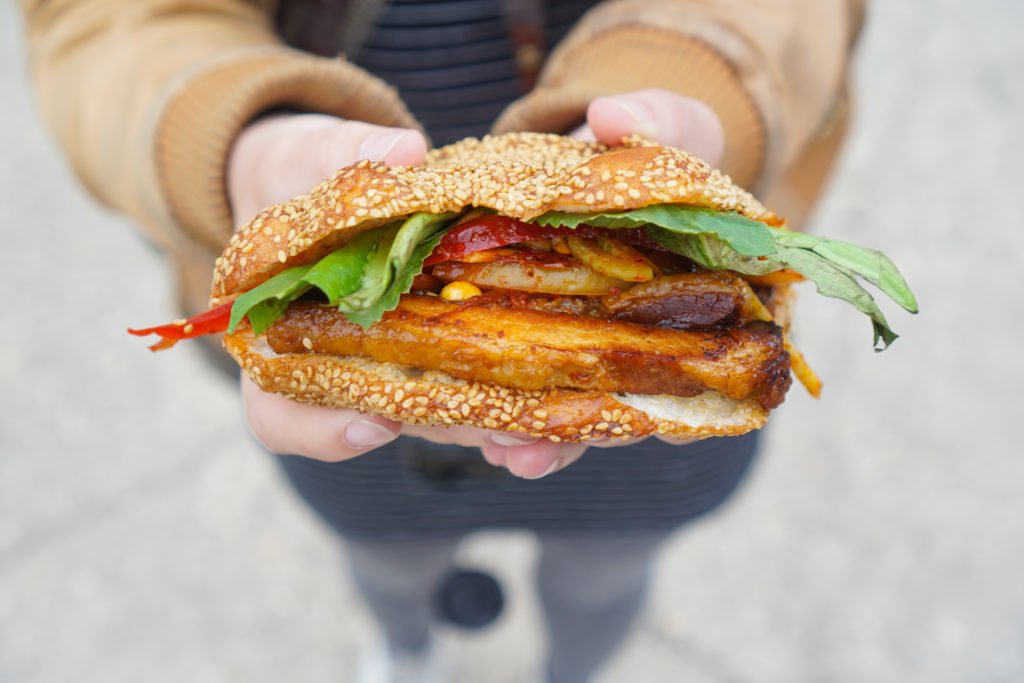 Kung Pao Pork Belly Sandwich @ Strange Flavor

This might be my favorite new vendor simply because it's such a genius combo: Sichuan Food & Sandwiches. So far I've only had this Kung Pao Pork Belly but you can see from the size of that pig they're not messing around. Definitely in my top 5 vendors.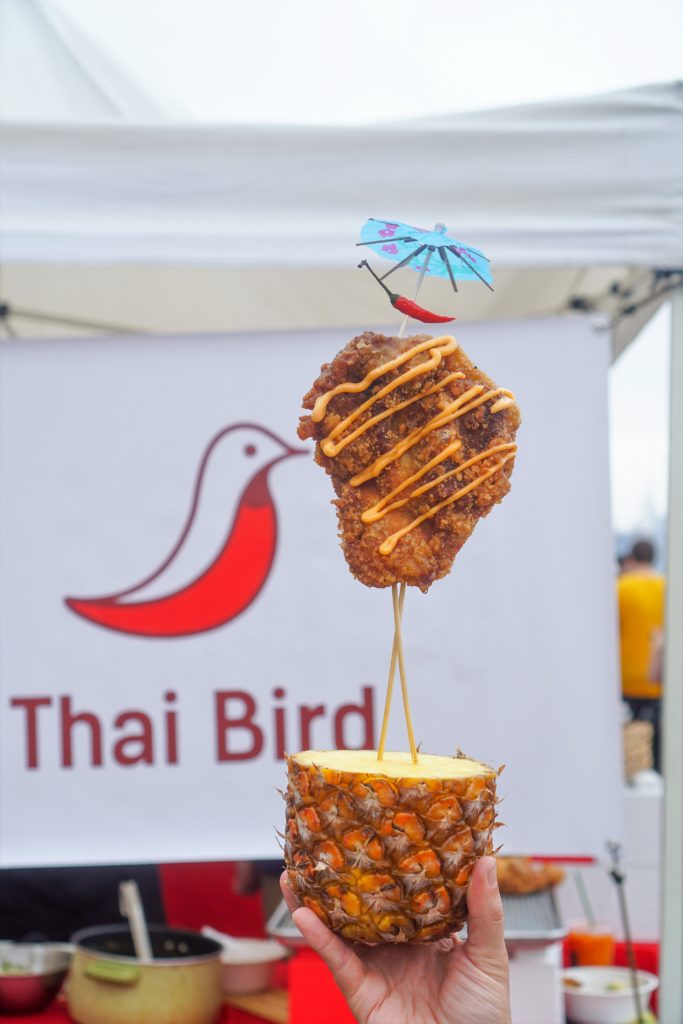 Thiabird Bowl @ Thai Bird

I'm a sucker for good, authentic Thai and these guys hit the spot. The photo is their display fried chicken & pineapple, but the actual move here is to get the bowl with paratha and papaya salad. There's a nice coconut sauce that cuts the salty spice of the fried chicken.
Peking Duck & Jerk Chicken Dumplings @ Destination Dumplings
I can't believe it took this long to get dumplings at smorgasburg! The filling options are great here and these are the best peking dumplings I've come across. The spicy jerk chicken is also nice with chunks of pineapple to cut the heat.  If I have one complaint, it's that the skins were a little too crispy on the edges.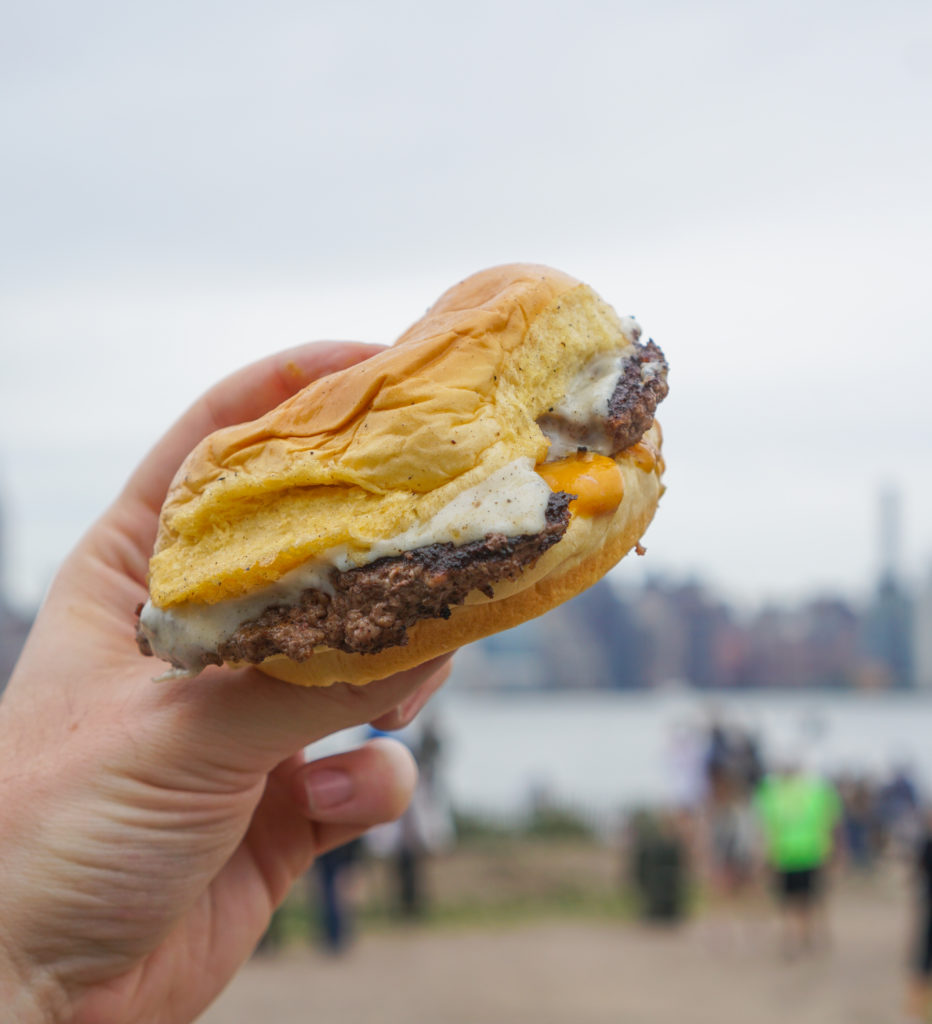 Cheeseburger @ Burger Supreme
This is about as close as it gets to a burger off the grill in your backyard. Maybe because Smorgasburg is kind of Williamsburg's backyard. It's a Flesicher's beef patty covered with American Cheese and Mustard on a Martin's Potato Roll. So classic and so delicious.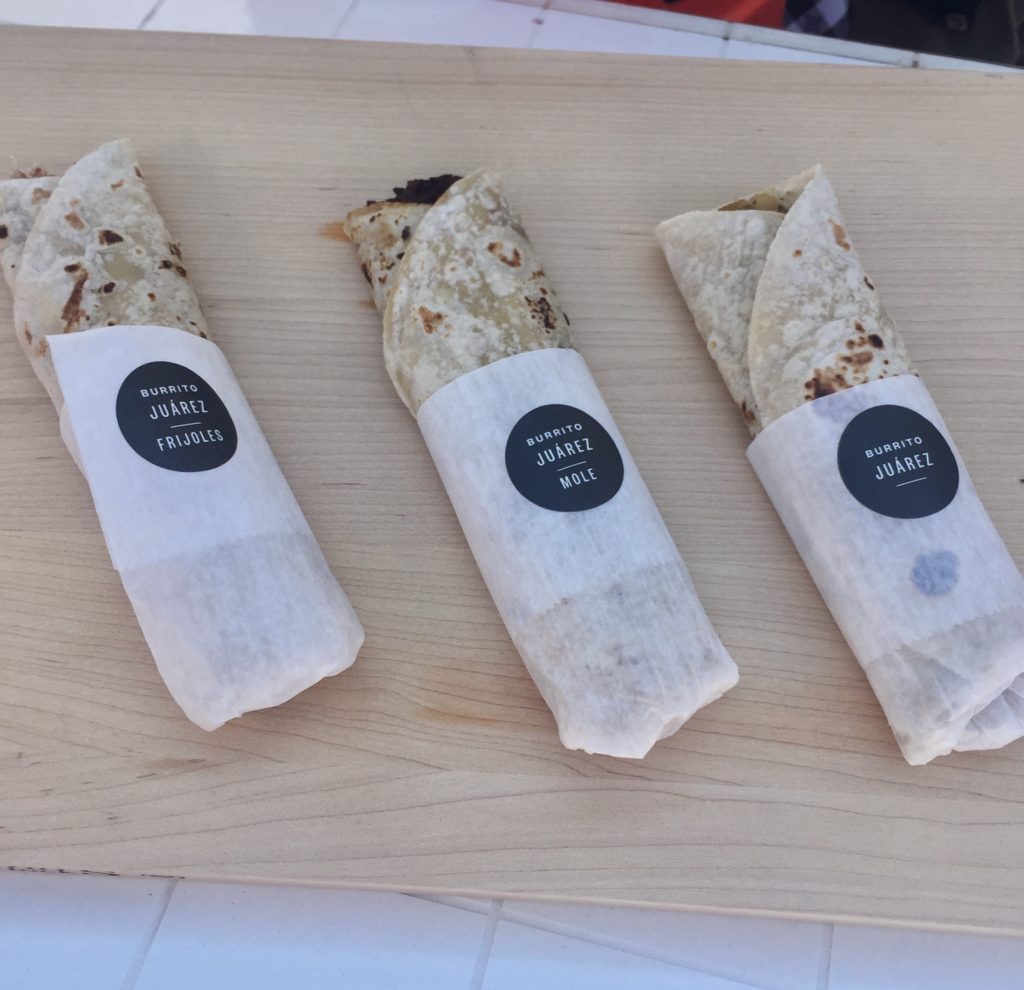 Roasted Pork in Salsa Verde Burrito @ Burrito Juarez
Think of these as your "Skinny Girl" burritos. No rice, no beans, no sour cream. These Juarez style wraps are a simple single protein with the only toppings being the option to add cheese and avocado for $1 more. As someone who has long derided the over-stuffing of burritos with rice, I enjoyed this slimmed down version immensely.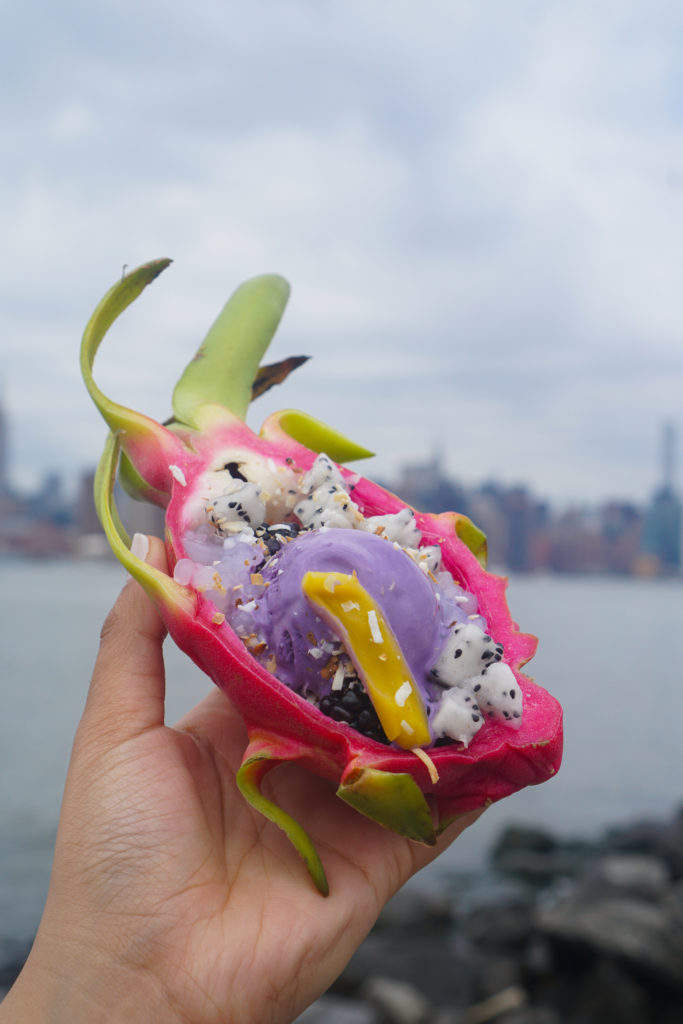 Halo Halo in Dragon Bowl @ Ube Kitchen
  Ube ice cream served in a dragonfruit with the fruit and fresh & toasted coconut. It's as tropical and refreshing as it sounds.
Meats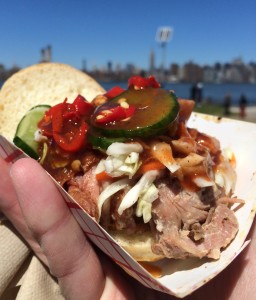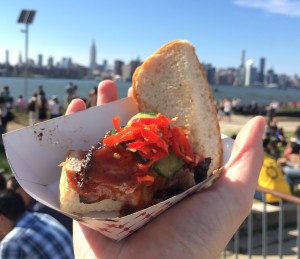 BBQ Pulled Pork Slider

& Brisket Sandwich

@ Mighty Quinn's* A Smogasburg legend that's led to several brick-and-mortar locations but graciously continues serving here. You can also expect a long wait for this one if you're not there early. The pulled pork is tender and well spiced with a great sweet tangy BBQ sauce pickles and chilis. It's just a very well done BBQ sandwich. The brisket has a great spice rub, but can be a little salty if there's too much end in it, hence the deduction.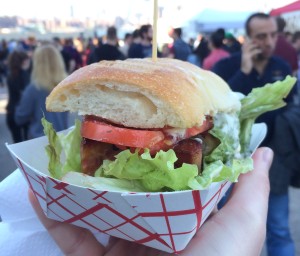 BLT @ Landhaus

Landhaus has discovered the secret to the BLT. Replace the flimsy slabs of bacon with a big fat juicy slice of pork belly. Winner.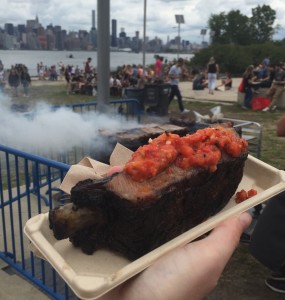 Short Rib @ Carnal

You'll likely notice people walking around with this massive hunk of beef rib topped with tomato and wonder how to get your hands on it. Find them being smoked before your eyes in the far back corner by the beach. And prepare for the meat sweats.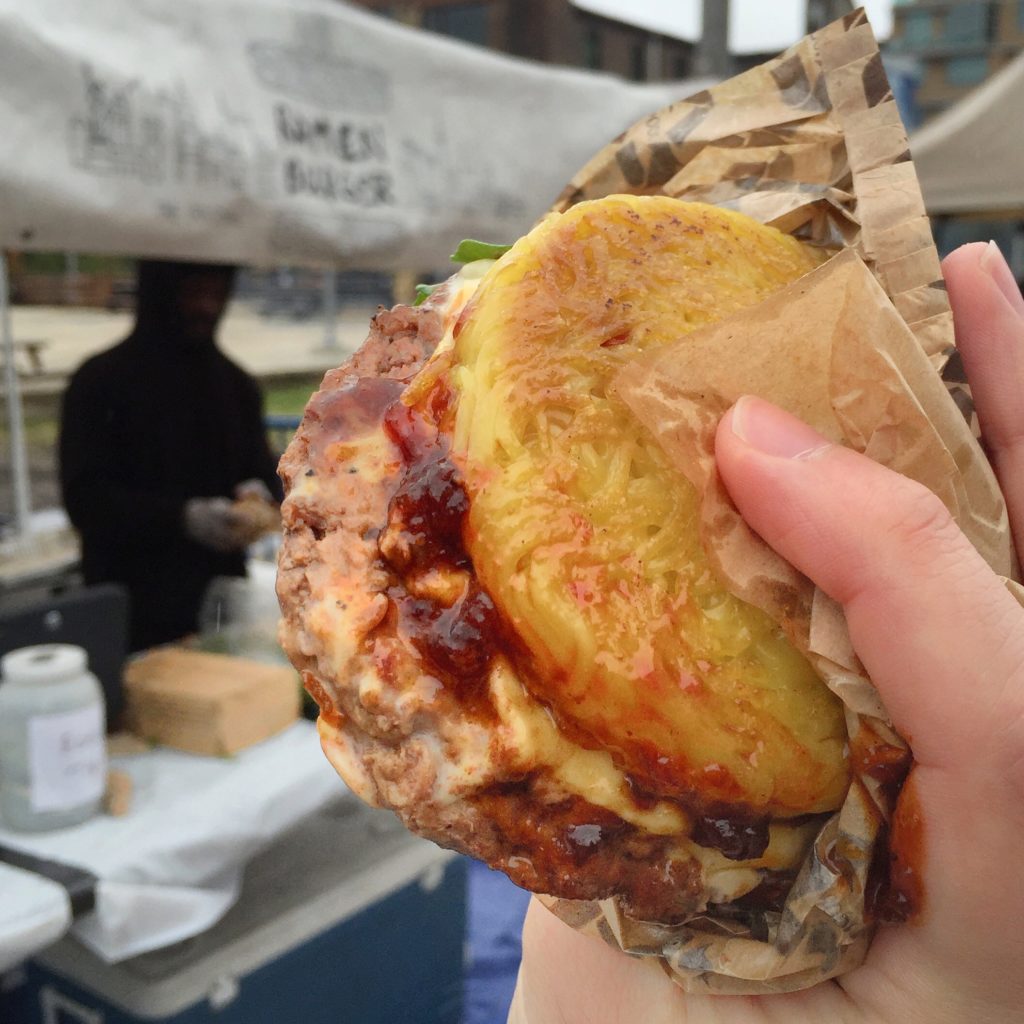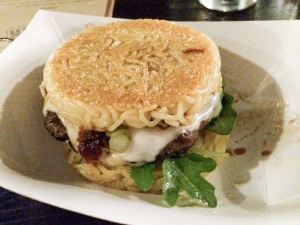 The Original Ramen Burger @ Ramen Burger*
Last year's hottest burger still draws the longest lines at Smorgasburg. The original is an angus beef patty covered with arugula, scallions and secret shoyu sauce on a bun constructed of ramen noodles. It's a really good burger, but novelty more than taste has elevated it to legendary status. Click the name above for my full review.
Brisket Slider @ Lone Star Empire

Moist, meaty and well spiced. It's a strong alternative if you want barbecue but don't want to wait in the Mighty Quinn's line.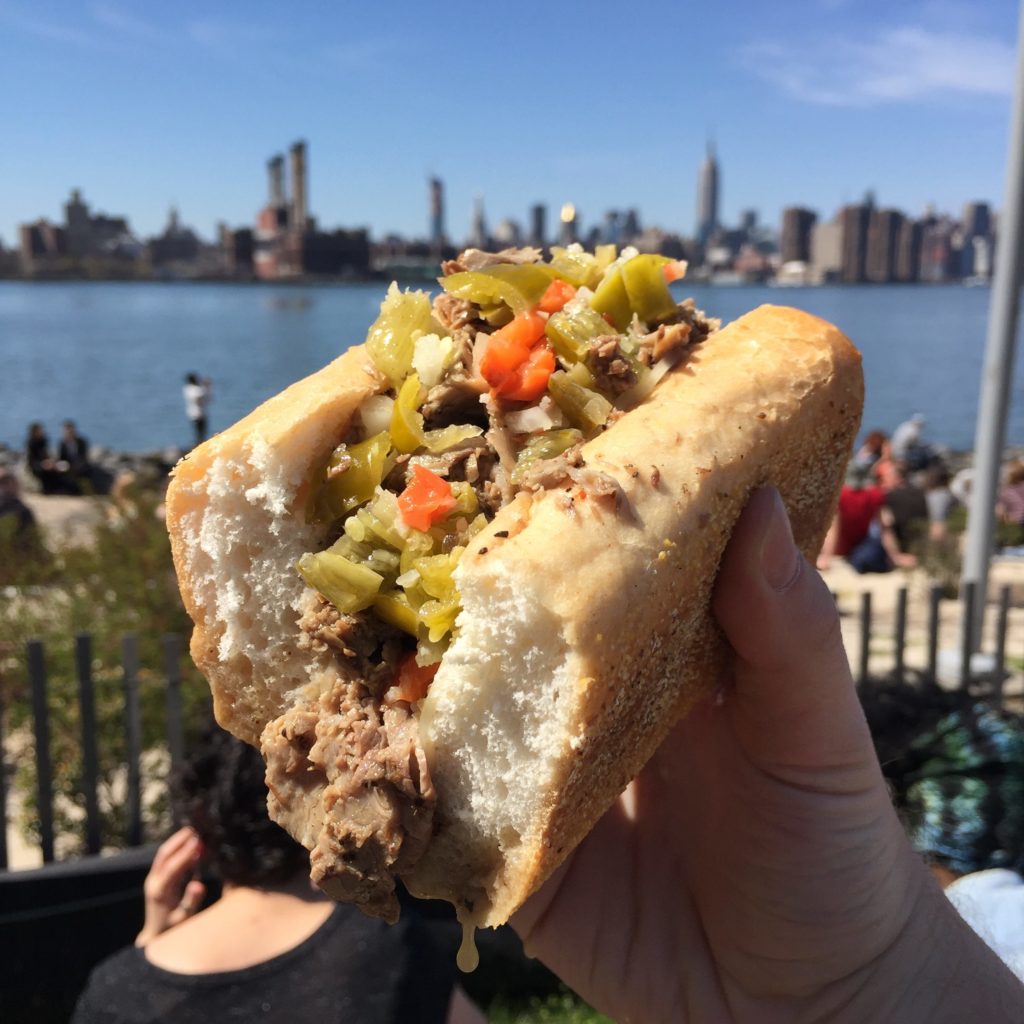 Beef Sandwich @ 2nd City Beef

Very juicy meat on a soft Italian roll. The beef could have had a little more flavor so top yours with two things you should never say no to: cheese and hot peppers.
Season Sandwich @ Duck Season

Duck confit topped with pickled cabbage, XO sauce and spicy chickpea spread on a brioche sounds like a recipe for an incredible sandwich. It's good, but unfortunately was also a little dried out. The perils of mass production.
Seafood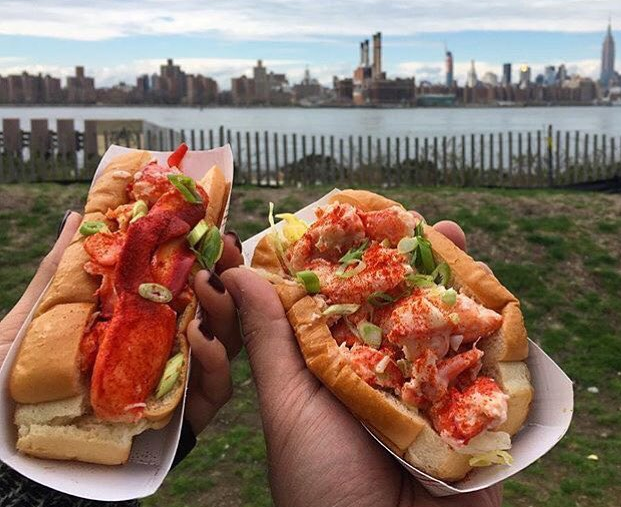 Maine Style Lobster Roll

& Connecticut Style Lobster Roll

@ Red Hook Lobster Pound* Some of NYC's best lobster rolls, which has a lot to do with their fresh crustacean and lack of mayo. The Maine Style comes on a buttery bun with just a touch of the 'naise while the Connecticut is served warm with lemon. Both are covered in paprika and scallions.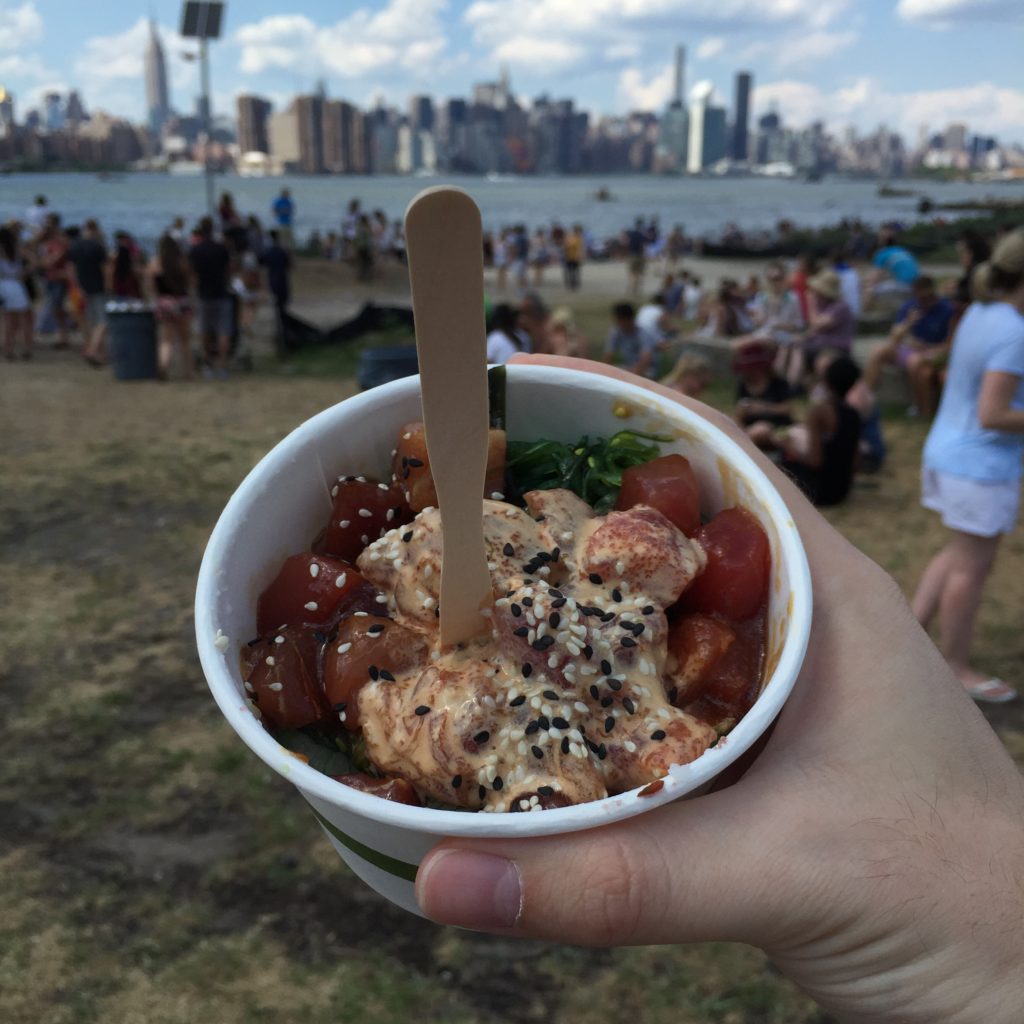 Spicy Mayo Ahi Tuna Poke @ East Coast Poke
Poke is becoming a "thing" in New York now, but these guys – now in their 3rd year – were ahead of the curve. The spicy mayo on fresh hunks of tuna with a cool seaweed base is the perfect Smogasbite on a hot summer day.
Sweets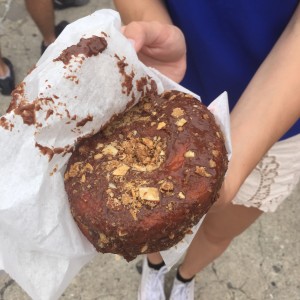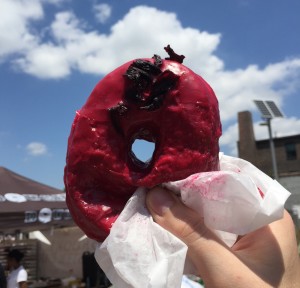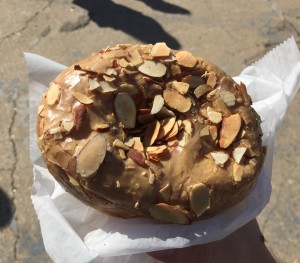 Mocha w/ Almonds

, Hibiscus

& Dulce de Leche w/ Almonds
Doughnuts @ Dough* Dough may be the closest we have to doughnut perfection in NYC. Their massive glazed doughnuts are airy enough they would almost work as a pillow if it weren't for the fact they won't last more than a few seconds near your face. If you want choclatey, the dark chocolate mocha w/ almonds nails it down perfectly. For the fruit lover, hibiscus topped with dried cherries is their signature with good reason. The dulce de leche did not having quite enough of that South American caramel flavor coming through but its still pretty damn tasty.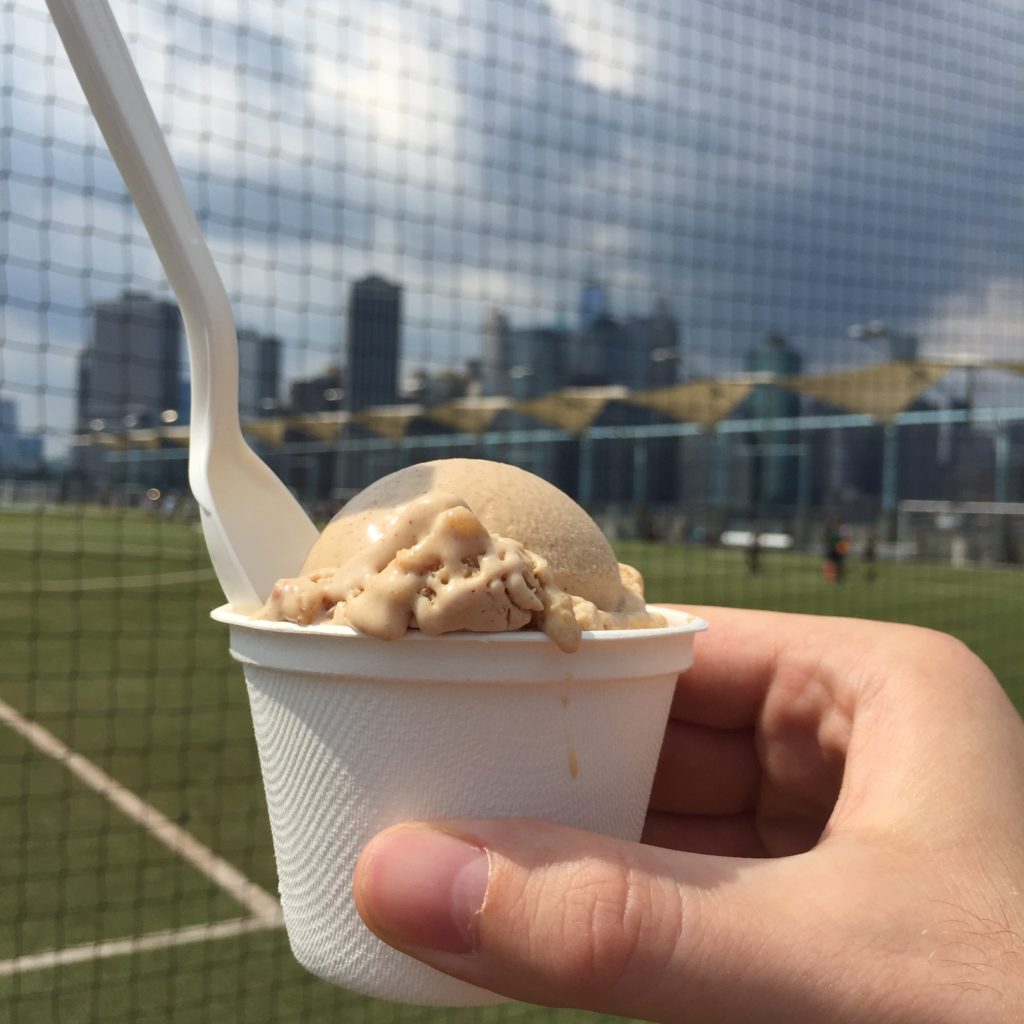 Ice Cream @ Ample Hills

Great ice cream with a rotating variety of interesting flavors.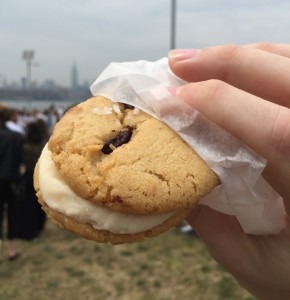 Salted Chocolate Chip Vanilla Sandwich @ Ovenly*
I'm not a big sweets guy but this cookie is amazing, even though it was a little dry from being out all day. Fresh out of the oven I'm guessing this is an easy 3. And I was shocked to recently learn it's vegan.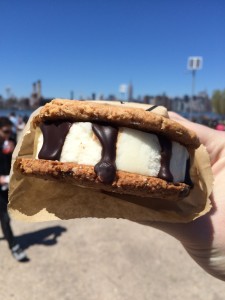 Goodwich @ The Good Batch
I'm a longtime fan of the chipwich and my ability to turn down ice cream stuffed between two cookies is severely limited. This one uses a oat chocolate chunk cookie with vanilla ice cream and a drizzle of fudge. The only downside is you need to let the cookie soften for a while before eating.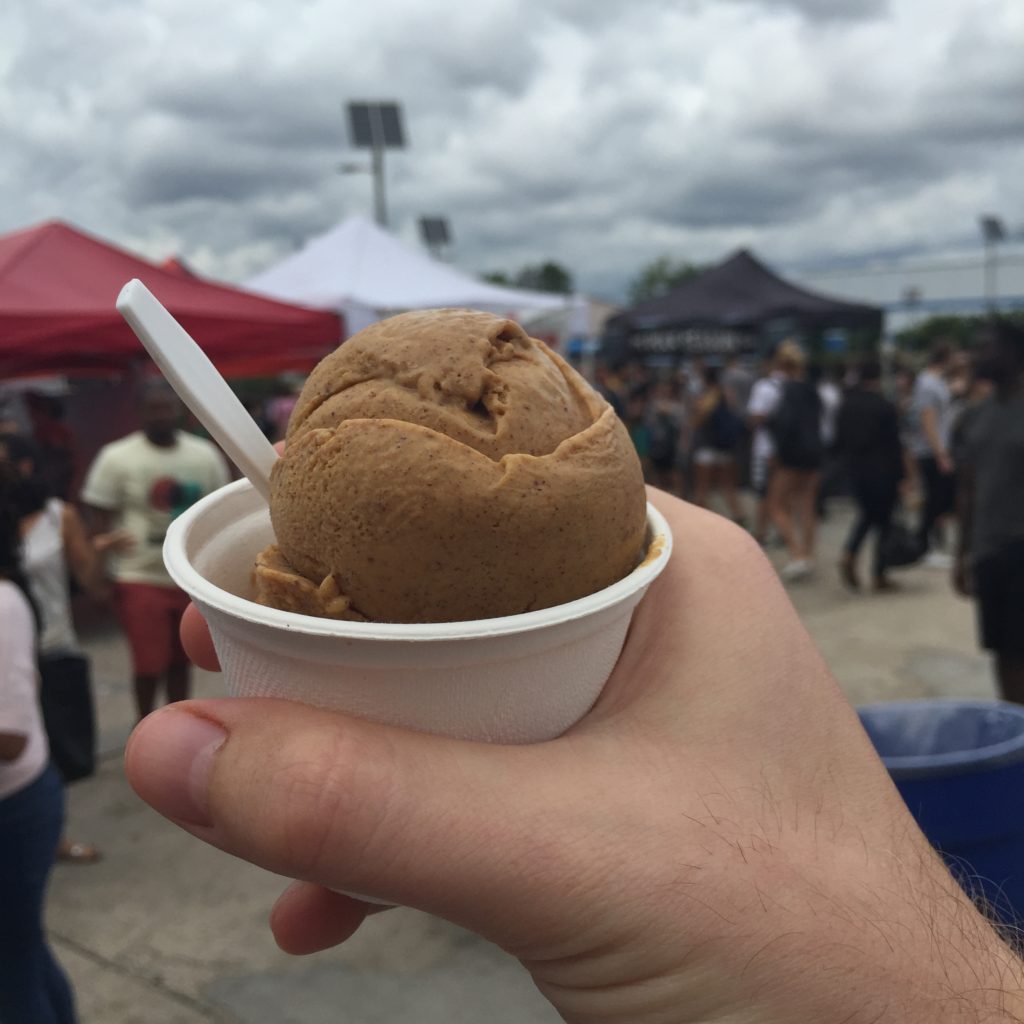 Ice Cream @ Blue Marble

Good ice cream if that's what you're in the mood for and the line for Ample Hills is too long.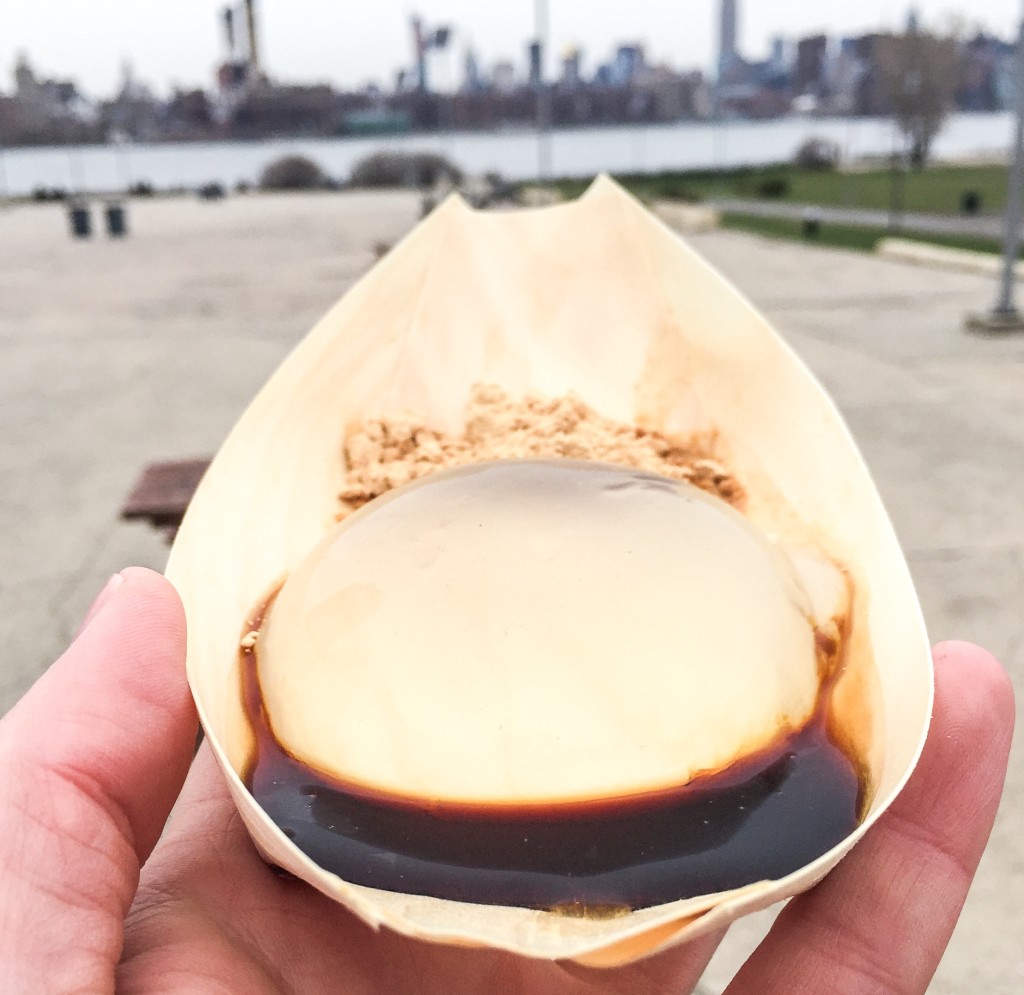 Raindrop Cake 

This 2016 newcomer took the internet by storm so I'll put it up top for now even if it's not actually the best tasting thing at the 'burg. The center is made of only water and agar (an algae based gelatin) and has the look and consistency of, well, watch the video and see for yourself. The flavor comes from soybean flour and brown sugar syrup which essentially gives it that taste of a flan jello. It's also vegan.
Fusion Frenzy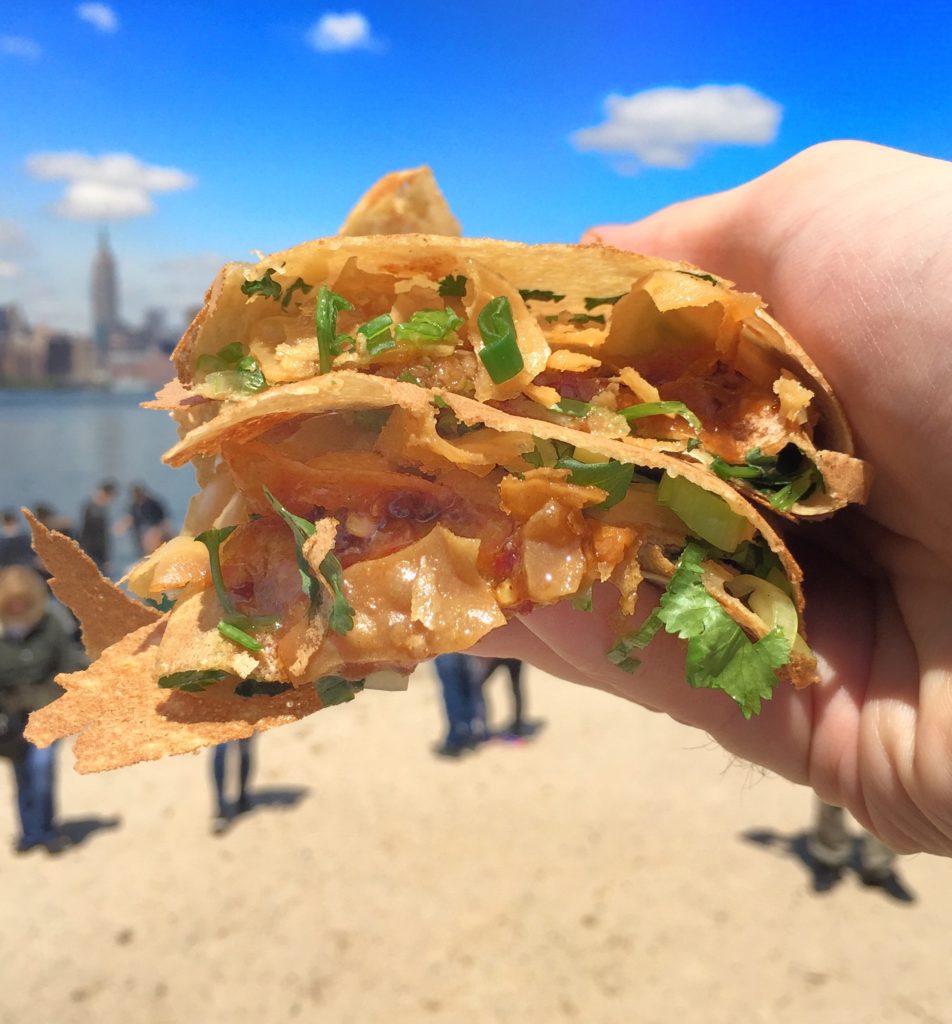 Original Jianbing @ Jianbing Company

New in 2016 is this Chinese crepe filled with egg, cracker, 13 sauce, scallions, cilantro, homemade chili sauce. So as you can see, there's a lot going on in that crispy little crepe. The crunch combined with the tangy, hoison-like 13 sauce and chili sauce is something that needs to be experienced. If you have any spice tolerance, get it hot (it's not that hot).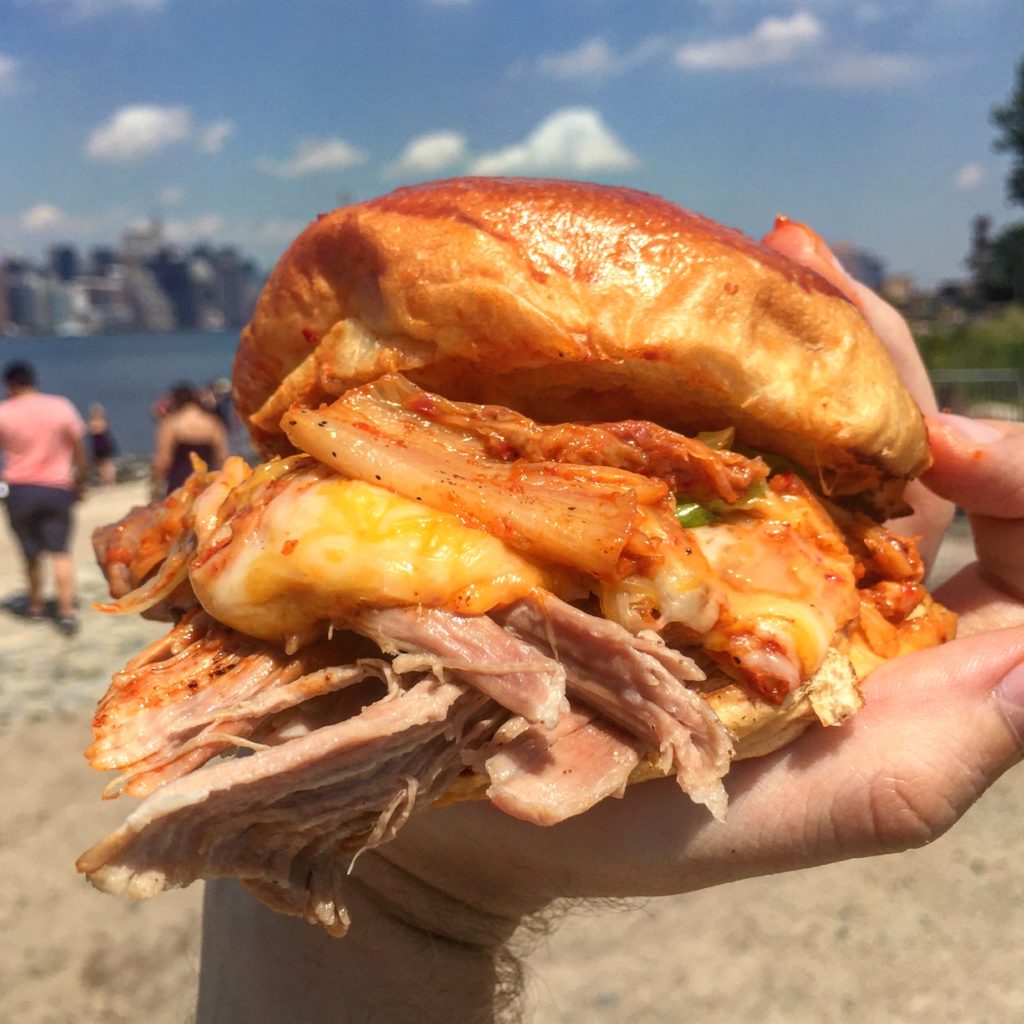 Cholander Sammie @ Kimchi Smoke

This behemoth is well worth the $14 price tag. Smoked pork shoulder comes smothered in cheese, kimchi and their signature Fatboy BCS sauce. It's the best way to ensure you leave Smorgasburg in a food coma.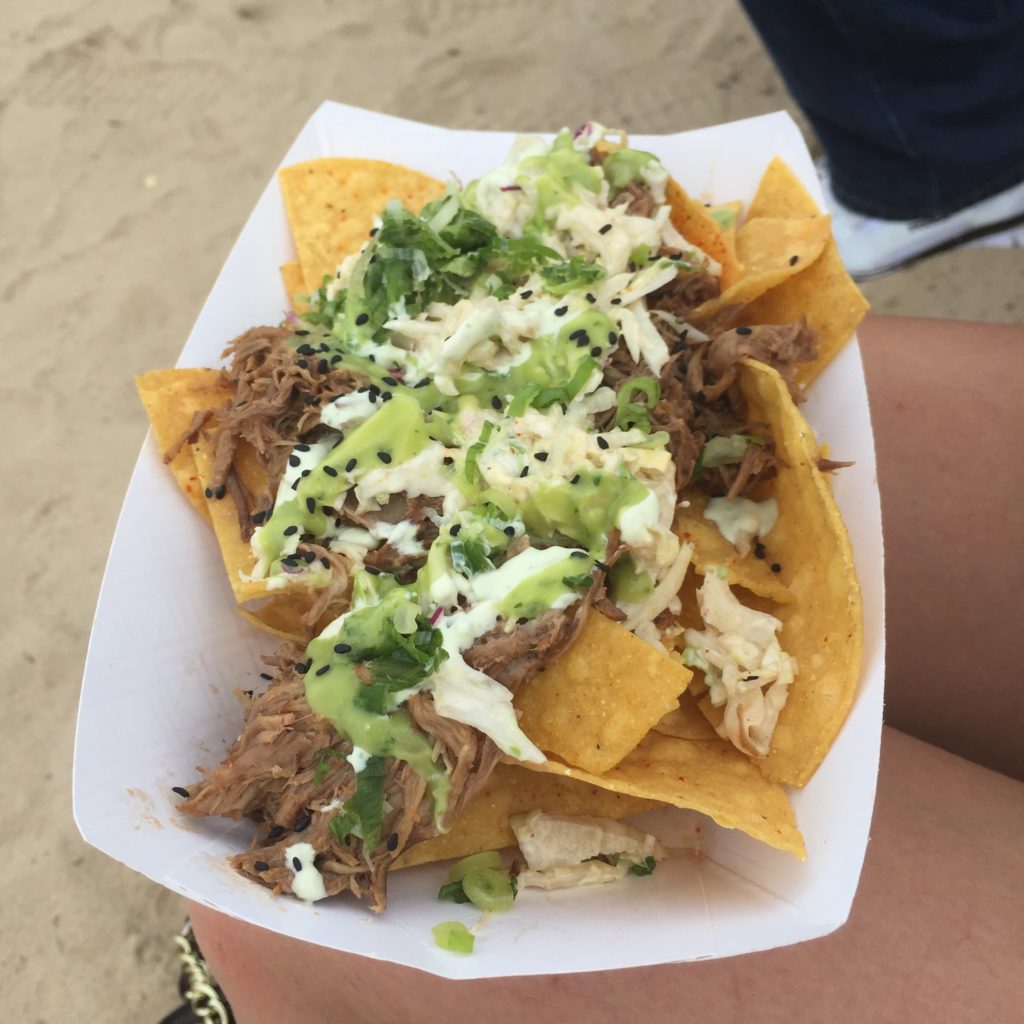 Short Rib Nachos

and Spicy Tuna & Short Rib Tacos @ Takumi Taco*

The taco fusion craze takes on Japan with excellent results. What's not to love about big hunks of tuna in spicy mayo and avocado? Nothing. The crispy gyoza taco shell makes it a little more Japanese and is perfect wrapper. The short rib is meaty and tender and great with wasabi crema. But it makes an even better topping for their nachos.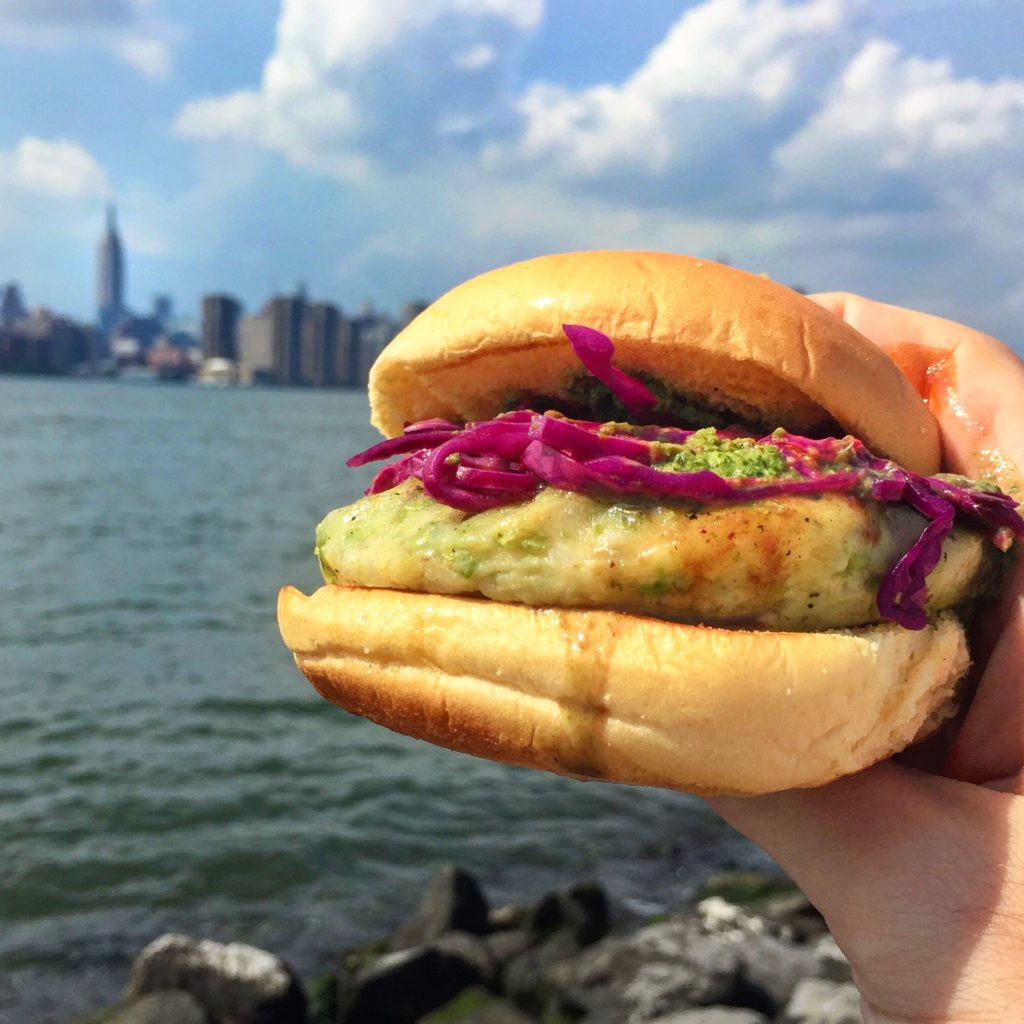 Pea + Potato Patty Bun @ VanPakistan
Fatima Ali (a winner on Chopped Season 12) has got this Pakastani fusion sandwich nailed. It's vegetarian with just the right amount of kick. It normally comes wrapped in an egg but I had to pass on it due to an allergy.
Channa Masala Sandwich @ Bombay Sandwich Co.*
Indian style chickpeas with chutney on a fresh ciabatta it's packed with a lot of flavor and probably my favorite vegan sandwich in town. Check out their store on W 27th street for a wider selection of excellent vegetarian sandwiches.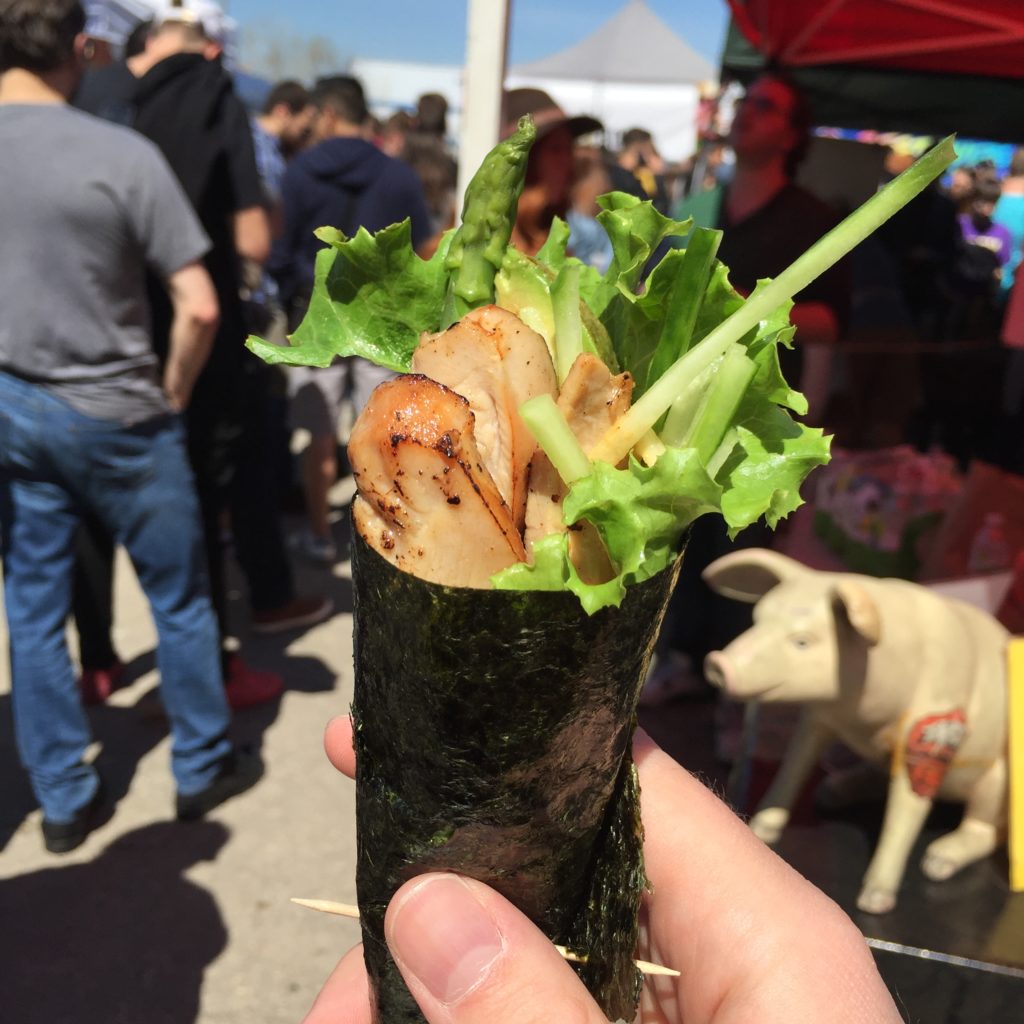 Chicken Teriyaki Hand Roll @ MOMO Dressing

Momo is now using their popular salad dressings to make Japanese style handrolls. At $6, they're a tasty snacka and one of the lighter options at Smorgas.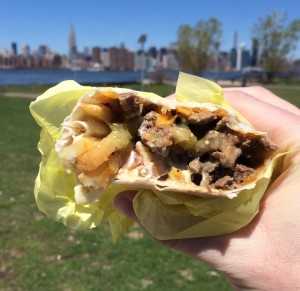 Carne Asada Burrito @ Best Buds Burritos

I've gotta give these guys credit for being the first in NY to execute on the stoner fantasy of french fry filled burrito. Otherwise it's a pretty standard California style burrito with crema, cheese and cilantro.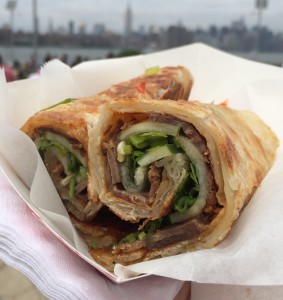 Beef in Scallion Pancake @ Outer Borough

I love the idea of using scallion pancakes to make a wrap. A better sauce could take it to the next level.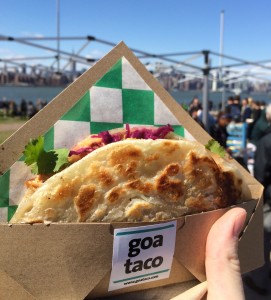 Slow Roasted Pork Belly Paratha Taco @ Goa Taco

I like the paratha and the pork belly, but I would have liked something a little more Indian than the somewhat uninspired cilantro / chipotle mayo combo.
Asian
Stuffed Kimchi Pancake
& Mungbean Pancake @ Kimchi Cooks

The stuffed kimchi pancake contains beef, onions, ricotta and their signature kimchi which is a perfect mix of tang and spice. The pancacke consists of mung beans, kimchi and scallions (and no eggs!) it makes for a spicy, tangy and reasonably healthy Smorgasburg snack.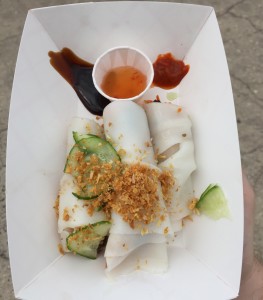 Banh Cuon w/ Tofu, Mushroom & Carrots @ Bep
Wrapped in a thicker rice paper than summer rolls and loaded with flavor this is one of the best Vietnamese rolls I've had. Add some hoison sauce for optimal eating pleasure.
Spring Rolls @ Lumpia Shack*

They offer Pork, Peking Duck and Mushroom filling in crispy, Filipino style spring rolls. They'll give you all three for $8. Take the deal.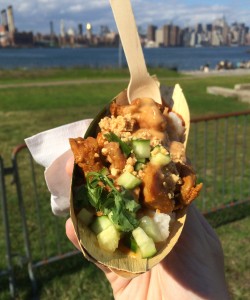 Chicken Satay Stick Rice @ Bamboo Bites

Spiced chicken, cucumber, cilanto over sticky rice. This is a solid snack I think could rate it higher if not for the slightly-too-sweet peanut sauce.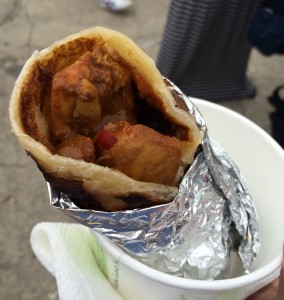 Chicken Roti @ Mamak Rendang

Sweet and spicy chicken in a buttery roti. You're about to realize you can sell my anything in a wrap, but this is the best of the bunch.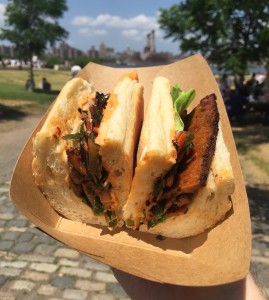 Kim's Chi Banh Mi @ Monk's Meats

In the battle of soy based meat substitutes, seitan always beats tofu. Hear it's seared and covered in enough Vietnamese spices you really don't miss the meat. The kim chi is also damn good and belongs on more sandwiches.
Thai Style Issan Sausage @ Queen Cobra Thai

I ate these sausages off the street all the time in Thailand and loved them. These are a decent rendition, but don't pack quite the same punch.
Latin American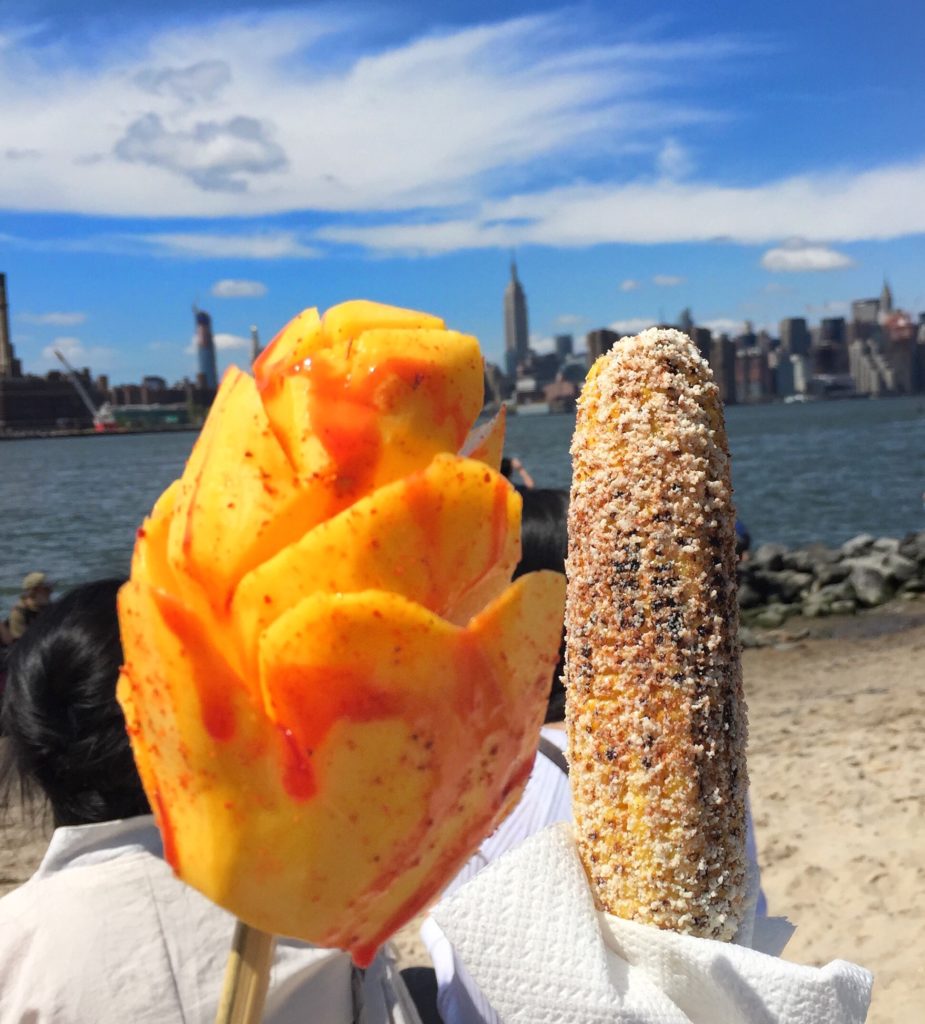 Elote (Mexican Corn)
& Spicy Mango

One thing Smorgasburg generally lacks is light options. I'm not sure a piece of corn smothered in butter and cheese counts, but at least it's a vegetable. And it's delicious so who cares. The spicy mango may not pack the same punch but it's certainly healthier and refreshing on a hot summer day.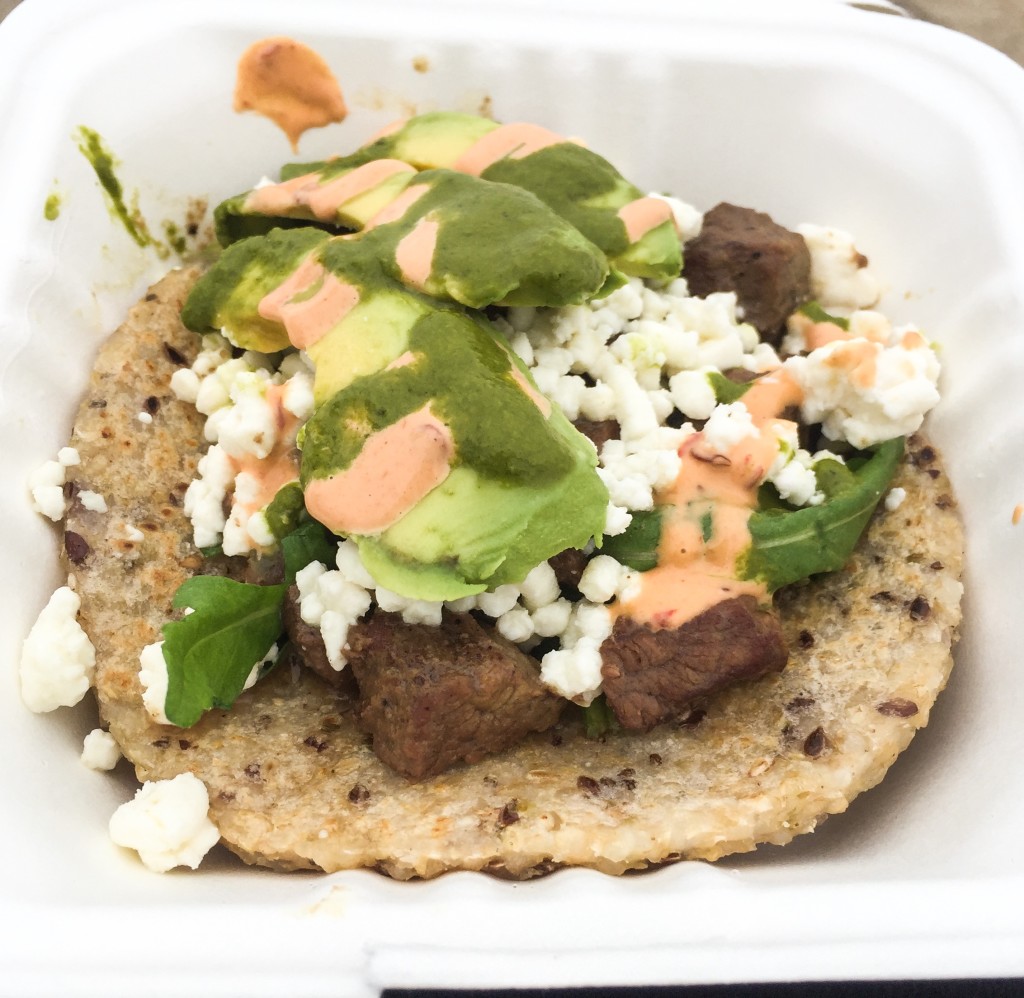 Toro Arepa @ Palenque

One of the first places I've seen to offer "healthy" apreas – this is a multigrain arepa topped with beef, cheese and of course avocado. They also offer traditional and quinoa based arepas. This 4″ size is perfect for a few bites when coming doing a Smorgasburg tasting.
European/American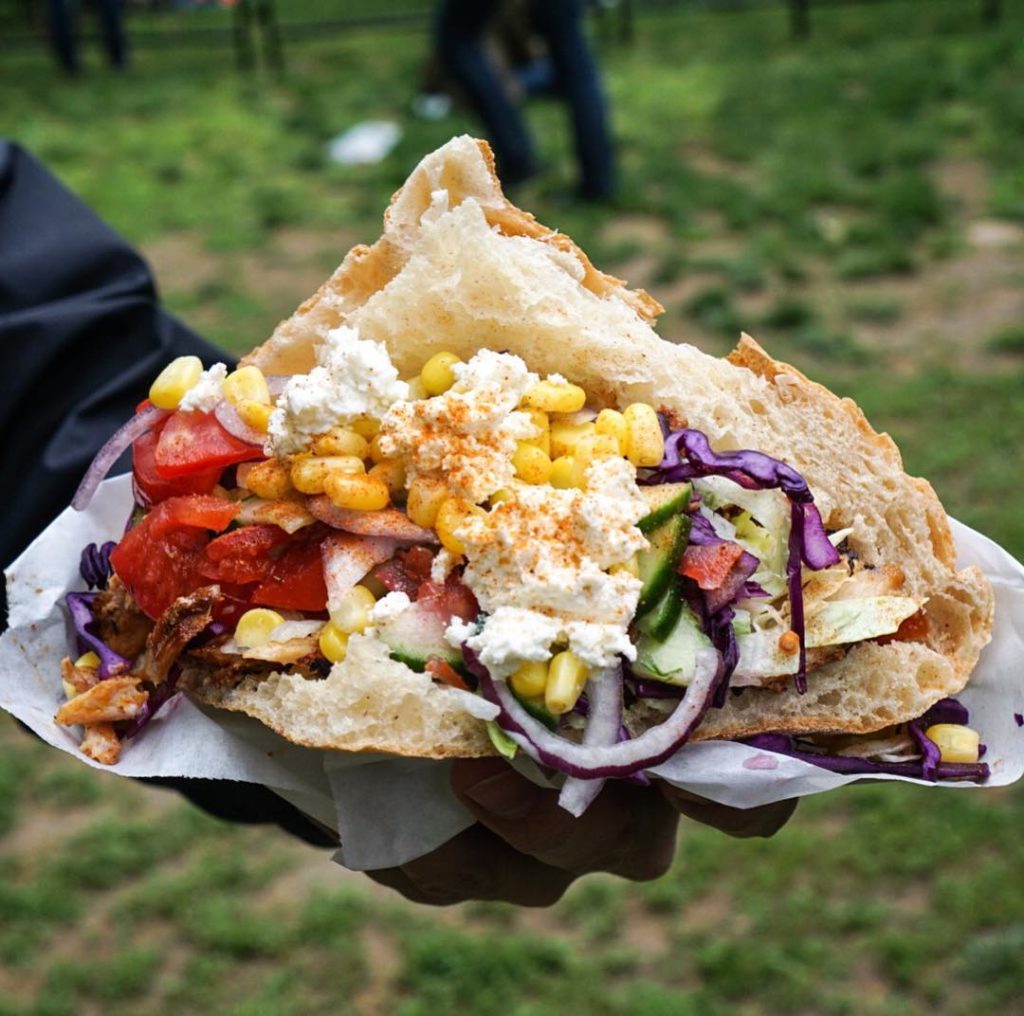 Doner Kebab @ Kotti Berliner

Get this stuffed Turkish Bread "the works" It does require unhinging your jaw to eat, but it's also my favorite sandwich at Smorgas.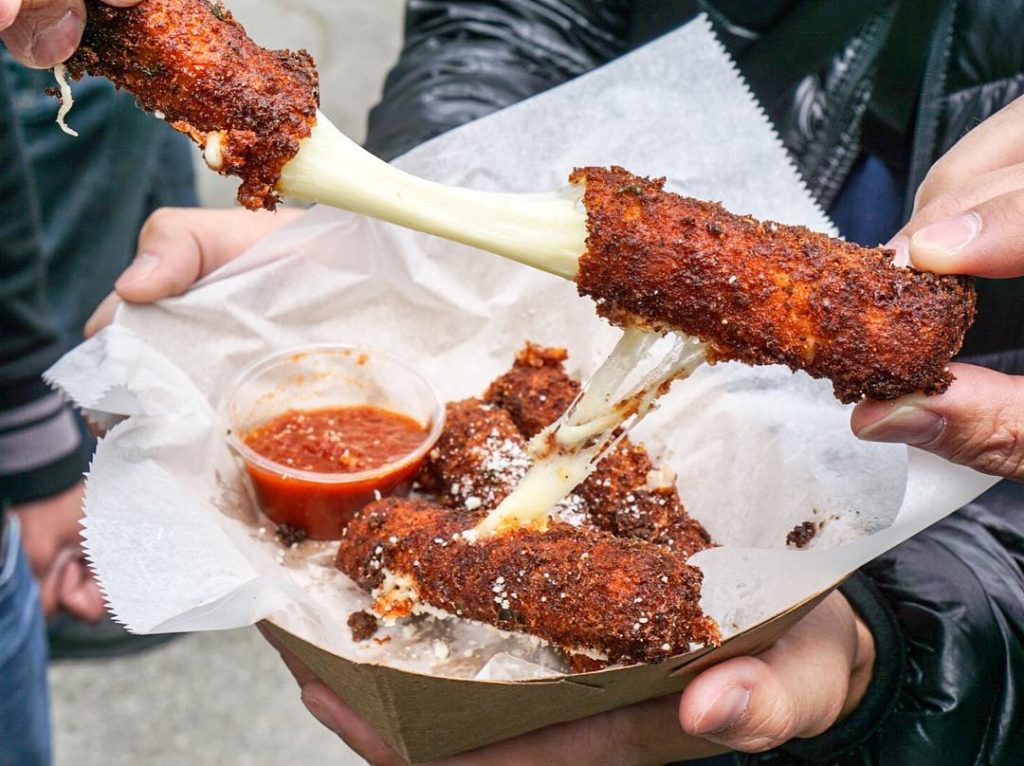 Mozz Sticks & Mozz Pops @ Big Mozz NYC
You can watch these guys just making fresh mozz all day. But you should try some too. Cause it's delicious.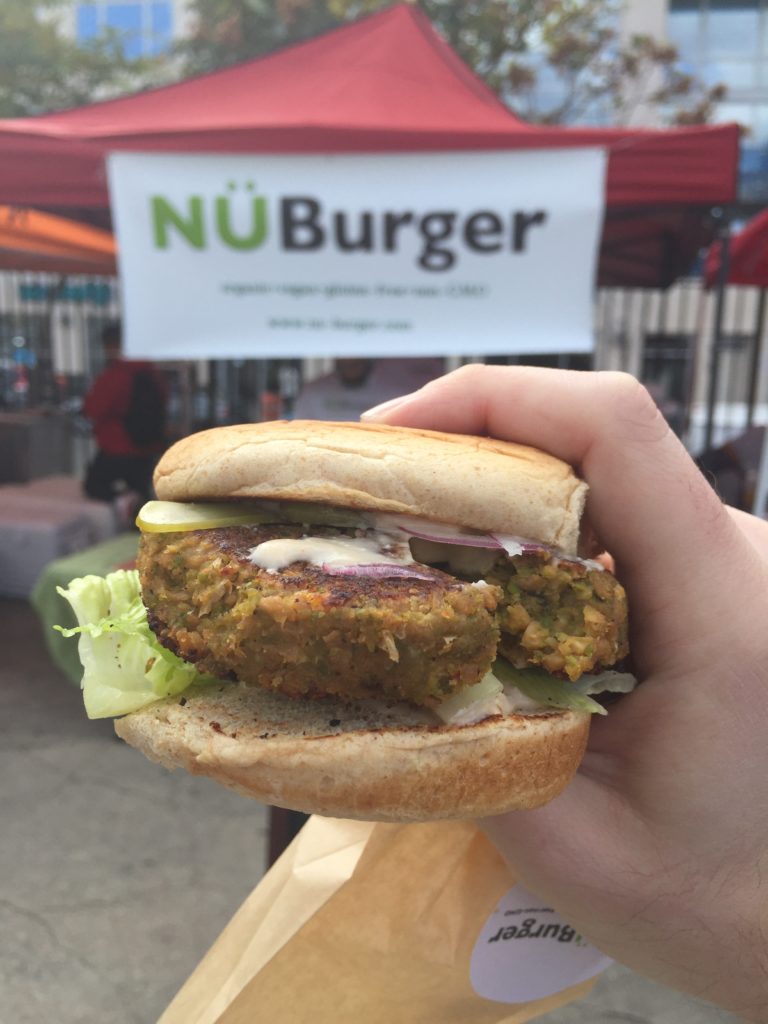 Nu Burger @ Nu Burger

The bean and potato patty and pomegranate-cayenne mayo makes this one of the better vegan burgers in town.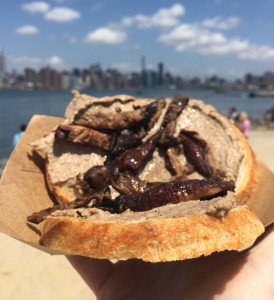 Mushrooms w/ Faux Gras @ The Regal Vegan

My other top vegan pick comes with truffle oil covered mushrooms over a nutty faux gras spread on bakery fresh bread. If you like those things, this is a great bruschetta-type start to your day at the 'burg.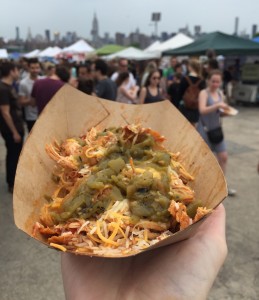 Slow Cooked Red Chile Chicken Sopapilla @ Zia Green Chile Company

The stewed chicken has a good tangy chili flavor but paired with an empanada-like dough is a little hearty for the warmer months that Smorgasburg primarily entails. I did really enjoy the hatch green chile sauce and will give it another go come Fall.
Lobster Burger @ BonChovie

What could be better than a burger and lobster in one? Not much, although a little less salt on the lobster would help.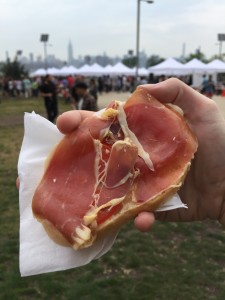 Jamon Bite @ Lolitas

Fact: Jamon iberico is one of the world's greatest hams. And I've had some amazing sandwiches made from it in Spain. Unfortunately here it's undone by a substandard soft white bread. This should be an easy upgrade and I look forward to trying it again if they do.
Phatty Melt @ Chickpea & Olive

A beet based burger with a few different topping options. It's meant as a vegan substitute to a burger and it's suitable if you want just that.
* Indicates vendor also has a permanent location
Smorgasburg (April-November)
Saturdays at East River State Park, Williamsburg
Sundays at Breeze Hill, Prospect Park
Brooklyn, NY