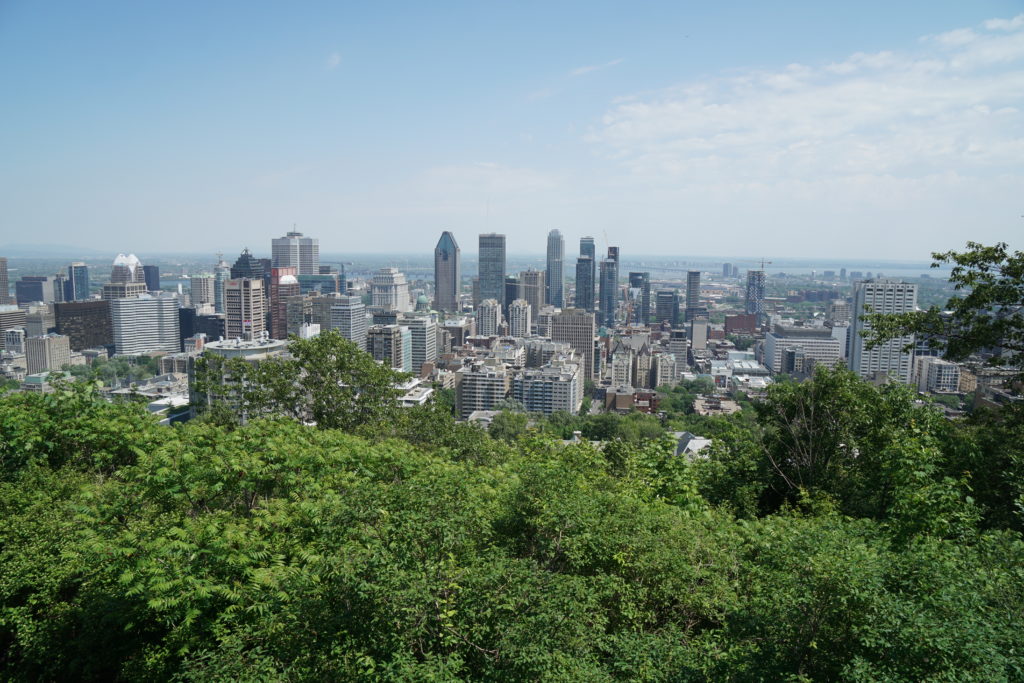 For years, everyone I knew who was heading to Montreal was going for a bachelor party or guys weekend. But while a low drinking age and ample gentleman's entertainment make up a certain section of the French-Canadian city, the rest of the town actually has a lot to offer. This includes an inner city mountain (easily climbable for the view above), one of the best Old Towns in North America and, most importantly, incredible food.
Thanks to it's French heritage, Montreal is one of North America's finest food cities. And with the Canadian Dollar at a low against the greenback, dining out here feels like everything is on sale. Even getting there is cheap; flights from from La Guardia can be had for under $200 RT and only take about 50 minutes. One thing to note when planning: a lot of restaurants are closed Sunday, Monday and/or Tuesday. So you may not want to make these your only nights in town.
Montreal's dining scene basically hits the trifecta for a foodie city. There is classic French Cuisine that's generally done better (and cheaper) than in the states. Local specialties include poutine, smoked meat and bagels (made in a different style than NYC) that need to be sampled in their native town. And finally there's an up-and-coming modern dining scene centered in the Mount Royal area. I'll break down some favorites in each category.
Local Specialties

Poutine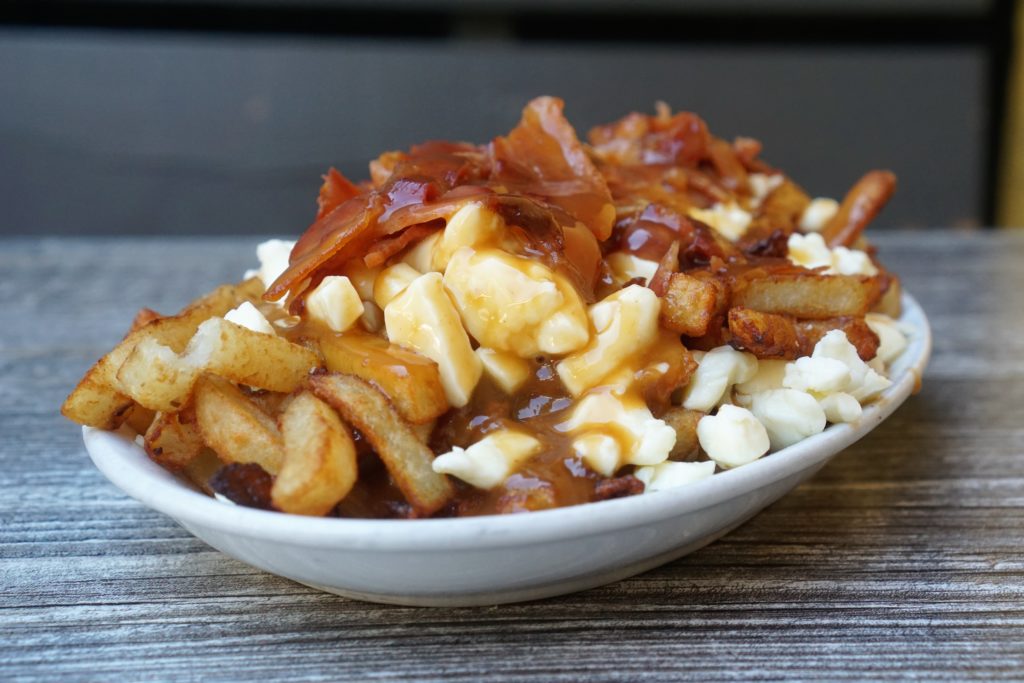 The most (and perhaps only) famous Canadian dish has its roots in Quebec. The traditional poutine consists of fries smothered in gravy and cheese curds. Yup, it's the heart attack you always wanted.
The most famous spot (and my personal favorite) is La Banquise. It's a 24 hour Poutinery with 30 types on the menu running the gamut from smoked meat and bacon to mushrooms and onions. While having variety is all well and good, it's their mozzarella-esque cheese curds that put this spot on top.
Smoked Meat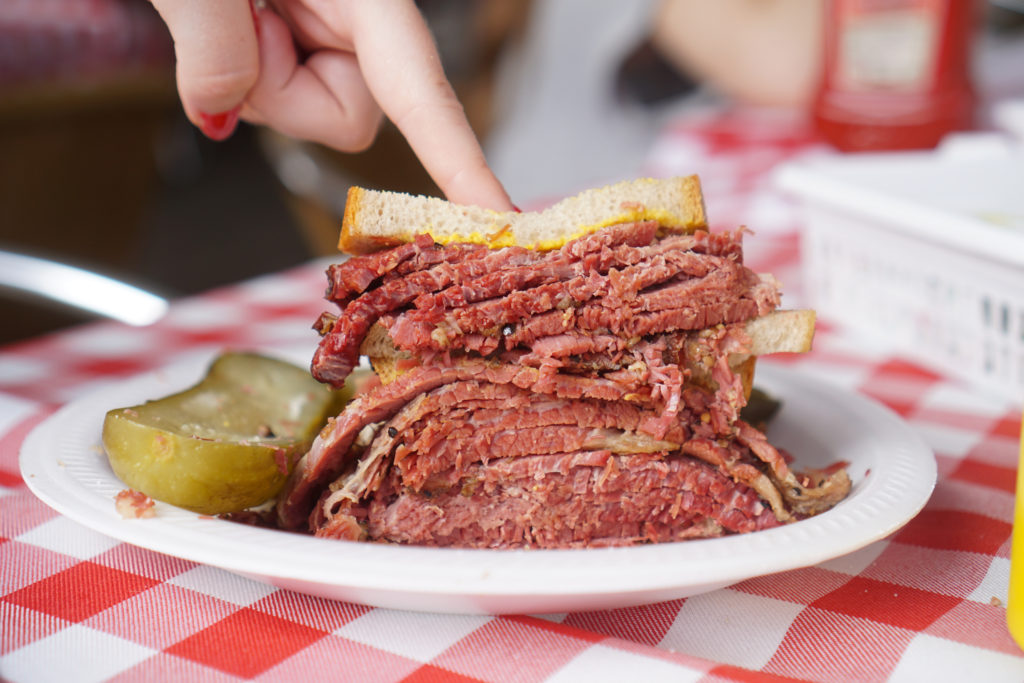 Like New York, smoked meat is a big deal in Montreal. Compared to NYC style pastrami, it's cured with less sugar and typically cut a little bit thicker. Schwartz's is the Katz's of Montreal – a circa 1928 deli with lots of celebrity patrons. It's a matter of taste which you prefer but one thing is for sure – Schwartz's is a lot cheaper with a full sandwich plus a drink running you less than $10 CAD. They do a pretty tasty poutine with their meat as well.
Other Famous Spots: Lester's, The Main, Reuben's
Bagels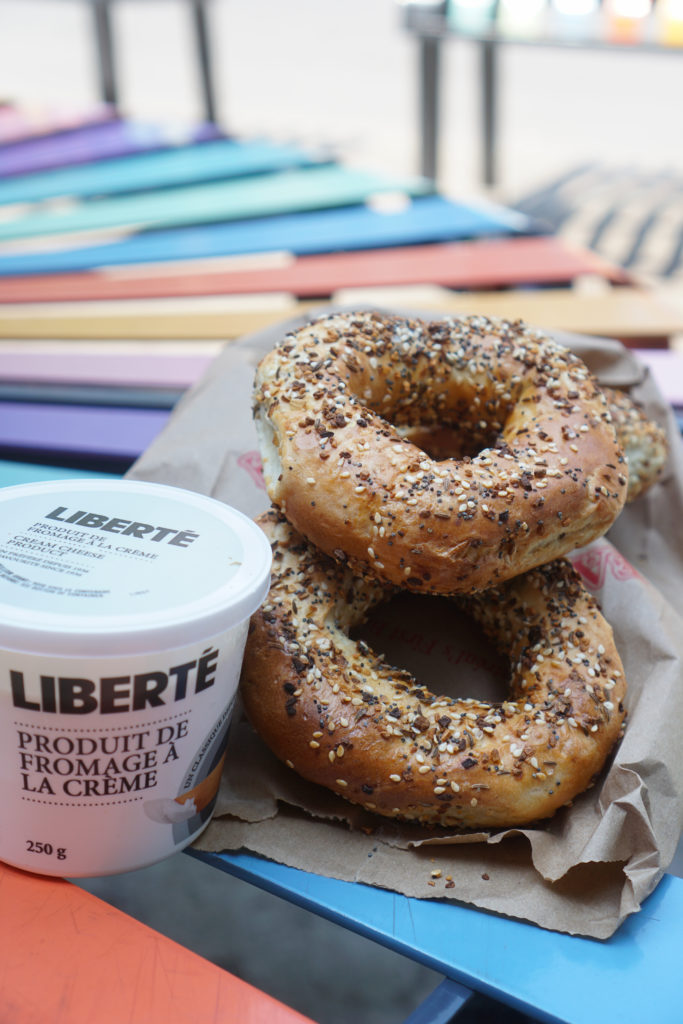 Another NYC staple with its own twist up North is the bagel. The Montreal variety tends to be thinner, a little sweeter and with a bigger hole in the middle. As a result, you may find yourself eating more than one.
The two most famous shops are Fairmount and St. Viateur, both located near each other in the Fairmount neighborhood near St. Viateur street (confused yet). Their original "shops" are more like bagel factories – too busy pumping out bagels 24 hours a day for pleasantries like toppings or seating. Instead, they will simply sell you packages of cream cheese and lox so you can make your own sandwich at home or on a nearby bench. Plan accordingly. I have been to both (three years apart) and can't say I found a significant difference. Maybe a direct taste test lies on my next visit.
Fancy French Food
The French may be long gone but they certainly left their culinary influence. Items like pastries and foie gras and rabbit are much more reminiscent of what you see in Paris than the rest of North America. I haven't explored too many spots in this category, but I do recommend checking out Le Club Chasse et Peche in the Old City for a fantastic French meal in an old world cellar ambiance.
Modern Dining
The area west of Mont-Royal area has become a hotbed of modern cooking in recent years, particular on St Laurent and St Denis streets. With lower rents than New York, chefs can take more risks which leads to an exciting dining scene with reasonable prices. Below are a few favorites I enjoyed on my recent trip:
My favorite meal of my last visit was this spot on St Denis. The restaurant has a Brooklyn-y vibe with an open kitchen and exposed brick all around. The prime seating in summer though is on the sunken sidewalk patio. The food is more formal, with modernist plating and use of local and seasonal ingredients. It's tasting menu only, but at CAD $74 ($57 USD) for six courses it's a steal. Click for my full review.
One of the few good restaurants open on a Monday, it's hard to say whether the craziest thing about Montreal Plaza is the décor, menu or food. No matter what, you're in for a fun night when you come here. The menu is heavy on shellfish and light on descriptions, so you're never quite sure what you're going to get. The décor is best describe as Hipster Diner. The menu changes daily and the food was all fun, but the standout was a ribeye with kimchi and foie gras. Click here for my full review.
One of the few modern dining destination worth your time in the old city. The ever changing menu is focused on local and season ingredients with a lot of things you'll never see in New York (like this bison carpaccio!). It's a little pricier eating here than elsewhere in town, but a worthwhile splurge nevertheless.