Yesterday marked the two year anniversary of the The Dishelin Guide. This happens to be my 100th post. To celebrate the confluence of these monotonous occasions and thank all of you for making it possible, I have compiled a list of my 100 favorite dishes in NYC. For easier viewing, they are sorted by cuisine type. And because I love you guys, I didn't even make it a slideshow. Enjoy!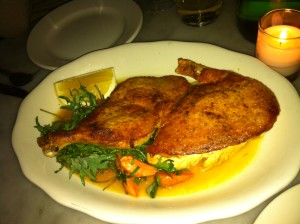 American (Traditional)
Brick Chicken @ Marlow & Sons
Cheddar Bratwurst @ Bark Hot Dogs
Honey Chicken w/ Pickles Biscuit @ Jacob's Pickles
Kruez Market Sausage @ Hill Country
Pastrami Sandwich @ Kutcher's Tribeca
Sizzling Bacon @ Peter Luger's
Steak @ Peter Luger's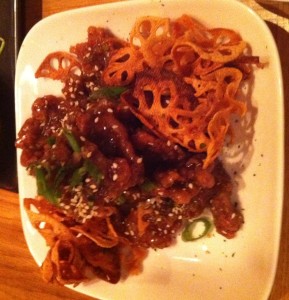 Chinese
Gui Zhou Spicy Chicken @ Grand Sichuan
Liang Pi Cold Skin Noodles @ Xi'an Famous Foods
Peking Duck @ Nice Green Bo
Pork & Crab Soup Buns @ Nan Xiang Xiao Long Bao Restaurant
Roasted Duck Hand-Pulled Noodles @ Lanzhou Handmade Noodle
Scallion Pancake @ Nice Green Bo
Shredded Chicken @ Yunnan Kitchen
Spicy & Tingly Beef Biang-Biang Noodles @ Biang!
Spicy Crispy Beef @ Red Farm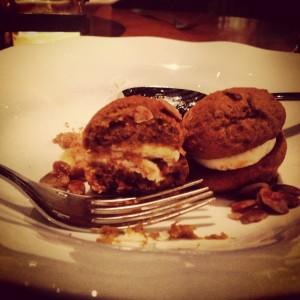 Dessert
Banana Glazed Doughnut @ Doughnut Plant
Banana Pudding @ Magnolia Bakery
Churros @ Gran Electrica
Mille Feuille @ Prima
Pumpkin Whoopie Pie @ Gramercy Tavern
Salame del Papa @ Uva
Salted Caramel Macaroons @ FPB Bakery
The S'morgrasm @ S'more Bakery
Indian
Chicken Tikka Roll @ Kati Roll Co.
Pondicherri Dosa @ NY Dosas
Italian
Black Tagliatelle @ Babbo
Ricotta Gnocchi @ Fedora
Tagliatelle @ The NoMad
Polpi In Purgatorio @ Peasant
Japanese
Beef w/ Uni Sushi @ Chez Sardine
Cyu Toro Tar Tare @ Soto
Pressed Tasmanian Salmon Trout Sushi @ Kyo Ya
Steamed Lobster w/ Uni Mousse @ Soto
Yellowtail Jalapeno @ Nobu
Korean
Galbi Gui @ Hahm Ji Bach
Hawaiian Bread Buns w/ Filipino Pork Sausage @ Talde
Korean Fried Chicken @ Talde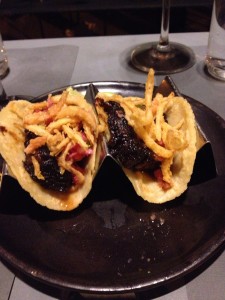 Mexican
Brussels Sprouts Tacos @ Empellon Cocina
Carnitas Tacos @ Cascabel Taqueria
Guacamole @ Fonda
Queso Fundido w/ Red & Green Chorizo @ Empellon Taqueria
Roasted Carrots @ Empellon Cocina
Short Rib Taocs @ ABC Cocina
Tamale @ Anejo
Middle Eastern
Crispy Cauliflower @ Balaboosta
Falafel Sandwich @ Taim
Hummus Fava @ Hummus Place
Spice Rubbed Skirt Steak @ Balaboosta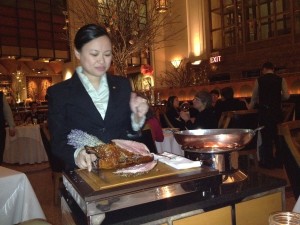 New American (or whatever we're calling non-ethnic modern fine dining)
Beef @ The NoMad
Black Heirloom Carrots @ Acme
Breakfast Pancakes @ Chez Sardine
Cornmeal Crusted Skate @ ABC Kitchen
Crisp Kale Salad @ Battersby
Crisped Duck Leg @ Fedora
Crystal Valley Chicken @ Battersby
Duck @ Eleven Madison Park
Farro Salad @ ABC Kitchen
Frozen Foie Gras @ Momofuku Ko
House Cured Salmon @ Upstate
Saba Glazed Duck @ Perla
Scallops w/ Cauliflower & Celery Root @ Allswell
Seared Foie Gras Dumplings @ Annisa
Cardamom & Vanilla Snapper @ Acme
Tuna on Foie Gras Baguette @ Le Bernardin
Whiskey Bread @ Gwynette Street
Ziti w/ Kale, Squash @ Walnuts @ Allswell
Pizza
Brussels Sprouts Pizza @ Motorino
Burrata Pie @ Keste
Pizza Pie @ Lucali's
Regular Pie @ Di Fara Pizza
Sicilian Slice @ Joe's Pizza
Spectacle 261 @ Paulie Gees
The Bee Sting @ Roberta's
Whole Wheat Pizza w/ ricotta, dates, prosciutto and radicchio @ ABC Kitchen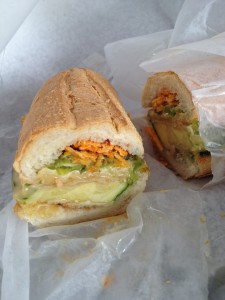 Sandwiches
Bacon Cheeseburger @ The Little Owl
Breakfast Club Sandwich @ Café Cluny
Coconut Tiger Shrimp @ Num Pang
Italian Sub @ Faicco's Pork Store
La Surena Arepa @ Caracas Arepa Bar
Lobster Roll @ Luke's Lobster
Meatball Parm @ Parm
Nova Scotia Smoked Salmon Bagel @ Murray's Bagels
Pão De Queijo Lamb Sliders @ Comodo
Rare Classic Burger @ Rare Bar
Rocket Pig Sandwich @ Rocket Pig
Short Rib @ Food Freaks Grilled Cheese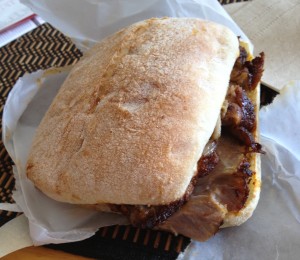 Spicy Pork Meatball Hero @ The Meatball Shop
The Godfather Part II @ No. 7  Sub
The St. Luke @ Being Better Underground
Tuna Melt @ Murray's Cheese
Zucchini Parm @ No. 7 Sub
Spanish
Arroz a la Plancha @ Tertulia
Arroz Con Pollo @ ABC Cocina
Trout w/ Jamon Serrano & Garlic Vinegarette @ Txikito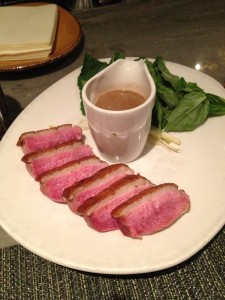 Thai
Fried Pork & Crispy Oyster Salad @ Kin Shop
Khao Soi @ Pig & Khao
Muu Kham Waan @ Pok Pok NY
Neua Nam Tok @ Pok Pok NY
Red Curry Duck Breast @ Kin Shop
Vietnamese
Pho Tai @ Sao Mai